College's market value increases, one of highest in Midwest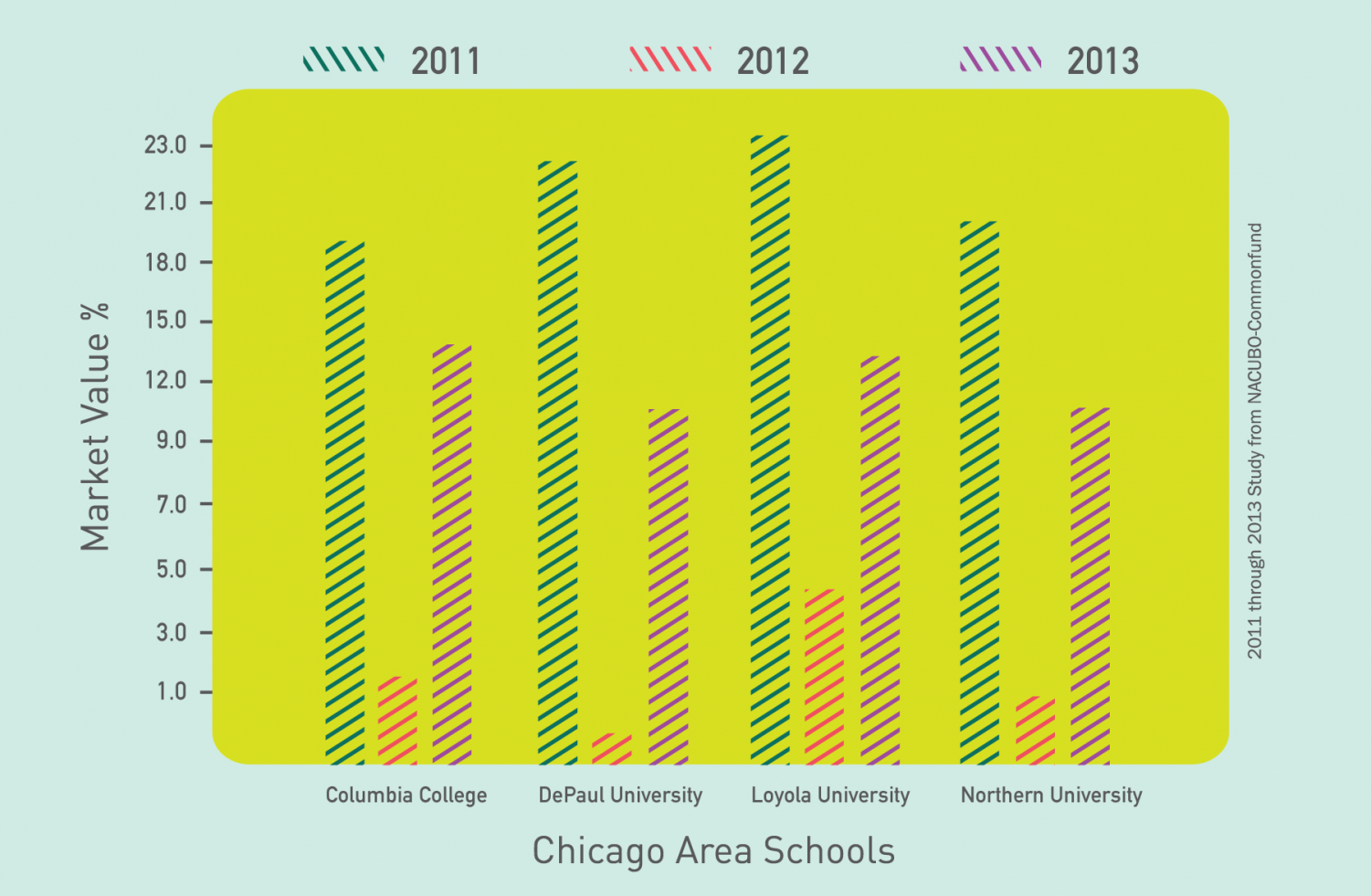 The market value of Columbia's investments increased by 14.1 percent in 2013, beating the national average of 11.7 percent, according to a new study.
The strong financial gain followed a loss in value of 1.4 percent in 2012, according to newly released data from The National Association of College and University Business Officers.
Market values are based on colleges' management of endowment funds, or the "rainy day" money that colleges keep for emergency, according to the study. The study considered how much a college withdrew from its endowment, its payment for endowment management and investment fees, how much was donated to the endowment and the gains and losses of invested endowment money.
Most colleges had a better market value because the stock market improved in general last year, said John Griswold, executive director of Commonfund Institute, which partnered with the NACUBO for the study.
"A 14 percent [increase] is really good," Griswold said. "The market was healthy and U.S. and international stocks did well. We hope they continue to do well."
Despite significant market value increases, Columbia has hiked undergraduate student tuition 3.3 percent for the 2014–2015 academic year, as reported on the Front Page. But Richard Dowsek, Columbia's interim CFO, said the college would have increased tuition more if it were not for endowment increases.
"If [the college] didn't have [the money], they could have either done one of two things. They could have cut budget, which would have made the programs worse or they could raise tuition," said Dowsek.
Columbia's endowment grew from $109 million in 2012 to a current $124.5 million, according to the study. The college strives to only use 5 percent of the endowment to fund overall college costs, Dowsek said. Columbia's financial committee meets four times per year to decide how Columbia should invest endowment money, Dowsek said. The college hires an independent counseling firm, Denver-based Monticello Associates, to stay informed on how best to handle its assets.
"[The market value increase] has a positive effect on whatever the college makes up for tuition," Dowsek said. "[The college] invests so they wouldn't have to rely on students to provide. It's a way to take financial pressure off the college."
Approximately 25 percent of Columbia's endowment is invested in international markets. An additional 20 percent is invested in absolute returns, or nontraditional investments. As of press time, the committee is not planning to change its investment patterns, Dowsek said.
According to Griswold, Columbia invested well. 
"If you have more domestic and international equities, you did better, and if you had a good deal of fixed income, you did worse," Griswold said.
Dowsek said the five-year change in endowment returns more accurately describes the college's growth. In 2009, Columbia's endowment growth totaled 3.47 percent and it has grown since, other than the small dip in 2012.
Other local college market value returns have also increased. Elgin Community College's has increased by 31.4 percent and DePaul University's market value increased by 10.2 percent.
"We did have an extraordinary year, so we ourselves are shocked of the results across the country," said Katherine Sawyer, executive director of Elgin Community College's institutional advancement office. "It's kind of unusual for a young college like us that's doing so well."
Elgin Community College's year can be attributed in part to gifts from graduates, Sawyer said.