Scholarship crawl raises funds, fosters faculty communication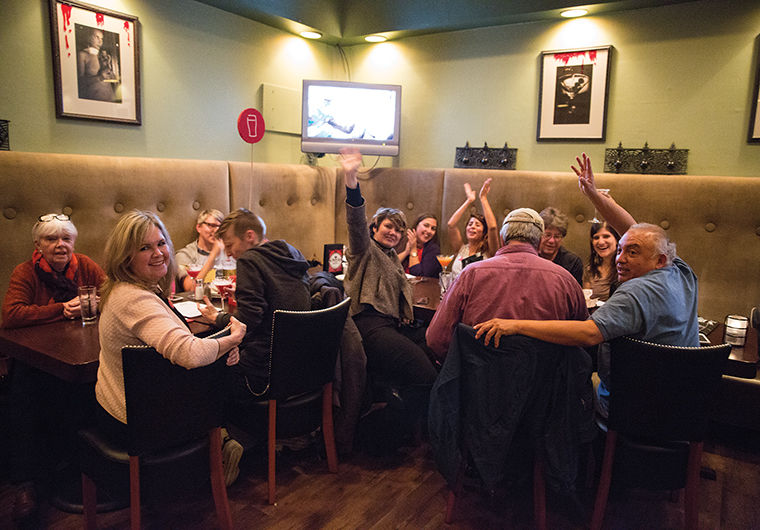 Columbia's Faculty & Staff Scholarship Initiative Committee hosted a pub crawl on Oct. 17 that toured three bars in the South Loop with all admission proceeds going toward a student scholarship fund.
Faculty and staff members had drinks, dinner and conversation at the South Loop Club, Bar Louie and the Wabash Tap in the South Loop. The $15 admission fee from faculty and staff attendees will be donated to a scholarship fund for students  in need of financial assistance to stay at the college.
Peter Hartel, associate professor in the Cinema Art + Science Department, said the crawl functions as a way for faculty and staff to not only convene at the end of a long day but also to plan other student-driven events during which funds can be raised for scholarships.
"This event fosters community with faculty and staff because we're all out having a few lubricants to help oil the machinery of social discourse," Hartel said.
Hartel said faculty and staff appreciate having an event that allows them to take a break from work while doing something positive for Columbia's student body.
"It's an opportunity for Columbia to show a presence, but all these businesses have relationships with students already with the discounts and specials they provide," Hartel said. "We are just continuing to foster that relationship."
Kim Livingstone, executive assistant in the Office of Campus Environment, said she looks forward to having the chance to connect with faculty and staff that she may not have otherwise. She said she is glad the crawl is geared toward assisting students.
"It's a great opportunity for faculty and staff to interact because normally, circumstances don't give us an opportunity to connect because we are focused on doing our jobs," Livingstone said.
Livingstone, an alumna of the college, said having the chance to work on behalf of and  give back to current students is what she enjoys most about the committee and the events they host.
"As faculty and staff, we want the students to know that we are supporting them in every way we possibly can," Livingstone said. "We are working behind the scenes to help build funding to keep them here."
Livingstone said these events do more than just bring faculty and staff together—they also function as hubs focused on how faculty and staff can help maintain the atmosphere and effectiveness of Columbia's creative environment and identity within the South Loop.
"We are fostering good relationships with these businesses for the betterment of the college, and it just makes for a better community," Livingstone said.
Pattie Mackenzie, assistant dean in the School of Media Arts and part-time faculty in the Business & Entrepreneurship Department, said the idea behind starting the committee was sparked from a faculty comment made during a closed meeting five years ago.
"What we have done ever since is create a body of money that we give to students who are juniors and seniors so they can stay and finish their degrees," Mackenzie said.
Mackenzie said the Faculty & Staff Scholarship Initiative Committee socialized over drinks, but the overall goal was to raise as much money as possible for students in need of financial assistance. She said some teachers who were unable to attend the crawl showed support and sent donations instead.
The committee is also planning events that will allow student involvement, such as a stair climb on campus. The crawl for faculty will continue each semester, Mackenzie said. The committee is excited to involve students in fundraising, she added.
"Everybody has creative ideas that they bring to what we do," Mackenzie said. "So we create these events to showcase who we are aiming to keep our students as unique and creative as they are."