EDITORIAL: We cannot allow the Trump administration to erase identities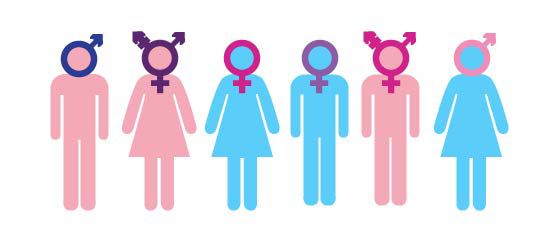 According to an Oct. 21 report by the New York Times, the Trump   administration is considering narrowly defining gender as a biological, immutable condition determined by genitalia at birth in a cruel effort to roll back Obama-era protections transgender people have under current federal civil rights laws.
In Obama's administration, the legal concepts of gender in federal programs were loosened. Legislation was created to recognize gender identity as something a person can choose, and not by the sex assigned at birth. This sparked the 2015 debate about which bathroom transgender individuals should be allowed to use, according to the same article.
A 2015 Time magazine article said conservatives advocated for "bathroom bills" so individuals use the bathroom that matches the sex on their birth certificate, despite how they identify.
"I don't want men who think they are women in my bathrooms," testified a Maryland woman in a 2014 hearing on an LGBTQ non-discrimination bill.
A lack of understanding for transgender people is leading the Trump administration's unspeakable effort to erase transgender identity.
We cannot allow ignorance to erase the identities the LGBTQ community has fought for years to protect and validate. We must support organizations that can educate, advocate and use our votes to stop this from being implemented.
We need to educate those who think being transgender is a man who wants to use the women's bathroom. A transgender woman wants to use the bathroom because she is a woman. A transgender woman wants to identify as female because she is exactly that.
By continuing to support LGBTQ organizations like the Human Rights Campaign, blatantly incorrect ideals can be eradicated.
In response to the Times article that revealed the administration's heinous plans, HRC said, "This is a direct attack on the fundamental equality of LGBTQ people and, if this administration refuses to reverse course, Congress must immediately take action by advancing the Equality Act to ensure LGBTQ people are explicitly protected by our nation's civil rights laws."
According to the HRC, the proposed Equality Act would amend existing civil rights laws—including the Civil Rights Act of 1964, the Fair Housing Act, the Equal Credit Opportunity Act, the Jury Selection and Services Act and several laws regarding employment—to explicitly include sexual orientation and gender identity as protected characteristics.
HRC also said additions to the Equality Act would add clear, non-discrimination protections for LGBTQ people. A poll done by the organization found nearly two-thirds of LGBTQ Americans have experienced discrimination.
We must prevent this from continuing by voting to  prevent restrictive legislation from being enacted. We cannot let ignorance dictate an identity.
We must vote Nov. 6 for people whose views align with ours and who will work to protect transgender rights. Your vote matters, and it will stop the erasure of transgender individuals.
We cannot let the President of the United States tell transgender people who they are and are not. We must protect our trans brothers and sisters from the injustice spewing from the Trump administration.