Columbia announces tuition increase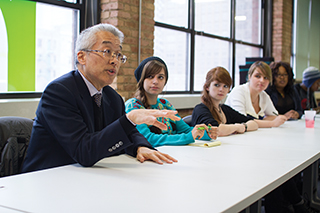 Despite calls for tuition freezes, full-time Columbia students will have to pay approximately $752 more for the 2014–2015 academic year.
The college's board of trustees voted to increase tuition by 3.3 percent during its Dec. 12, 2013 meeting, President Kwang-Wu Kim announced in a Feb. 5 college-wide email. The increase is the lowest within the past decade, excluding the 3 percent increase during the 2009–2010 academic year.
While other student fees will remain stable, those living in residence halls will pay an additional 2 percent to 2.75 percent and meal plan costs will rise by 1.5 percent, the email stated.
Prior to announcing the increase, Kim and other administrators met with the Student Life Advisory Board Feb. 5 to discuss tuition, scholarships and college affordability.
Columbia's Student Government Association introduced its resolution, a document containing SGA's recommendations for increased scholarship funding and keeping the tuition increase below the national average, to Kim and the board of trustees in December.
Although the increase in scholarship funding was not announced in Kim's email, Mark Kelly, vice president of Student Affairs, said at the Feb. 5 meeting that the college will award roughly $37 million to $38 million in scholarships during the 2014–2015 academic year, approximately 22 percent more than in the previous year, according to college data.
"Tuition is only a part of the complex way that students afford their education," Kelly said. "The loan debt has been decreasing for our students and the amount of their tuition costs that are covered by [institutional aid] is increasing."
There is approximately $1 trillion in outstanding student loan debt in the U.S., according to American Student Assistance, a nonprofit organization that works to help students manage their loan debt.
Columbia students took out nearly $56 million in Federal Stafford Loans during the 2013–2014 academic year, about $7 million less than the previous year, according to Office of Institutional Advancement estimates.
Kim said during the meeting that he wants the college to offer more merit- and achievement-based scholarships in the future. The college's goal will be to raise more funding for scholarship support,
he added.
"We will maintain our commitment to increasing the amount of institutional scholarship support provided to students," Kim said in the email.
Although she is not enthused about paying more for tuition next year, Nicole Carroll, SGA president and junior fiction writing major, said the smaller tuition increase and the bump in scholarship funding are trends the SGA supports.
Students may be displeased with the tuition increase, but decreasing the overall cost of tuition will take time, she said.
If students have concerns, they should attend a Coffee with the President event or speak with Kim during his office hours if slots are available, Carroll said.
"Of course it's hard when things cost more money, but I think that the value of my education [and] the experience I'm getting [are] worth fighting for," Carroll said.
In the past, Columbia's administration considered students' concerns, but now it is more open to compromise and the SGA's suggestions, said Jessica Kwasniewski, SGA vice president of communication and senior cinema art + science major.
"They listened to our opinions and they did something with it … and we were able to make a feasible decision," Kwasniewski said. "This is the first time we really came together and made the best agreement for our school given the circumstances."
Samantha Rosales, a sophomore art + design major, said she was not pleased with the tuition increase, but her scholarships will allow her to continue studying at Columbia.
"I was kind of expecting [a tuition increase] considering schools all over are going up in price," Rosales said. "That's more money that I may have to [pay back] later."