Joyce Manor shows world it's not the 'Last You've Heard'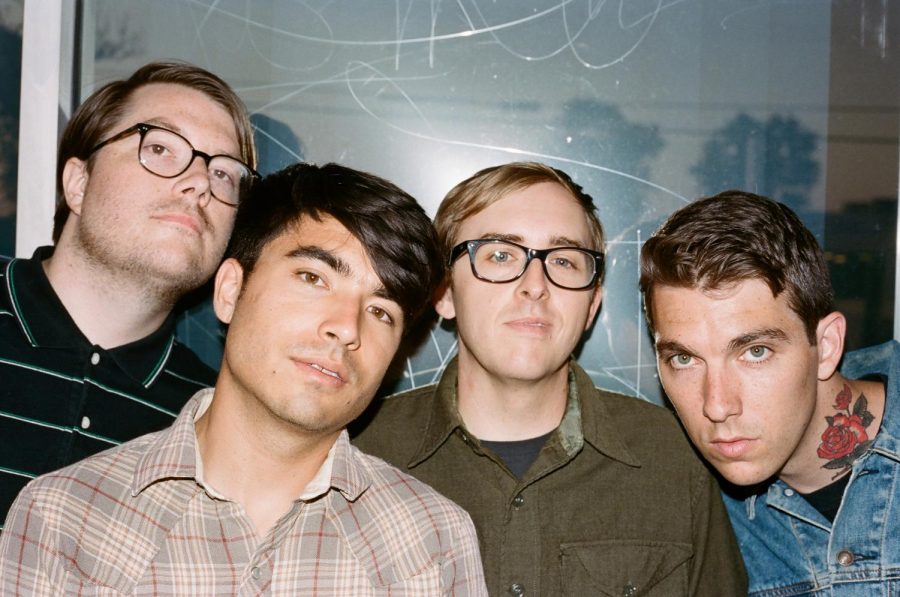 By Michelle Lopez
January 30, 2017
After its 2011 eponymous debut album and unique stance on stage-diving, acclaimed Californian four-piece Joyce Manor has been garnering the attention of the pop-punk community.
Joyce Manor's fourth studio album Cody was released on Oct. 7, 2016, on Epitaph Records. It is the follow-up to the band's 2014 record Never Hungover Again, which peaked at No. 106 on the Billboard 200. Lead vocalist Barry Johnson, guitarist Chase Knobbe, bassist Matt Ebert and drummer Jeff Enzor set out Jan 30 on a co-headlining tour with AJJ with support from Mannequin Pussy.
The Chronicle spoke to Johnson about Cody and its reception leading up to the band's Feb. 3 show at Concord Music Hall, 2047 N. Milwaukee Ave.
THE CHRONICLE: How have fans reacted to the new album?
BARRY JOHNSON: When the first single [from Cody] "Fake I.D" went up, I was really terrified everyone was going to hate it, and it'd be a laughingstock, but people really, really liked it. It went over well, so after that I wasn't that worried what people were going to think about the record. The rest of the record's pretty much similar.
My confidence shook again when we started playing the new songs live. I feel they didn't go over as well as the old stuff, but I forget that happens with every record we put out. When we started playing songs off of Never Hungover Again live, you could just feel the dip in enthusiasm. Then slowly, everyone starts to warm to one song, and then two, and before you know it, it's like, "Oh, cool." It just takes time.
What musical influences did you have in mind while writing Cody?
A friend asked if I'd ever gotten into Mark Kozelek, and I said, "Not really." He told me to listen to it, and I became pretty obsessed; it was all I listened to for a few months. That was a huge influence on this record, and this band Dear Nora. They were a band from the early 2000s that I also got super obsessed with. Also, not super early Green Day, but middle-era Green Day. Nimrod and Warning [were records] I got really into and you can definitely hear that on the record.
Who is Cody?
That [name] was what we were going to call the band in the very beginning. The album cover and the title go well with each other. We had the album cover but didn't have a name [for the album]. So we were like, "Well, what were some ideas that we liked in the past and never used?" and I was like, "Oh, Cody!" Then I looked at the cover and said, "This is perfect: Cody."
Which song on the album was the most difficult for you to write?
"Angel In The Snow" gave me a lot of trouble. I could not get it right. I went through so many different versions, different lyrics [and] different choruses. I had to move parts around so much, and it took so long to arrive at the finished version. It's one of those songs I can't listen to because it stresses me out. I just want to mess with it again [because] I feel like it could be better. That was really difficult as opposed to "Fake I.D.," which wrote itself. As soon as I had the first line, it seemed like the whole song took three seconds to write.
How long would you say "Angel In The Snow" took you to write?
Months. We went through so many different writings. We wrote it so many different times, so many different ways. Every time I'd see my band members, I'd be like, "Okay, I changed it again," and they'd be like "Are you serious? It's fine how it is," and I knew it could be better. I worked it to death.
The band's sound has changed from past albums. What inspired that?
Nothing conscious. We're always trying to write good songs, and anytime we ever try to consciously do something, it sounds  bad. The only time I like my ideas and my sounds are when they seem to appear out of nowhere, but I don't have that much control over how we've changed in that regard. When you work with a different producer in a different studio, it's going to change the vibe and the sound of it. It's definitely our cleanest-sounding record.
Why are the songs longer than in past albums?
Rob [Schnapf], the producer, knows a lot of tricks to put in your songs to get more mileage out of them, which I never knew before. You have to change stuff that I would've never thought to change. You do two verses in the beginning, so when you get to the first chorus, it's more satisfying. Then you could put another chorus after the next verse. It's just how the brain reacts to songs.
What's next for Joyce Manor?
We're putting out a split with Elaiza [Ryan] from Crying. Other than that, we're starting to work on the next record. I just started writing that, but it could still not come out for years. But I'm excited for that.