Senior 'Asiagoes' to moon with Sci-fi film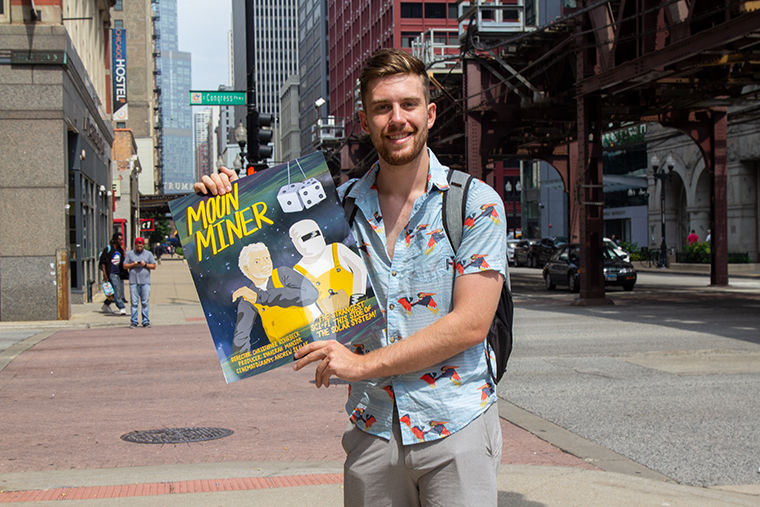 In the summer of 2017, senior cinema art and science major Christopher Rohrbeck studied in Arizona as part of Columbia's "Honors Paleontology Field Observation and Methods" course. One night, he looked up at the sky and saw a perfect view of a large moon, which inspired him to write and direct "Moon Miner," a Sci-Fi film about a miner, Ludwig, who mines for cheese on the moon and deals with new technology. Ludwig encounters a new mining robot with whom he has to partner in order to save his moon- mining career.
"Moon Miner" is set to be released mid- September and Rohrbeck plans to showcase the film at one of Columbia's screenings.
The Chronicle spoke with Rohrbeck about his work, his decision to go into film and his time at Columbia.
THE CHRONICLE: What was your inspiration for "Moon Miner"?
ROHRBECK: Last summer, I was thinking about capitalism in space. As campy and silly as "Moon Miner" is, capitalism in space is a bigger topic now. People are talking about mining asteroids, sending droids to asteroids and people are wondering how we are going to divide up land in space. Even though it's playful, I like to think that there is something there, topical at least.
How would you describe "Moon Miner"?
It's about the coal- mining generation coming in contact with new technology. Someone who enters Ludwig's world is this robot, who is designed to be a moon-mining robot. They have to become friends and make amends to build the future together, a working relationship and partnership. It calls back to a lot of campy films in the '60s that you'd find with Sci-Fi movies. It's very playful and it doesn't take itself too seriously.
What made you decide to go into film?
It was a combination of a lot of different things I enjoyed. I liked the visual art of painting and drawing. I liked being able to see new places and travel. What better place to travel than the moon? I may not be actually going, but some of the best parts on set are when you build a good environment and people will play pretend with you. It's sort of tongue-in-cheek, but it feels like you and your crew are going someplace. Even if it is just in that realm of imagination.
What influences you?
Astrophysics and space. I think about economics and our relationship to technology. When the robot was included, that was inspired by a trip to McDonald's. I care about the plight of the working class, but I just have to use that little machine. It's too convenient. That incorporates itself into the story. Technology is coming, and you have to be able to adapt rather than try to collide.
What's left to be done before the movie is released in September?
Right now it is in the visual effects stage. When we premiered it at the end of the directing class, the effects weren't done, all the sound was temporary, it wasn't colored and it wasn't framed correctly. What was already a campy film got even campier. Now, we are building planets out of mesh and adding in green screens and refining those looks so they look silly, but not 'we don't know what we're doing' silly.