Nonprofit reduces student debt with volunteer work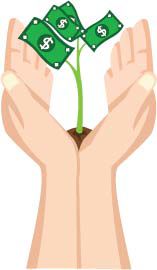 College graduates share a common goal—to find a job to pay off their mounting student loan debt,  which now exceeds $1.5 trillion in the U.S. A nonprofit group promotes a new way to help pay off the debt. 
The Shared Harvest Foundation launched a new project in June with the goal of paying off $20 million in student loan debt by 2020.
The organization partners with nonprofits looking for volunteer workers. Students, and graduates, can volunteer a set amount of hours per month with an organization and, in return, have a check sent directly to the lender of the student's choice.
The fund was founded by Dr. Briana DeCuir, Dr. Joanne Moreau and Dr. NanaEfua B. Afoh-Manin when they noticed the negative effects student debt had on people.
The Shared Harvest Fund identified several groups of students and graduates who need help or can help.
"You have our change-maker organizations, which are our nonprofit partners," DeCuir said. "The third arm deals with our corporate partnerships, and that is where we take a look at corporations who are looking to increase their social impact."
The Shared Harvest Fund was inspired by a pilot program, Agenda for Sustainable Development, that was started by the United Nations in 2015. 
The goal of the fund is to align with the U.N.'s Sustainable Development Goals, a blueprint of sustainable initiatives to be implemented by 2030. 
According to the U.N., the program promises "sustainable development" to everyone. Shared Harvest Fund aims to someday be a part of this program and have similar initiatives, DeCuir said.
"Our five sustainable development goals looked at good health and well-being, quality education, gender inequality, decent work, economic growth and peace, justice and strong institutions," DeCuir said.
Shared Harvest Fund partners with Global Girls Inc., an organization that helps young girls learn life skills, said founder and executive director Marvinetta Woodley-Penn.
"We teach mindfulness, social-emotional skills, negotiation skills, ensemble-building skills, and we allow children to have fun just being young people," Woodley-Penn said. 
Volunteers help pay off student loan debt while also helping the different nonprofit organizations, she said.
"We need so much help because we have a small staff," Woodley-Penn said. "This is the way of sharing resources and benefiting both partners." 
The volunteer projects are geared toward the volunteers' strengths and majors, DeCuir said. Volunteer applications are available on Shared Harvest Fund's website.
"The goal of this is to make it convenient for professionals who already have busy jobs," DeCuir said. "Why not spend that extra four hours a month you have doing something for someone else that also feeds your spirit and [get] a loan stipend for [it]?"
Senior social media and digital strategy major Anais Moron said she would be interested in a program like Shared Harvest Fund.
"That would be perfect because it helps you with debt," Moron said. "A lot of times, [volunteer organizations] don't pay you—it's just for the experience—but this is experience [that] helps you with the debt."
Correction 10/23/18 at 1:55 p.m.: A previous version of this article said the Shared Harvest Fund was a nonprofit group, but it is a for-profit corporation operated by the nonprofit Shared Harvest Foundation. The Chronicle regrets this error.