Creative business owners counsel student entrepreneurs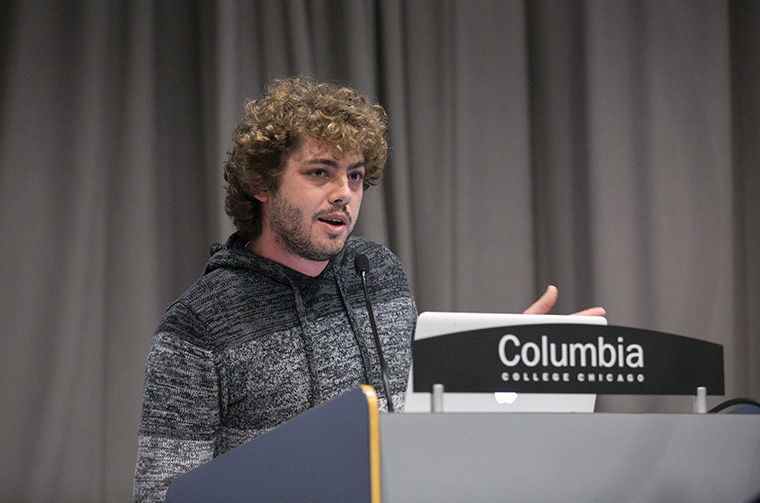 Starting a business is hard. Starting a business in a creative industry is even harder. Two Chicago-based creative business owners spoke to students about those industries.
Columbia students were introduced to the pitfalls and perks of creative entrepreneurship when Mark Dow, president and CEO of Under the Radar Marketing Agency, and Aaron Firestein, chief artist and co-founder of BucketFeet, visited the college on Oct. 13 to discuss how students can translate their concepts and endeavors into businesses.
Jason Stephens, a lecturer in the Business & Entrepreneurship Department, said hosting entrepreneurial symposiums allows students to see real-world examples of what they learn about in class.
"Part of Columbia's mission is to provide experiential learning, and these sorts of events add a layer to that in terms of providing real-life stories from people who have been through the ideas that we teach here," Stephens said.
Stephens said Columbia students should engage in events like this because it gives them a look into the industries they wish to navigate while better preparing them for success.
"Having an immediate application to real industry experiences as opposed to [learning] underlying theories and ideas in an educational setting benefits creative students, particularly in terms of what they can do [with] their experience," Stephens said.
Columbia aspires to be a meeting place for students and artists who provide opportunities to network Stephens said.
"If we want Columbia to be a place where businesses start, then it has to be a place where people can meet," Stephens said. "These events help bring people together and create a sense of excitement around that first step in the process."
Firestein said he enjoyed the opportunity to speak about his business to young creatives.
"Referring specifically to Columbia, it is seen as the hub of young, creative people within the city," Firestein said.
Firestein co-founded BucketFeet after he had the idea to draw on a blank canvas of his own sneakers, which received positive feedback on Facebook. He said BucketFeet shoes are now sold in more than 35 countries and that his creative approach is one of the main reasons his brand has prospered.
"We're trying to connect people," Firestein said. "That's what we do with our shoes and art. At the end of the day, we are more than just a shoe company. We're a connecting company."
Dow said he wanted the chance to speak to students to offer tips on how to get their start in creative industries. He said being able to analyze personal strengths plays a role in the success of students' first businesses.
"Having the chance to have communion and share knowledge about my experiences with a group of people that are clearly hungry to learn is something I enjoy," Dow said.
Under the Radar, which is headquartered in Chicago, now hosts anywhere from 80–100 worldwide events yearly, Dow said. That same framework is being supported through Columbia-hosted events, he added.
"Getting people to break bread and talk amongst themselves promotes your brand," Dow said.
Renee Rock, a graduate student, said her interest in entrepreneurship stems from an interest in learning about starting a creative business.
Being a young arts entrepreneur, the information she received was very applicable, Rock said.
Rock said she appreciated having the chance to speak with a professional who can offer firsthand insight about starting a business.
"So often we look at our avenue of what we're interested in so narrowly, but the reason [the speakers'] businesses are successful is because they saw a broader reach of what their art can span to be," Rock said.