Conquering Chi-beria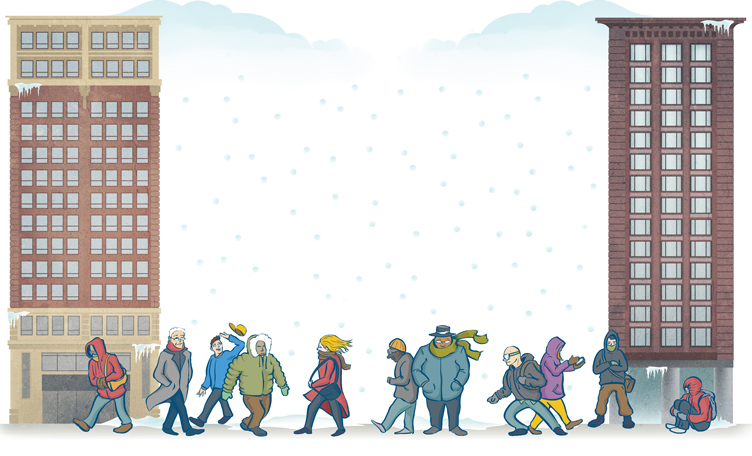 Dangerously cold temperatures greeted students on the first two days of the spring semester, forcing some to stay home and others to endure delayed commutes.
Although neighboring institutions such as Roosevelt and Robert Morris universities cancelled some classes Jan. 27 and 28, Columbia's administration only closed the campus after 7 p.m. on Jan. 27. Classes resumed the next day when temperatures reached a wind chill of minus 28, according to Weather Channel reports. DePaul University kept its campus open during the nippy weather as well.
President Kwang-Wu Kim, who made the final decision to keep the college open, said the weather was simply not harsh enough to warrant closure.
"There has to be a really, really significant reason to close," Kim told The Chronicle. "People make significant sacrifices to be students at Columbia College Chicago, and the only way they get what they are expecting is if we're here for them."
Columbia's campus closed Jan. 6 during the city's first encounter with the polar vortex, cancelling the first day of J-Term classes. Kim said he decided to close the campus that day because the cold was accompanied by a significant amount of snow and wind that made streets, sidewalks and public transportation nearly inaccessible. He said the more recent severe weather did not hinder students' ability to get to class, adding that even he commuted to campus on the Red Line those days.
"There is no denying that it is cold right now, but the transportation systems were running smoothly," Kim said. "The hassle was the fact that it was cold, but actually the Red Line was fine."
The Chicago Transit Authority announced Jan. 27 and 28 that it was experiencing delays on the Red, Blue and Purple lines because of electrical track switch jams. The Metra also cancelled trains on both days, making it difficult for commuters to reach their destinations.
Robert Koverman, associate vice president of the Office of Safety and Security and head of the Incident Assessment Task Force—a committee composed of five administrators and faculty members that prepares a recommendation for Kim on how to proceed during severe weather conditions—said the committee presented information and options to Kim.
Koverman said the committee examined temperatures at commuter times as well as at different Chicago locations when formulating recommendations.
"It's not something that we take lightly," Koverman said. "We exhaust as much possible information as we possibly can [and] I look at a variety of different weather reports. We just go with the best data that we possibly can that provides the best safety for our staff, faculty, students and guests."
While Kim did not have trouble with his commute, many students were frustrated trying to get to campus and some even chose to stay home.
Dominick Balestri, a commuter from the Southwest Side neighborhood Garfield Ridge and sophomore cinema art + science major, said he did not go to class Jan. 27 or 28 because of the weather conditions.
Balestri said his commute to campus takes more than an hour and he spends a significant amount of time outside waiting for both the Orange Line and a bus, adding that he thinks the decision to open the college only considered on-campus students.
"It's extremely disheartening because I really [wanted] to go to class because I love what I am studying," Balestri said. "The administration is making me pick between having to be safe and marked down for an absence or show up to class and literally put myself in danger."
Drew Lodarek, a commuter from the northwest suburb of Lake Zurich and a sophomore audio arts & acoustics major, also said he thinks the college should have shut down, adding that his commute requires him to walk outside for 40 minutes.
"The weather was nothing to be trifled with," Lodarek said. "Schools around the country were closing because of the crazy weather."
Despite the subzero temperatures, Lodarek made it to class on Jan. 28 by driving and taking the Metra but said it was a struggle and took longer than usual.
"Just putting money into the box for parking, my fingers in 30 seconds were automatically numb," Lodarek said. "Not long after that, they started stinging and they were bright red [and] purple."
Although many students were upset about the college remaining open, some students understood the administration's decision.
David Jenkinson, a junior interactive arts & media major who lives in the 777 S. State St. residence hall, said he supported class being in session because it was the first days of the semester and he didn't want to get behind.
"I can feel for the commuters," Jenkinson said. "[But] it was the first days of classes, which I do feel are important because you go over all the course procedures."
Jenkinson said there were not a lot of students missing in his classes on those days and students did not appear to have issues getting to campus.
Kim said it is helpful for him to hear both good and bad student input about the situation but that he stands firm in the decision he made.
"Obviously nobody wants people to be unhappy at a decision they make," Kim said. "But my basic position is that our obligation, if and when possible, is to remain open because that's what our students need from us."