Occupational hazards behind the lens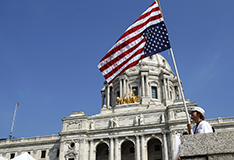 By John Lendman
September 24, 2008
Dan Thompson heard glass being shattered all around him. At first it was just empty storefronts, but then protesters started smashing bank windows, a Macy's storefront and marked and unmarked cop cars.
"They just started using their hands, they had gloves on," Thompson said. "I saw this kid use both hands to just smash the front of a bank's window-banks were a main target."
Down the street from the Minnesota Capitol in St. Paul, protesters began throwing fireworks, smoke bombs and sacks of nails as some began to slash tires in parking lots. Thompson said he soon realized that behind his issued press pass, the sleeves of tattoos on his arms and the gauges in his ears stood out as a cop magnet.
At that point all hell broke loose, as tear gas filled the air and rubber bullets were shot into crowds, Thompson said. Deafening concussion grenades were detonated into the masses of scrambling protesters as they were shot with bright green paint to identify them if they got away. With his with press pass dangling from his neck and camera poised, Thompson, a 22-year-old Columbia alumnus, tried to keep up with the fast moving crowd.
"We're going to fire chemical irritants if you don't disperse on your own," police said simultaneously, according to Thompson. That's when he quickly slid on the gas mask he was told to invest in before the demonstration.
While protesting the Republican National Convention has become as common as the convention itself, Thompson saw the event as an opportunity to capture high-action, adrenaline-rushed photos-perfect for his photojournalism portfolio. But it seems he was in for much more then he ever bargained for.
Thompson arrived earlier that day to St. Paul's Capitol grounds prepared to capture the demonstration organized by the Coalition to March on the RNC with a friend he's known since high school, Richard Schaller, a recent graduate from Northern Illinois University.
Compensating for the 96-degree weather, the duo wore light T-shirts and cargo shorts. After they arrived in downtown St. Paul, however, they recognized too late that it was difficult to differentiate themselves from the demonstrators.
"[Our clothes] actually helped us talk with protesters," Thompson said. "They wouldn't talk with The Associated Press guys."
The rally started at 11 a.m. from Martin Luther King Jr. Boulevard at the Capitol building and stretched half a mile south to the Xcel Energy Center, where the convention was held. The demonstrators' primary objective was to protest the war in Iraq while the Republican Party officially nominated their presidential candidate, Sen. John McCain.
As Thompson and Schaller observed the setting of more than 10,000 protesters, Thompson said he noticed a stark difference between the participants-especially as the protest took a violent turn. The anarchists, who wore all black clothes and bandannas over their faces, eventually broke off from the rest of the group and started marching in the opposite direction of police.
"We picked them out and thought, 'those are the kids to follow,'" he said.
By 2 p.m., Thompson said that as protesters made it to Wabasha Street on the proposed demonstration route, police decided to "make a concentrated effort that no one was going farther."
Soon, hundreds of remaining protesters arrived to a parking lot police had surrounded as they began to form lines blocking the exits, Thompson said.
Schaller, a political science major, came along on the trip with Thompson to observe "an aspect of the nation's political process," never knowing it would become so violent, he said.
"I wasn't afraid of any of the protesters," Schaller said. "I was afraid of the police … standing on big black SUVs with tear gas guns ready, standing, aiming."
"There was so much pepper spray, tons of pepper spray," Thompson said, describing how his gas mask protected his eyes from the stinging chemical. "I used my camera as a shield but I got pepper spray on the front of the lens."
Thompson said it was confusing to understand what police were directing the crowd to do, while demanding that they disperse they refused to let them leave the surrounded parking lot.
At this point Schaller and Thompson decided to separate. Thompson gave one of his lenses to Schaller and told him he'd call him later.
Running ahead of the protesters to the line of cops dressed in police riot gear, Schaller, who also wore an issued press pass, said he pleaded with cops to let him pass.
"I looked at them and said, 'I just want out, I have nothing to do with this," Schaller said. "The cop didn't say a word, he looked at me and just started pulling down his visor, and I thought, 'Oh, that's not a good sign.'"
Eventually, Schaller made it out, away from protesters and police. He wandered the streets of St. Paul awaiting Thompson's call, in what he described as a "waiting game."
Meanwhile, Thompson was still among the protesters, being rounded up right where police wanted them-into a blocked-off parking lot.
"We were too dumb to realize what was going on," Thompson said.
He said he finally decided to leave when he noticed the rubber bullets were actually being aimed at him.
"When I got to this parking lot, I booked it," he said. "I threw down my gas mask and ran out of the parking lot to get to the other side of the street."
As Thompson attempted to make his escape, motorcycle cops pulled up in front of him and another cop with a taser gun approached him from behind, he said. As his press pass and camera dangled from his neck, Thompson's hands went above his head and his knees hit the pavement.
Police zip-tied him and laid him down on his stomach in the parking lot, with the 100 or so other protesters, he said.
While waiting to be processed, Thompson watched as zip-tied protesters resisted the cops only to be tear-gassed and pepper sprayed. He waited two hours, he said, watching as protesters started to flood in, being beaten and tackled to the ground.
Thompson pleaded with police not to arrest him as he identified himself as a member of the press.
"It didn't do me any good," he said, "Police charged me with felony rioting."
As Thompson was taken by bus to the county jail, he sat next to The Associated Press photographer Matt Rourke, who was also arrested despite his press credentials.
"I had a feeling that with the way I was dressed [Rourke] didn't care all too much about what I had to say," Thompson said. "[But] I really wanted to give him a business card."
After his camera equipment was taken, Thompson was placed in a holding cell where he would stay for 36 hours, with reporters, photojournalists and protesters alike. He said he was confined to a 2-inch thick mattress over a metal bed protruding from the cell wall.
Eventually, national members of the media, such as Rourke, started being released. Finally, reporters from small local publications and then unrepresented photographers like Thompson, he said.
Reporters from small local publications were released after them.
"Basically if you didn't have a badge on from a huge paper or a wire service, you were probably going to sit there," Thompson said. "They let me and another journalist out in the middle of the morning, about 6 a.m. [on Sept. 2]."
When Thompson was released, he was told he wouldn't get his camera equipment, keys or cell phone back until the following Monday, Sept. 8, he said.
As Thompson left the county jail, he quickly lit and inhaled a cigarette, called his mom from a gas station to tell her he was all right and hailed a cab to take him back to his hotel.
After catching up with Schaller, who was waiting for him at the hotel, Thompson went to Target to buy warmer clothes, as the temperature in St. Paul dropped to around 50 degrees.
Thompson was able to talk county jail officials into releasing his camera equipment by Sept. 3, he said, before he and Schaller decided to leave St. Paul and return to Chicago.
Many photojournalists weren't as lucky, however. St. Paul police officials held on to other professionals' camera equipment until almost a week after they were arrested, according to the National Press Photographer Association.
What bothers NPPA President Bob Carey the most, he said, was the lengthy incarceration of several accredited photojournalists with clearly displayed press passes.
He said that by detaining working photojournalists' equipment, police were obstructing how they effectively cover and report the news.
For future events such as this, Carey said he hopes to establish communication with city law enforcement officials to lay ground rules for the credential media.
"The press has no more rights than the public to be somewhere," Carey said. "[But police] were not well-prepared to handle that number of people arrested and that can obviously throw a wrench into the system."
As for advice for photojournalists, Carey said he recommends they don more professional attire, especially young photojournalists who tend to dress a lot like the subjects they cover.
Ultimately, Thompson believes the risks come with the territory, although he said he never expected the demonstration to get so out of hand for not only him but the protesters themselves.
"The most important thing I noticed was that no one was right," Thompson said. "Whether you're a member of the press or you marched peacefully and didn't cause any trouble, your message was completely lost [among] everything that happened."