Artist takes 'Monumental' step in creating public art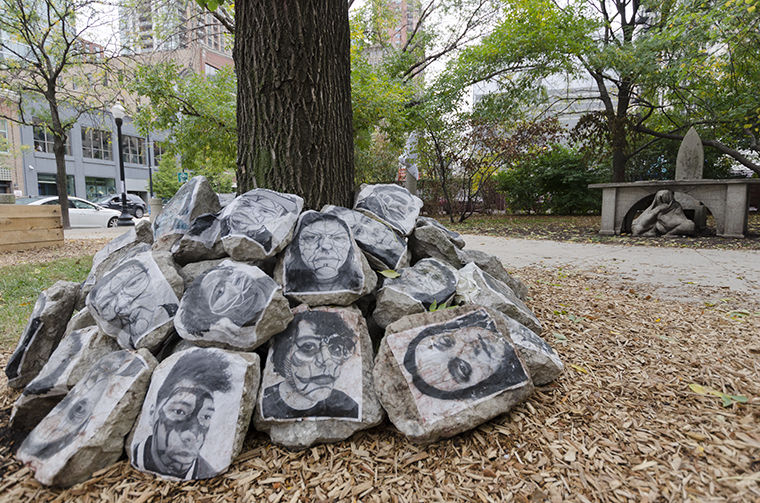 "Monumenal void" at the college's Sculpture Garden is designed to generate conversations about public monuments and their importance to American society.
The exhibit is part of the annual Terrain Biennial, an international art exhibition, presented by Terrain Exhibitions, which was founded in 2011 by Art and Art History professor Sabina Ott and author John Paulett. The exhibition repurposes private spaces, such as front yards and balconies, into public art spaces.
Located in the Sculpture Garden at South Wabash Avenue and East 11th Street, the exhibit contains three different space alterations created by Alberto Aguilar, who conceived "Monumental Void" and is an art instructor at Harold Washington College. Alterations include covering the garden's existing sculptures and placing stones and a banner that reads "Nothing but our current action marks this site."
The exhibit, which opened Oct. 1, will stay on display until May 2018, according to Melissa Potter, curator of the exhibit, and associate professor in the Art and Art History Department.
From the start of his project on Sept. 25, Aguilar said he always intended to cover up the existing statues, and developing these ideas was the most challenging aspect of the artistic process.
Aguilar said the reason for doing so was to encourage questions and leave it open to interpretation, including references to issues with monuments nationwide.
"Even with the wording 'Monumental Void,' to void out information, that was my intention," Aguilar said. "It seems like people are responding to it."
Potter said the discussion about monuments is important and a wide social concern.
"Any engagement with the idea of alternative monuments and questioning [them] is some of the most exciting areas of study you can think of right now," Potter said. "[Aguilar] hit that moment perfectly with the debate that's happening here in this country around who defines the public space."
Potter said she selected Aguilar to create the exhibit after he expressed interest in working in the space and because of his important presence in Chicago art, which includes other exhibitions throughout his career.
Aguilar said he incorporated his students from Harold Washington College by photographing them with paint on their faces and then wheat-pasting the photos to stones which were taken from the demolished Papermaker's Garden, located on 754 S. Wabash Ave.
Hannah Jeffries, a studio art student at Harold Washington College, said it was an interesting project to work on during her drawing class time.
"It felt intimate and personal as well," Jeffries said. "It's like you're being a part of nature almost because there's dirt everywhere, and you just have to care and tend for the things that we take for granted like the rock."
Selena Ingram, first year graduate student in the interdisciplinary book and paper program and assistant to Aguilar, said she enjoyed helping students in the classroom and Aguilar in the project.
"The biggest thing I want [viewers] to take away is a feeling of contemplation, between the covered monuments and the faces on the stones, and then [Aguilar's banner] that goes along the fence around it," Ingram said. "It kind of is calling into question monuments, how we think about public spaces, and how we move through them every day."