Colleges respond to nationwide enrollment decline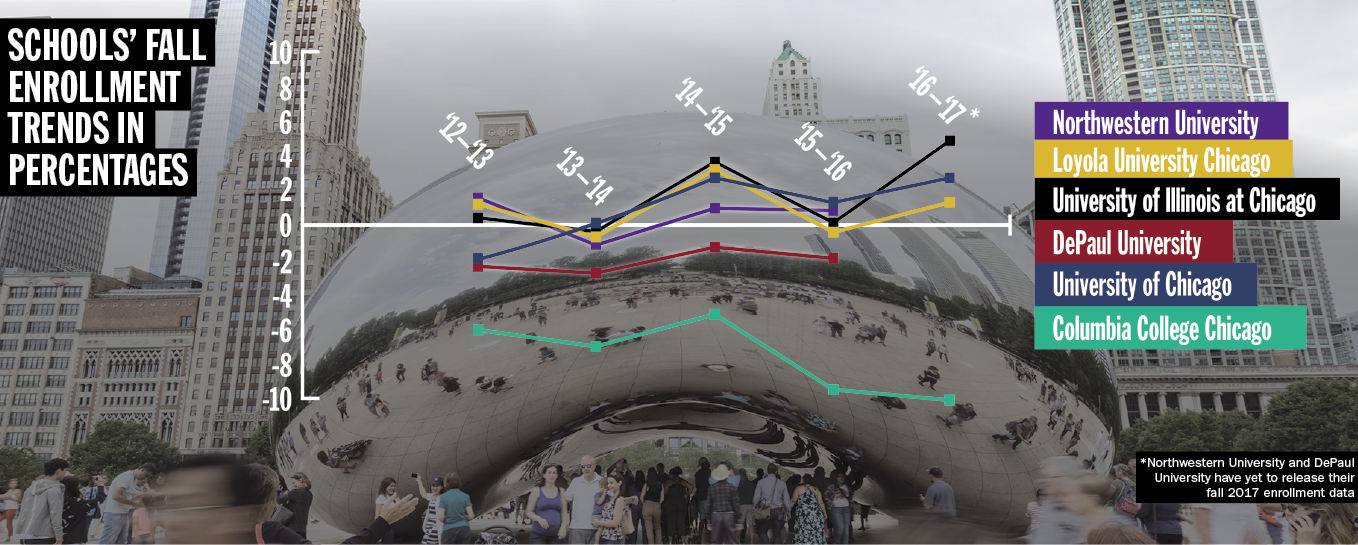 According to the National Student Clearinghouse Research Center, overall postsecondary fall 2016 enrollments decreased by 1.4 percent from the previous fall, representing a continuous enrollment decline for institutions nationwide.
This downward trend has led to colleges—including Columbia—absorbing the impact of lower revenue and making adjustments to attract more students.
During an Oct. 13 Faculty Senate meeting, Senior Vice President and Provost Stan Wearden and Vice President of Business Affairs and CFO Jerry Tarrer presented a preliminary look at the college's 2017–2018 fiscal year budget, which was approved Oct. 31, and also explained how the college's enrollment decline would affect revenue and overall student experience.
Columbia experienced its eighth straight year of lower enrollment after a 10 percent enrollment drop from fall 2016 to fall 2017, a total loss of 808 students, as reported Oct. 16 by The Chronicle.
Wearden said part of Columbia's strategy to increase enrollment involves Strategic Plan initiatives that have already been achieved since the plan's 2015 implementation. These include building  better connections with community colleges, improving admission strategies and increasing diversity, as reported Oct. 16 by The Chronicle.
"The number one factor year after year is the quality of the institution," Wearden said during the meeting. "So to be able to tell a story about the amazing work we've done to upgrade our curriculum, to make it more current, more relevant, is going to affect people's perceptions of the quality of this institution."
During the meeting, Wearden referred to an annual study by the Higher Education Research Institute at the University of California at Los Angeles, "The American Freshman: National Norms Fall 2016," which shows current college student trends. The results are based on the participation of 137,456 first-time, full-time students.
 According to the research institute's website, Columbia has not participated in the survey before, but Ellen Stolzenberg, assistant director for at the Higher Education Research Institute at UCLA, said the college can still benefit from the results.
"[Colleges] can still get out of it the general nature of what the findings are and then how they use it on campus is entirely up to them," Stolzenberg said.
Between fall 2016 and fall 2017, enrollment for Loyola University continued an upward enrollment trend with an additional 251 students, according to college enrollment statistics. Enrollment at DePaul University dropped by 429 students between fall 2015 and fall 2016, statistics revealed. However, the fall 2017 enrollment numbers were unavailable as of press time. The University of Chicago's enrollment grew by 468 students, according to enrollment reports. The School of the Art Institute of Chicago, Roosevelt University and the Illinois Institute of Art have not published enrollment statistics.
Requests to interview enrollment managers from the SAIC and DePaul were denied. Roosevelt, U of C, Loyola and the IIA did not respond to interview requests as of press time.
The University of Illinois at Chicago, a state-funded public research institute, has participated in the research center's American Freshman survey 13 times since 1973, according to the research institute's website.
UIC gained 1,419 students between the Fall 2016 and Fall 2017 Semesters, totaling a record high of 30,539, according to a Sept. 13 article from UIC Today.
Vice Provost for Academic and Enrollment Services at UIC Kevin Browne said a contributor to the university's enrollment growth is contact with potential students years before they apply.
"We maintain a list of individuals who are interested in UIC or have shown an interest and that probably numbers [more than] 200,000 individuals who we are working with prior to their first application to the university," Browne said, adding that connecting with students early and often leads to UIC being their first choice.
Browne said he and his staff do not try to sell the college to anyone; instead, they provide context to what a student's college experience could be.
"I can sell the university, and I can get someone here for a year, and then they leave and the question is 'What is the retention?'" Browne said. "We are retaining more than 80 percent of our students from the first fall to the second fall. And then we track very carefully where students go, so [we can learn] why wasn't this a good fit and how could we have done a better job explaining who we are going to be?"
 Columbia's retention percentage for the fall 2016 cohort is 66 percent compared to 2015's 70.5 percent, according to a report released fall 2017 from the Office of Institutional Effectiveness.
Stolzenberg said surveys including students who decide not to attend the college puts institutions at an advantage if done right.
"If they can get students to do that, they are way ahead of the game because most schools don't even think about doing that," Stolzenberg said.
Northwestern University, a private research institute, has also experienced an enrollment increase. The university's total enrollment rose by 2,821 students between fall 2007 and fall 2016, totaling 21,842 students. Northwestern has participated in the survey a total of 50 times since 1966. 
Sheppard Shanley, senior associate director of Admissions in the Office of Undergraduate Admissions at Northwestern University, said he attributes the enrollment increase to the college's outreach, which sends staff members to visit thousands of high schools every year. University staff also travels throughout the country and abroad to provide information about Northwestern.
"The outreach that keeps the application numbers up are the college fairs, in terms of maintaining enrollment," Shanley said. "The outreach through interviews is substantial, and the number of interviews has gone up a lot in the last five years."