Artists discuss LGBTQ vulnerability, 'Disruptive Perspectives'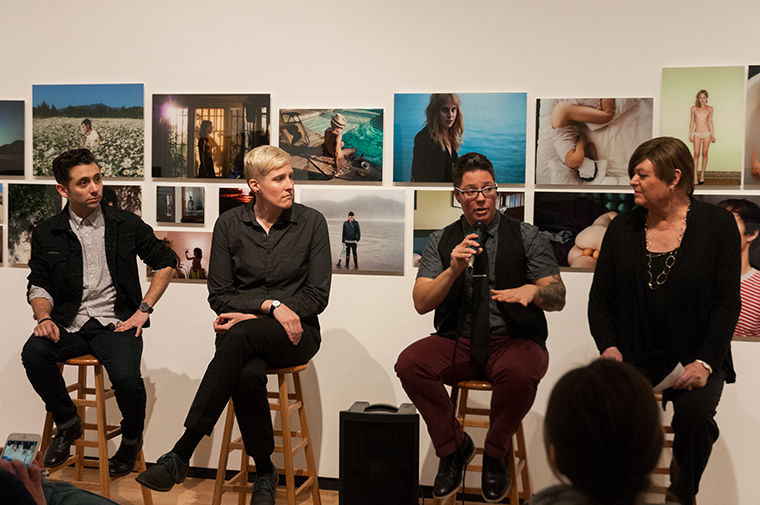 Vulnerability and visibility among the LGBTQ community is the theme of an exhibition now open to the public at the Museum of Contemporary Photography.
During the Nov. 15 "Vulnerability and the LGBTQ Community," panel, artists discussed issues affecting the group and their artwork in "Disruptive Perspectives" at MoCP, 600 S. Michigan Ave.
The panel was moderated by Vanessa Sheridan, director of Transgender Relations and Community Engagement at Center on Halsted—a community center for LGBTQ people living in Lakeview. The panel included Jess T. Dugan, Lorenzo Triburgo and Vanessa Fabbre.
Dugan, photographer for the "To Survive on this Shore" display in the exhibition and 2014 Columbia photography alumna, said she and her partner Fabbre started the project in 2013. The display centers on transgender and gender-nonconforming individuals aged 50 and older nationwide, she said.
"One of the themes that has emerged is this struggle to live as your authentic self, often against societal pressure or expectations from other people, and what's been really amazing for me is that link provides an entrance point for everyone," Dugan said.
Fabbre, assistant professor and affiliate faculty member in Women, Gender and Sexuality Studies at the Brown School at Washington University in St. Louis, said she became intrigued by the topic after noticing a lack of recognition for LGBTQ elders while she was operating a health and wellness center for older adults at Rush University Medical Center.
This influenced her to go to graduate school, focus on transgender perspectives and on aging, which played a role in the project.
Dugan and Fabbre's work is on display at Center on Halsted as well until Nov. 28, as reported Oct. 23 by The Chronicle.
Triburgo, a photographer and artist for the "Policing Gender" display, said the project came about after he observed issues of mass incarceration in the U.S. and the criminalization of queer youth.
Triburgo said he got in contact with 35 LGBTQ identifying prisoners in Oregon and started writing to them monthly. Eventually, his project developed into a collection of prisoners' audio interviews without photographs of the subjects.
His decision to not photograph the prisoners was due to the danger of being an LGBTQ member in prison, which ties to the panel discussion of vulnerability, he added.
Dugan said after almost every shoot, she and Fabbre would discuss concepts of visibility as a trans person. Along with the photographs, "To Survive on this Shore" includes the names, ages and locations of the subjects, Dugan added.
The power is in some ways people willing to be seen and [to] show the various aspects of who they are, as factually complex as we could make it," Dugan said.
Lauren Galt, a freshman audio arts and acoustics major, said she initially attended the panel for her "Writing and Rhetoric I" class but is happy she decided to go.
"It's something that I don't have a lot of personal experience with, but it's an issue that is definitely pressing, especially in today's society, and it's really important to get that knowledge for personal reflection as well as changing the social aspects of it," Galt said.
Dugan said she thinks the exhibition was titled "Disruptive Perspectives" to challenge social norms with the work shown.
"The exhibition has a rigor to it that goes beyond one identity, and the work comes from different perspectives," Dugan said. "It is disrupting mainstream assumptions and status quo and wanting to draw attention to issues that are very significant."