Hip-hop legend offers wisdom to students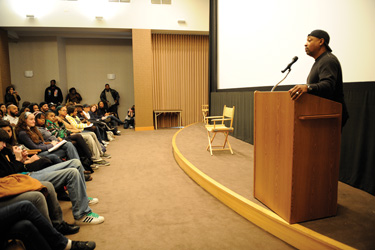 As part of the ongoing event series for African Heritage Month at Columbia, legendary music pioneer Chuck D of rap group Public Enemy spoke in front of a packed crowd at the Film Row Cinema in the 1104 Center, 1104 S. Wabash Ave., on Feb. 17.
Though Chuck D is known for his contributions in the music world, he has been speaking at colleges and universities about a wide array of topics for 19 years. Last week, he discussed issues ranging from consumerism to creativity, in his lecture, "Race, Rap and Reality."
Organized by the Office of Multicultural Affairs, the African Heritage Month event series celebrates history and culture, which Chuck's lecture exemplified.
"Culture is a beautiful thing," he said, speaking to the audience. "Because it brings the human race-the one race-together for all our similarities and knocks aside the differences. It is the universal language."
True to the spirit of his music, Chuck D also focused on serious political issues facing the country. Alluding to the current economic problems, Chuck D said Columbia graduates will face many hard decisions after graduation. In a world of big business and consumerism, he advised students to hold onto what they truly believe in and not cave in to corporate pressure.
"I'd rather be hated for what I am than loved for what I'm not," he said. "That's what you've got to hold yourself to. Hold to your true inner beliefs."
Chuck D's work as a hip-hop artist shows that he takes his own advice. Public Enemy's politically-charged lyrics challenged authority and empowered urban communities to take action in politics.
"Being political is knowing who's running the streets, not just who's running in the streets," he said.
He also stressed the importance of being aware of consumer culture, saying corporations are willing to make slaves out of the masses through their products.
"BET is owned by Viacom, which also owns MTV," he said. "Let's spell MTV: 'EmptyV,' 'cus it gives nothing."
Chuck D didn't just preach his message to students, but at times had a humorous conversation with the crowd.
"He was very candid about the industry," said Kimberly Weatherly, director of African American Cultural Affairs. "Students need to hear the realness of it. He captured the audience and was very
entertaining."
Ten minutes into the event, Chuck D said he wanted to get something out of the way-the notorious reputation of his fellow bandmate Flavor Flav. He said if anyone thought he didn't fit the Public Enemy legacy, then they didn't know their history.
"Flavor Flav has always been crazy," he said to the laughing crowd. "That didn't surprise me. What surprised me was seeing a grown woman crying 'cus she ain't got a clock," referring to the VH1 reality TV show, "Flavor of Love," on which hordes of women competed to win the rapper's heart and time-keeping necklaces.
He also emphasized the importance of knowing history throughout his speech.
"History is a part of everyone's future," he said.
Other topics Chuck D discussed were language, developing skills, the prison system, President Barack Obama and the blues.
"He didn't just speak about music," said Fashion Retail Management major Jaeson Wilkins. "One thing he said that stuck out to me was when he said, 'Go get a passport and become useful to the world.' I want to be a global person."
Chuck D said contributing to the arts and doing something with one's education is the best way to impact the world.
"He made it so that the economic problems and crumbling music business is an opportunity for us to make it better," Wilkins said.
The rapper and social activist is also widely known for his support of Internet file-sharing, which he spoke about at the event, having launched a website in 1999 called RapStation.com.
The website is dedicated to empowering rap and hip-hop artists by providing original programming, social commentary, interviews and MP3 downloads. He has testified in front of Congress in support of Internet file-sharing.
"It was really enlightening to see a pioneer of hip-hop talk about music today and where it's heading," said Chelsea Johnson, a music business and production student who attended the lecture with a
deejaying class.
During the event, Chuck D said CDs are still selling-blank CDs. "The music business is healthy, the record business is dead," he said. "In the next four years, it's hardcore in America." He said anyone who wants to get into the music business today needs to know the fundamental skills in order to succeed.
"And know your damn history," he said.
For more information about the remaining African Heritage Month events, visit Colum.edu /MulticulturalAffairs.