From Columbia to ESPN—DJ alum spins to football season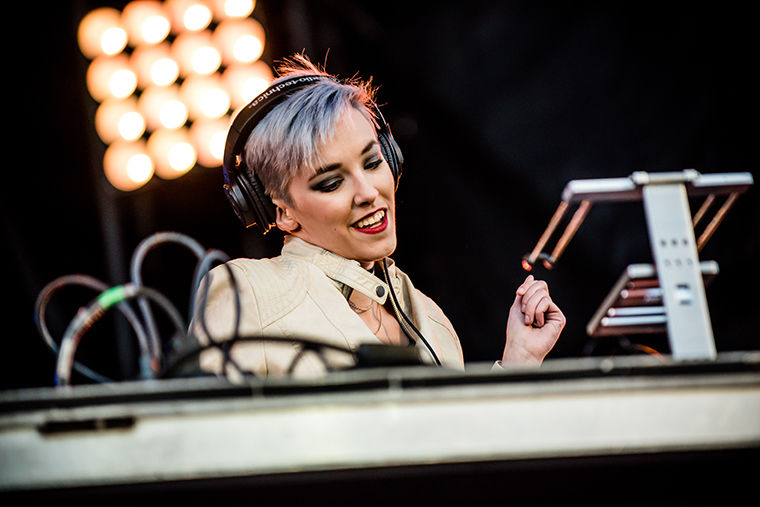 Jill Strange's original, energizing sound has not only won her Fan Favorite and National Runner-Up of the 2016 Campus DJ National Championship, but most recently, the a 2015 cinema art + science alumna has been announced as the official DJ for this year's ESPN college football season.
Strange, is currently traveling with ESPN for college football game days and DJing for the crowd, which is not broadcasted but is hyping the crowd for the sports games.
Anxious to learn more about DJing, Strange said she began her journey at Columbia earlier than most.
"I was still in high school when I went to Columbia to take the [DJ] course," Strange said. "It just snowballed from there."
Strange was able to see just how hands-on the learning experience was, which she said helped fortify her decision to attend the college.
Strange said she learned a variety of skills through the DJ courses, like how to mix house and hip-hop music, and get a range of experience.
Sam Stith, Strange's Club DJ: Turntablism and Hip-Hop Performance professor in the Radio Department, said the DJ curriculum goes beyond learning only from a text book and is a good environment for success in student careers.
With designed and well-thought-out curriculum, DJing has become a more respected career path, according to Lavoy McConnell, also known as DJ I.N.C., another professor who worked in the Radio Department with Strange.
"[Strange] wasn't scared," DJ I.N.C. said, who admired her enduring determination in a male-dominated profession. "She wanted to learn," he said.
DJ I.N.C. said Strange was always asking to learn something new, which is a valuable asset for a profession where new technology is coming out every six months or so.
Strange's success in the 2016 Campus DJ National Championship, including her Fan Favorite title, is not surprising, DJ I.N.C. said.
"Not only did she know what to play, [but] she knew how to play and how to make it exciting—how to crescendo the crowd [and] take them up, take them down, [and] take them back up again," DJ I.N.C. said.
Accustomed to Chicago's club scene, Strange said her new life of traveling all over the country every week with ESPN to different crowds is a "culture shock." She said she is persistently learning, meeting new people and trying her best to promote herself on a far larger stage.
Strange said she is hoping ESPN keeps her on for next year's football season, and maybe even the basketball season. Stith credits her success to Columbia's enduring DJ curriculum.
"[Columbia students] are given the knowledge and they are also gaining the experience. They're doing a lot of hands on, real world practices and techniques," Stith said. "That's what we do. We train kids to become any type of DJ they want to become."