Save Columbia resurrected to create student, P-Fac coalition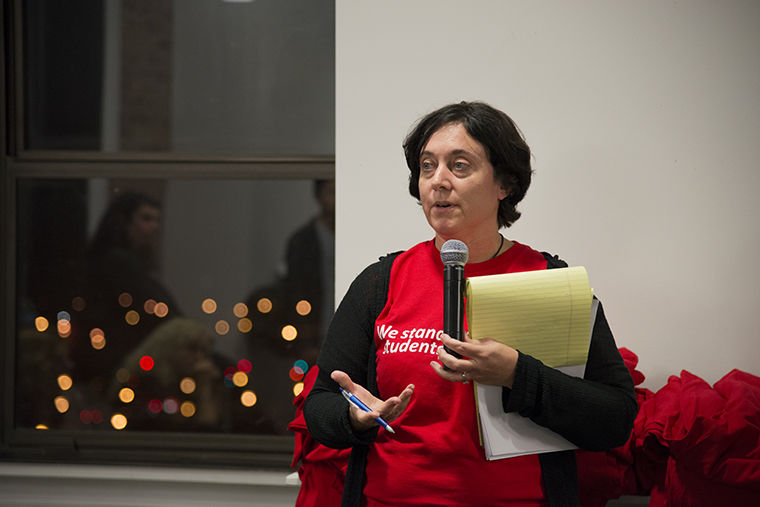 Columbia's Part-Time Faculty union and some students plan to build a coalition called Our Columbia to protest the rising cost of tuition, decrease in student resources and the changes to departments. The possibility of a P-Fac strike also looms if issues are not resolved.
During the Save Columbia forum hosted by P-Fac on Nov. 2, students and faculty in attendance decided to form the coalition and made plans to recruit more members, potentially involving parents of students. The next coalition meeting is set for Nov. 10.
Throughout the forum, those in attendance discussed their experience with the rise in tuition, cuts to student resources and the decrease in available classes. Several students said they were depressed because they have difficulty getting the proper access to counseling, some saying they were referred to outside specialists after only a couple of sessions.
President of part-time faculty union and adjunct professor in the Photography Department Diana Vallera, invited students and faculty to discuss those issues at the 600 S. Michigan Ave. Building.
Stan Wearden, senior vice president and provost, who did not attend the event, said the college is listening to the concerns of students and suggested getting involved in Student Government Association if students want to see change. He said he is also disappointed about the news of the potential P-Fac strike mentioned at the forum.
"It's unfortunate they're talking this way. We have been bargaining with P-Fac and the collective bargaining agreement was a 4-year agreement which has expired now, and so we have been meeting with them regularly in bargaining," Wearden said. "We've been listening to all their proposals, we've been making proposals to them."
This is the second time Columbia has seen a movement by students, staff and faculty called Save Columbia. During the Spring 2015 Semester, the Save Columbia organization raised many of the same issues as this group and staged a sit-in outside of the Office of the President to protest the implementation of the Strategic Plan, as reported April 20, 2015, by The Chronicle.
Prexy Nesbitt, adjunct professor in the Humanities, History, and Social Sciences department, said the college's recent diversity training failed to invite any P-Fac members, which he said make up the bulk of teaching staff at the college. Nesbitt said the college is focusing more on money than education.
"We don't have enough times where we all gather together—faculty [and] students," Nesbitt said. "We are the power of this institution; we can come together and make it be the kind of place that it ought to be."
Vallera said she was also surprised when she heard of the recent diversity training and was unaware of it happening. She said she was shocked that a lot of adjunct faculty and students were left out of these workshops.
"I can tell you that, even as faculty, sometimes we don't know everything," Vallera said. "Prexy Nesbitt and I were in the same room, and we were shocked there was diversity training and we were like, 'What are you talking about? Why weren't we invited and why weren't students invited?'"
Dane Wheaton, senior interactive arts and media major, spoke in front of the forum about how every year a certain number of students are promised attendance at the Game Developer Conference in San Francisco; however, this year he thinks that no one will be able to afford the cost of obtaining a booth at the event. The groups of students need around $18,000 in order to afford the trip, this does not include plane tickets and hotels, which students fund themselves in order to attend the event every year.
"We've had a lot of people get jobs from simply being there, speaking to working professionals," Wheaton said. "We don't get very many opportunities for that kind of thing here in Chicago. It's kind of a dry scene as far as game development is concerned."
Near the end of the forum, students and faculty members discussed possible ways to voice their concerns. A Facebook page will be set up under the name "Our Columbia" in order to recruit more people.
Malik Woolfork, president of Student Government Association, said that any major concerns should be brought directly to the college's administration.
"Unfortunately, we have done this in the past, and this is the first time I've said I think we're going to need to strike, and I mean that sincerely," Vallera said during the meeting. "Unless the college can see that we do have the power to do something."