Students take home national retail competition scholarships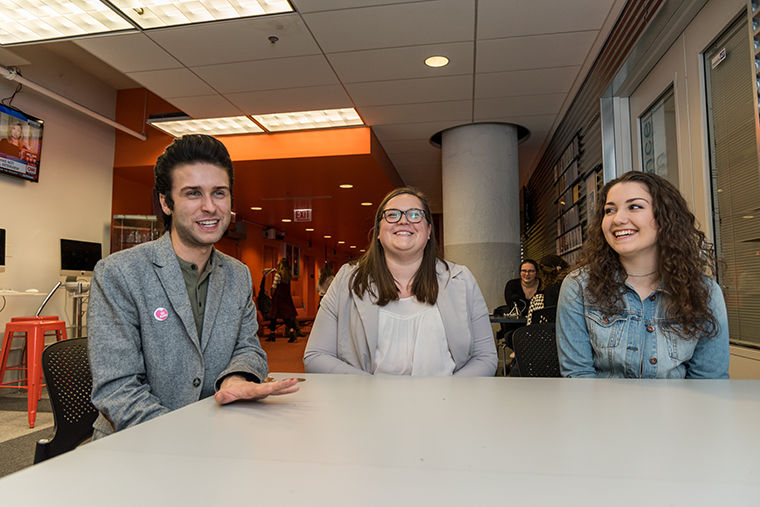 Two Columbia student teams won first and second place in the National Retail Federation student competition, receiving thousands of dollars in scholarships.
The NRF collaborates with STORY, a retail company in Manhattan that likens itself to a magazine, continually reinventing itself, to provide students an opportunity to pitch business plans for several sponsors: Staples, CVS and 3M.
The teams prepare a 25-page pitch presentation and a 90-second video to present to a panel of judges. The three finalists are then invited to New York City to present their final projects and earn prizes.
The two teams traveled to New York for their final presentations Jan. 11 in front of a panel of industry professionals and then attended a Jan. 14 gala, during which they received first and second place, said Dana Connell, an associate chair and professor in the Fashion Studies Department.
Kendall McDermott, a junior advertising major, was part of the three-person team that won first place and said she was proud of all the hard work they did.
"We got really lucky that all three of us were equally as committed to putting in the time," McDermott said. "With projects you never know how that's going to go but we were all committed to it and it payed off."
Connell said students get many doors opened for them through this competition
"The opportunities that these students get in networking and exposure across the industry is tremendous," Connell said. "For them to be able to put on their resume that they won this competition for the National Retail Foundation will get them noticed."
According to Connell, the third place winners receive $1,500 in scholarships each, second place gets $2,500 in scholarships and first place receives $5,000 in scholarships.
The industry professional panelists who judged the students in New York City included Paul Morton, senior vice president of Nordstrom; Rachel Shechtman, founder of STORY; and Julie Atkinson, senior VP Global Digital of Tory Burch.
"The exposure, the networking, the level of professionalism that they're engaged [in], it really prepares those students to hit the ground running and get out into the real world," Connell said.
Ashley Cairns, junior fashion studies major, said a rewarding moment was getting to speak with industry professionals.
"It was kind of weird being in the same room as all of those people because we're just starting out in our careers and all these people are so established," Cairns said.
Blake Fortin, a senior cinema and television arts major, said being involved in this competition proved he can branch outside of his major.
"This gives me so much confidence that I can really do more than just what my major and minor say," Fortin said. "I would never think that I could do all of that but it's cool when you push yourself and it's so rewarding to receive such positive feedback."