Women who yell debuts at Columbia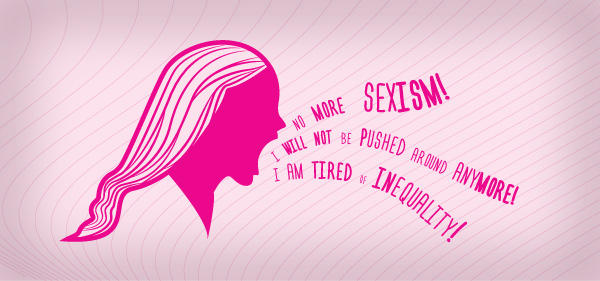 Columbia's campus will be filled with the sound of shouting women April 4 and 11 as a part of a student project titled "Women Who Yell."
Six students in a Writing and Rhetoric II Honors course, taught by Ames Hawkins, associate professor in the English Department, will create a photo essay and audio installation with the help of Jennifer Karlson, a Chicago resident who created a "Women Who Yell" video while she was a student at Antioch College in Yellow Springs, Ohio.
The project will feature photos and audio of women yelling about topics ranging from body image and sexual violence to just being a woman, according to Addison Lewis, a freshman theater major who will participate in the project.
"When a woman is sad, she's seen as over-emotional," Lewis said. "Women feel like they're not openly allowed to feel these things. I thought it would be so cool to watch this platform portray that."
Hawkins, said she assigned the project to teach the students in her class to use storytelling as a way to spread awareness in activism.
"The thing about art activism is you think about how art can best communicate activist ideas and how art is appealing to people and hopefully people can get involved in that way," Hawkins said.
The students have been working on this project for months, but this is not the first time it has been performed. Megan Hague and Kyle Wilkinson co-directed the first video and premiered it two years ago when Hague was a sophomore at Wright State University in Dayton, Ohio.
Hague said  the concept for the video came to her after listening to "riot grrrl" punk-rock music with heavy feminist influences like The Slits and Bikini Kill.
She said the film was originally supposed to feature women yelling and screaming, but as she was filming she realized how much the women had to say and shifted the project's focus.
The video was accepted into many film festivals including the Athens International Film and Video Festival and the Citizen Jane Film Festival. This recognition helped Hague's project quickly gain momentum and women began to speak their minds, which she said is a rare opportunity for females, even in today's society.
Hague said people are rarely exposed to images of women screaming or yelling because the media places too much emphasis on portraying women as conventionally beautiful.
"The piece is meant to be a commentary on both sexism and sexism within the film industry and media industry," Hague said. "Very rarely do we see women expressing anger or rage because it's not considered feminine and it's not considered sexy and it's also considered threatening."
Hague said project participants found it therapeutic, similar to a yoga session.
"When women [were recorded], they were really putting themselves out there," Hague said. "They were really putting themselves in a vulnerable position to reveal personal stuff, and I think that those women usually came out of the sound booth saying they feel relieved, like they had a weight lifted off their shoulders."
Hague said she is almost ready to launch a website for "Women Who Yell" that would allow women to participate worldwide. She said after she and her partner finished their piece, a number of women approached them to ask if they could participate in future videos or if the pair could make other videos, which inspired them to create a space where viewers could.
"[In Hague's video], most of the women begin and they're very hesitant," Lewis said. Then there's always … a breaking point in their faces. Then they're just open and they are what they are and it's just beautiful to watch that happen."