Election results inspire students' political involvement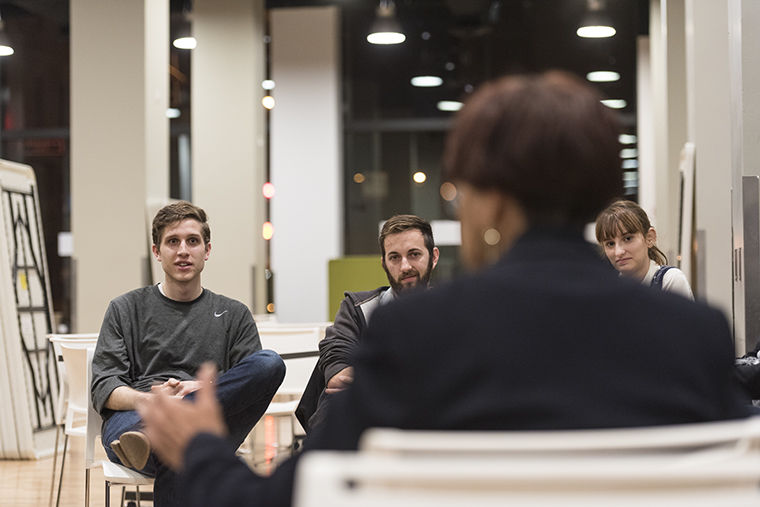 Senior theatre major Aaron Branch said he had never been interested in politics until the Nov. 8 election results named Donald Trump president.
"This was an awakening experience, [which made me think,] 'Wow, I actually need to wake up and get involved,'" he said.
Branch and his roommate Michael Ray, a senior cinema art + science major, created the Open Discussion About Election Results and Promoting Change event, inviting students and faculty to join a Nov. 15 discussion on opportunities for political involvement after the presidential election.
Students and one faculty member, Sheila Baldwin, an associate professor in the English Department, gathered in a circle in the lobby of the Conaway Center, 1104 S. Wabash Ave., to discuss ways of  respecting Trump supporters' opinions,  keeping an open mind on his presidency and getting involved in political groups like "Our Revolution," Bernie Sanders' progressive political movement.
Stephanie Callaghan, a senior theatre major, said she felt the need to participate in the event because it is important for people to come together during hard times and empower each other.
"I've been feeling very invigorated after this election to make change and see this country as how I want it to be," Callaghan said.
Baldwin said it is also important to come up with a plan of action.
"We can protest until we are blue in the face, but if we don't have an action plan, it will be for naught," Baldwin said.
During the discussion, Callaghan emphasized the need to overcome anger and sadness in order to move forward.
"All you can do is move forward," Callaghan said. "To say, 'I'm still sad,' is just not acceptable. You can be sad. I'm happy you have a direct emotional effect from this, but you also have to do something about it."
President and CEO Kwang-Wu Kim sent a Nov. 14 email to the entire college community acknowledging why many students, faculty and staff are feeling afraid and angry after the election results, adding that he has chosen to remain hopeful and trust the country's established  democratic system.
In the email, Kim also emphasized the college's core values.
"We will protect our students, their rights, and their well-being," Kim said. "This is our common moral obligation. We will not tolerate expressions or acts of racism, misogyny, homophobia or any other form of hatred. We will not accept discrimination against any group or individual within our community nor will we permit expressions of intolerance of differing views or beliefs."
Ray said the absence of a college statement within a few days of the election also prompted them to organize the event. Ray added that it is important for higher education institutions to support students in uncertain and difficult situations.
"You want a sense of 'It's going to be okay,'" Ray said. "As an institution, you want to harbor your students civil awareness."
Although Ray was surprised the college issued a statement commemorating Veteran's Day before issuing a post-election statement, he was happy with Kim's statement, adding it was "well done."
Baldwin applauded Kim's statement and said it reminded faculty and students of what the college stands for.
"This is a college; everybody's voice will be honored [and] recognized," Baldwin said. "That was a beautiful way for the college to have a voice in this dilemma we're facing now.'"