Student Programming Board hosts first gallery event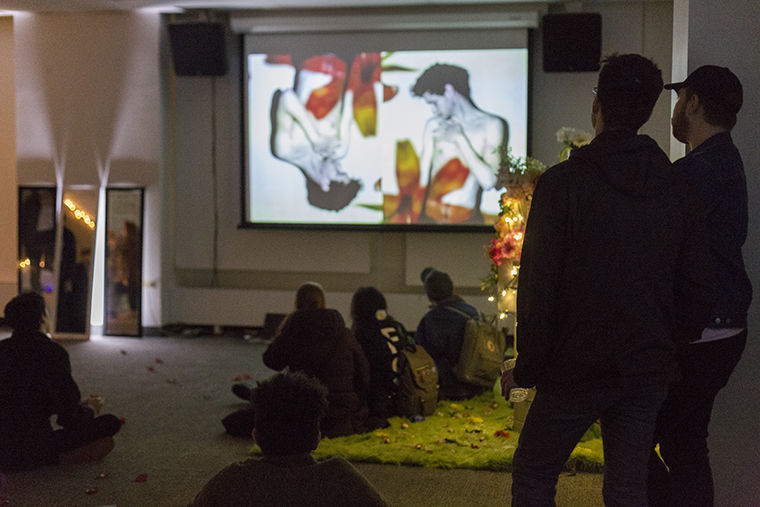 Students' artwork lined the walls of the Letterbox Gallery ranging from abstract paintings to cartoon illustrations. Another area of the gallery was filled with decorations coinciding with students' films being projected onto the wall.
The Student Programming Board hosted its first open art gallery Feb. 23 showcasing both art selections and short films with the goal of presenting student work that has never been exhibited before.
The Letterbox Gallery, held in the 1104 S. Wabash Ave. Building, showcased the work of about 27 students. Photographs, paintings, sculptures and embroidery as well as short films and poetry readings were just some of the work showcased.
Director of Communications for Student Programming Board Elana Schmidt, a sophomore business & entrepreneurship major, said this is the first event that is venturing out and trying something other than SPB's usual music-based events.
No one was turned away from having their artwork showcased, according to  Director of Operations for SPB and senior business & entrepreneurship major Courtney Stevens, which opened the door for many students who had never shown their work in a gallery.
"It was a showcase for students who normally don't have their art shown because we wanted to accept anything that was submitted to us," Stevens said.
SPB also worked in conjunction with Columbia's Editors Guild to select the student short films that played throughout the second half of the event.
"We have such a large Cinema Art and Science Department, and I wanted to know more about what they are doing," Schmidt said. "So we created an event that has to do with film and art and will give people the opportunity to see something new."
Claire Bernotavicius, a junior business & entrepreneurship major, had her photography showcased at the gallery. She said she thought the gallery did a great job of incorporating artwork from non-illustration students.
"It was nice to encompass the entire student body and bring everyone together in an open and friendly atmosphere," Bernotavicius said.
Freshman cultural studies major Zarinah Seleska attended the event to see some of her friends' work being showcased for the first time and said she was amazed by the work displayed.
"You just see everyone mingling, networking and getting ideas from each other," Seleska said.
Because of the turnout of more than 120 students, Stevens said she hopes SPB will continue to host events that stray from music. She mentioned that it is a goal this year to put on different events the organization has never done before.
As the group prepares for their next big event, Biggest Mouth, which will decide the student opener for the Manifest headliner, Schmidt said she hopes events like these keep students involved.
"It's all about the opportunities to show the talent we have at Columbia and get everybody involved," Schmidt said. "It is good to have these types of events because they are different departments working together to create one event that incorporates everybody."