Liberal arts degrees contribute billions to US economy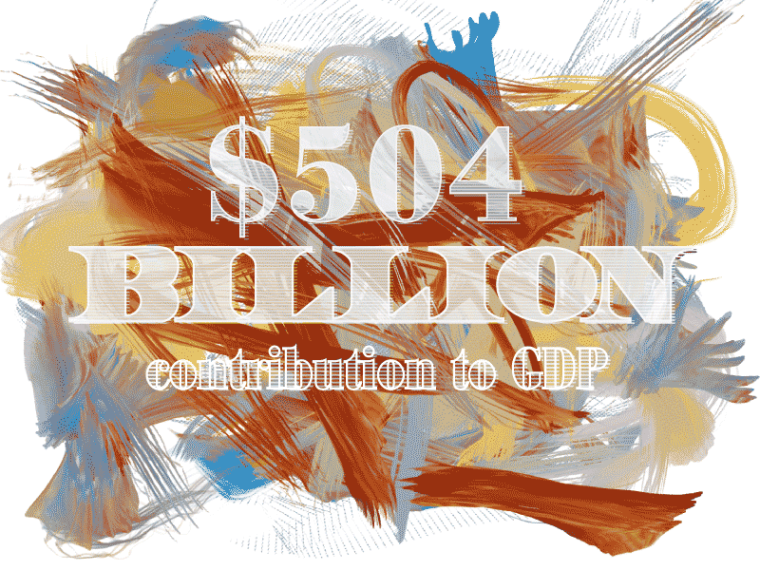 Just when you were beginning to think your liberal arts degree was useless in the current economy, new statistics suggest otherwise.
Data from the National Endowment of the Arts and the U.S. Bureau of Economic Analysis show that the arts and cultural production industry added an estimated $504 billion—approximately 3.2 percent—to the national gross domestic product.
The study examined the relationship between the arts and cultural industries and economic growth, and found the industries that contributed to GDP the most in arts and cultural production include motion picture and video production, advertising services, cable television production and distribution, publishing and the performing arts, according to a Dec. 5 NEA press release.
Sally Gifford, NEA public affairs specialist, said the analysis is the first detailed look at arts and cultural production in the U.S. She added that the Arts and Cultural Production Satellite Account provided data about production in the arts and cultural goods, services and commodities industries to wholly represent the ACP industry.
"We created this [ACP] industry for ourselves in order to capture the economic contribution of all the individual arts and cultural industries," Gifford said. "These industries range from video game design to the construction of a performing arts center. It's a very big tent."
This type of new-age data allows researchers to track the health and vitality of ACP in the U.S. and maintained its progress, Gifford said.
"We hope that the American public and the arts community will use this information as a helpful tool," Gifford said. "It will be useful for many different audiences."
When Neil Pagano, associate dean of the School of Liberal Arts and Sciences at Columbia, saw the results, he said the college's program is beneficial when it comes to searching for employment.
"It's important to remember that every film, every dance, every poem, every series of photographs is about something," Pagano said. "The liberal arts and sciences curriculum at Columbia helps provide that context, that something. The artistic expression is far more meaningful when it has that context."
Employers often give Columbia graduates positive feedback about their liberal arts skill set, understanding of the industry and the kind of professionalism they bring to art industries, said Mark Kelly, vice president of Student Affairs.
When compared to students who graduate with degrees that are not liberal arts-focused, Kelly said Columbia students tend to be more serious and mature than their competitors, adding that Columbia students are ready to hit the ground running when it is time to begin a career in their creative industry.
He added that traditional industries are drying up, with opportunities in the digital environment on the rise, particularly for Columbia students.
"In the economy, the digital world surely has directly impacted the employment pathways and has created new, exciting possibilities for our students," Kelly said. "The work of creative workers is going to be more and more important in the future of the overall U.S. economy."