Funding cuts hit substance abuse centers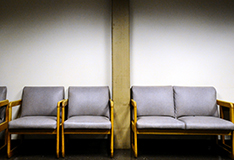 Haymarket Center, 120 N. Sangamon St., is the largest nonprofit substance abuse treatment center in Chicago. In the past two months, however, the agency, which primarily serves Chicago's homeless population, has had to lay off staff, reduce programs and refer clients to outside agencies due to insufficient state funding.
In an effort to balance the $2 billion Illinois budget deficit, Gov. Rod Blagojevich cut support to substance abuse treatment centers in July, reducing funding by 43 percent.
"I've never seen it like this; it's depressing," said recovery specialist Alex Peterson, an employee of Haymarket Center for nine years.
"This is a total dismantle of our medical system," said Dr. Dan Lustig, vice president of program development at the Haymarket Center.
A significant program reduction at the Haymarket Center has hit its detoxification unit. Currently, it can only extend detoxification services to clients with medical insurance, even though 98 percent of its clients are uninsured.
Proper completion of detoxification treatment is pivotal for recovery, said Matthew McFarland, assistant coordinator of detoxification services at the Haymarket Center.
"[Clients] are in the acute stages of their chemical dependency or alcoholism, which means they are … on the verge of death," he said. "To bring them in and only offer them a social-setting detox is absurd."
On Sept. 16, two individuals on a list of 18 detoxification clients who needed medical assistance, were denied because they were uninsured, McFarland said. Uninsured clients are now referred to county hospitals.
"There is no training that can prepare  you to look someone in the eye and tell them you can't help them," he said. "Why make taxpayers pay when we can service clients for free?"
Gregory Thompson, 42, has been a client at Haymarket for more than two months. He arrived homeless, uninsured and disconnected from his family and friends.
While battling depression, he became highly dependent on crack cocaine and alcohol.
"I lost my mom and my daughter through my addiction," Thompson said.  "I want to advance in life, and Haymarket said it will help."
Thompson arrived before the cuts were made; so he has been able to utilize the full benefits of Haymarket's services and the full allotment of time to recover, which is now denied to new clients.
"Not too many people got the opportunity to stay here after the cuts," he said.
Thompson said he used to clean up after patients in the detoxification area to remind him where he was before he received the center's help. He has since passed the early stages of rehabilitation, earning two certificates, and is currently in the men's recovery program.
"This program works, if you work it," he said. "Haymarket has all the tools to educate you, so when you do leave Haymarket you know what the do's and don'ts [are]."
On Sept. 10, numerous Chicago aldermen, many from the House committee, held a news conference to urge state lawmakers to restore the $55.2 million in state budget cuts. If not restored, the state loses another $55.2 million in federal matching funds.
"The state is losing money by not giving treatment," said Ald. Walter Burnett (27th Ward).  "It's backwards what the governor is doing." Later that day, the Illinois House passed a unanimous vote, 113-0, to reinstate the cuts.
"We're letting people know that just because the budget has been cut, Haymarket [Center] isn't going to stop servicing the population," said Allen Dixon, Haymarket Center detoxification supervisor. "We're here, we're open 24 hours a day and we accept anyone that comes in through our door."