Columbia contracts for more gym space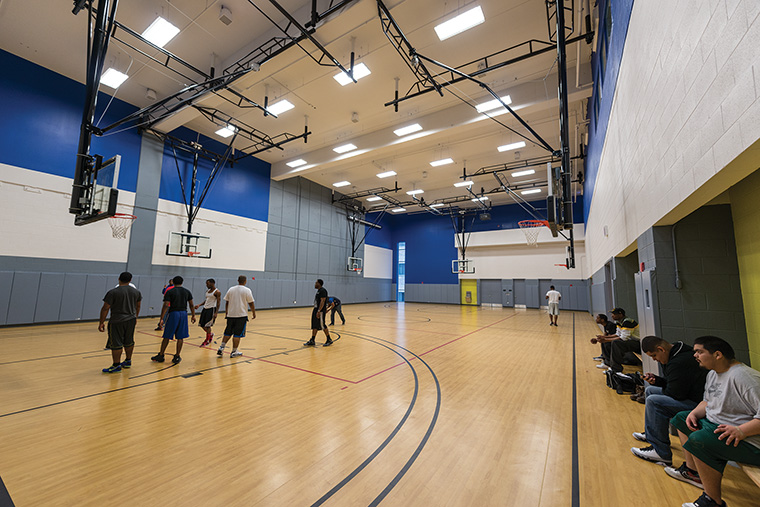 Less than a year after Columbia negotiated gym space at Roosevelt University's Goodman Center, another neighbor is opening its courts to Columbia students.
The college signed a contract with East-West University in late March that will allow Columbia students to live on seven of the 10 floors at The Flats at East-West University, 819 S. Wabash Ave., and will open the facility's gym to all students. Columbia students were living in the building during the 2013–2014 academic year because it is a general student housing building, but it was not officially available as a residence option until April 2014, according to Mark Kelly, vice president of Student Affairs. Students will be able to access the building's gym for 21 hours per week, Kelly said.
"It's a great new building," Kelly said. "It's right on our campus [and] the students living in it have been satisfied with the [gym] facility."
Columbia students now have access to three fitness locations: East-West, the Fitness Studio at Columbia's Residence Center, 731 S. Plymouth Court, and Roosevelt's Goodman Center, 501 S. Wabash Ave. There are also gyms in several other Residence Life buildings, but they are for residents only.
Jovani Thompson, director of The Flats student housing, said East-West is happy to collaborate with Columbia because East-West is a smaller institution.
"Columbia has resources for large-scale events and activities such as intramural [teams], instructor-led fitness classes and tournaments," Thompson said.
Mark Brticevich, coordinator of Fitness and Recreation, said although the East-West gym access is a great resource to campus, it does have limitations, such as a lack of volleyball posts and seating options. He said the college plans to purchase portable volleyball nets, but most sporting events will still be held at the Goodman Center because it has a larger seating section for fans, faculty and students to congregate. Despite its shortcomings, Brticevich said the new gym space will aid the ongoing struggles to find practice spaces for Columbia's sports teams.
"We're always at the mercy of the weather," Brticevich said. "But now, between the fitness studio, the Goodman Center and East-West, we should be able to accommodate more of our teams, especially in off-season conditions."
Brticevich said he is in charge of the 21-hour East-West gym schedule and is currently organizing times for open gym hours, athletic practices and fitness classes.
According to Timothy Gorski, vice president of the Renegades, a member of Columbia's baseball team and a senior marketing communication major, about 100 students are on a Renegades sports team, approximately 1 percent of the student body. Low participation is evidence that Columbia's student body is generally uninterested in its sports culture,  Brticevich said. However, he said he hopes the new gym space will encourage students to attend sporting events, join the Renegades and focus on fitness.
"Columbia is not the most fit campus in the world," Brticevich said. "It's always hard trying to get kids out of their dorm room and get them more active and more engaged."
Gorski said he wishes students would be more involved in Columbia athletics and that this new space is a good way to encourage student participation.
"Everyone needs to be healthy," Gorski said. "It's healthy to go to the gym and get out and be active, but it's not just about being competitive and being athletic."
Gorski said access to the gym will afford the Renegades more practice spaces and reduce scheduling conflicts at the Goodman Center and Fitness Studio, which could be used for more open gym times.
Although Columbia has managed to find athletic spaces at nearby colleges for its sports teams, there's still a demand for the college to build its own official athletic facility, Gorski said, acknowledging that building a new facility is unlikely because of the cost.
"It would be extremely difficult to do because this school [places] a  … stigma against athletics," Gorski said. "[The Renegades do] our best to market the heck out of it. People are not interested in what we have to offer as much as we'd like."