Photographer, designer collaborate for distinctive clothing line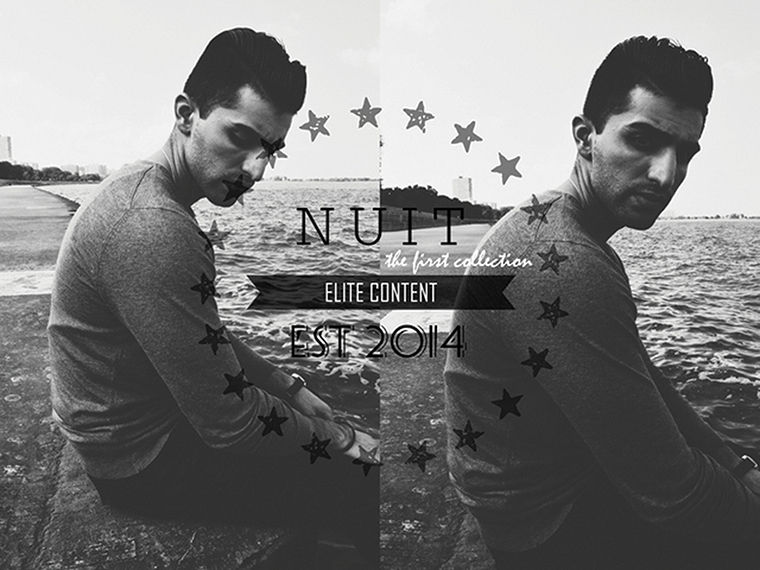 By Assistant Arts & Culture Editor
September 8, 2014
Iqra Sohail and Micky Khurshid are Chicagoans who have teamed up to create a distinct clothing line, "Nuit," French for "night."
Sohail, photographer and co-creator of "Nuit," said the idea for the clothing line was developed after looking for business ideas online. She said the two came across the idea for the clothing line after realizing it was a popular project type to receive funding on Kickstarter. 
"The concept just kind of came out of nowhere," Sohail said. "I like those psychedelic designs— nighttime is the time that a person is thinking. We see it as a creative process, just because a lot of my creativity comes out at night, which is the same for [Khurshid]."
The Kickstarter page for "Nuit" describes the line as "a conglomerate effort by a photographer and a designer to create a clothing line unique to the those who own the night." Sohail and Khurshid chose "Nuit" as the name for their line because it sounded more appealing than simply calling it "night." The word "nuit" put a different twist on the concept for the line, Sohail said.
Narineh Seferian, a junior art + design major at Columbia, is helping Sohail and Khurshid bring their designs to life. Sohail said Seferian's talent and creativity make her an important part of the "Nuit" team as a t-shirt designer.
"I'm doing [10 different] vector illustrations for [Sohail and Khurshid]," Seferian said. "She met with me and gave me an idea for what target audience [she's aiming for] and what her line represents. I'm working with her to present that vibe with original illustration."
Seferian said the team members want their clothing line to attract career-oriented people who work hard and stay up late. However, the clothing line is not meant to pair with going out, partying, drinking alcohol or drug use, which are commonly associated with late nights, Sohail said. All of the T-shirt designs are going to portray a dreamy, euphoric vibe, Seferian said.
"I told [Seferian] the designs have to be colorful, but at the same time they can't just be a generic picture that I took," Sohail said. "She could draw a picture of the city that's colorful and just bursting with creativity, so that's what she's doing."
Sohail set up a Kickstarter page for "Nuit" in mid-August. The page discusses the vision that she and Khurshid have for the clothing line in addition to the origin of the name. Even though the page aims to raise $3,000, Sohail said the main reason she created the Kickstarter was to begin advertising the brand.
Seferian said it was an easy decision to work with Sohail and Khurshid because they work hard and create a positive work environment.
"When [Khurshid] first reached out to me, he made it very clear that he was really motivated, and he had a goal," Seferian said. "He had me the second he said that he wants to build a team of people that he trusts."
Both Khurshid and Sohail said they think the clothing line will benefit from their different backgrounds in photography and clothing design. 
"A photographer and [designer creates a] vision for marketing, and that's huge," Khurshid said. "I think to really do well in today's day and age, the marketing has to be on point. It's gotta be strategic. It's gotta have its foundation to succeed."
Sohail said once they start selling their new collection online, 25 percent of the profit will be donated to a children's charity. Sohail and Khurshid said it will take them a month at most to produce their clothing line. Once they have their final drawings from Seferian, the designs just have to be sent to the printing press and "Nuit" will be in business.
"What you're going to see from the clothing line is sheer dedication," Khurshid said.