Vending the future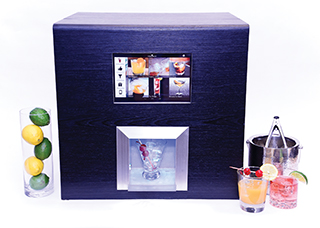 By Assistant Sports & Health Editor
January 27, 2014
At one time, it was a marvel to drop a nickel in a machine and be presented with a cup of steaming hot coffee in a matter of minutes.
Now with the convenience of renting a movie from a machine, vending technology continues to grow along with the type of products being dispensed into the hands of consumers. In the past year, vending technology has made a mark on the food industry and many cities nationwide have embraced the trend.
Just last September, an Atlanta-based company introduced the first artificially intelligent robotic-bartender called Monsieur, a vending machine that dispenses cocktails.
Powered by Android, Monsieur is a sleek black-boxed touchscreen machine that can create more than 300 different cocktails, including 12 themed packages with 25 cocktails in each, according to Barry Givens, co-founder and CEO of Monsieur.
Givens said the idea for the Monsieur came about when he was at an over-crowded restaurant during the NBA finals. Givens said it was when he had to wait two hours for a simple drink that he thought there must be an easier way.
"The bar was so slammed, so the rest of the restaurant suffered," Givens said. "So I asked myself, 'Why don't the servers have their own machines in the back that can make the most popular drinks?'"
The Monsieur includes a mobile application that can be used as a personal bartender and allows its user to browse and order drinks. The user can also order drinks in advance.
Givens said Monsieur's mobile app also tracks the user's alcohol intake based on factors such as weight and gender that state regulators use to determine blood alcohol content. When the user hits his or her limit, the app will send a notification to the user for any available Uber car or taxi in the area.
"Within the Monsieur app, we can't make you stop drinking, but what we do is track your consumption based on time and alcohol amount," Givens said. "It's just an extra step to try to prevent drinking and driving."
But it is not just cocktail vending machines that have made a bold statement on faster accessibility to goods.
This year, Florida-based company The Box Brands launched the first burrito kiosk at two California locations. The Burrito Box, a bright orange vending machine, takes both Mexican food and vending to a whole new level.
The machine offers six types of burritos for $3 each. The Burrito Box features breakfast, lunch and dinner options with several types of sauces to choose from. All of the burritos are made and stocked daily and are 100 percent natural with no hormones or antibiotics, according to Denis Koci, co-founder and CEO of The Box Brands.
All customers have to do is select their desired burrito and sauce from a touchscreen menu and with the swipe of a debit or credit card, the machine dispenses a hot-and-ready burrito to go.
According to Koci, the company was created with the vision of the future, and after a year of developing several different concepts, the company birthed the Burrito Box.
"We actually had a different concept we developed first," Koci said. "This was the first one we launched though because we thought this was just the right time and burritos are the right thing right now. They are very sexy."
The revolution of food vending has not stopped at the West Coast—it has even made its way to the Windy City.
After years of traveling for work, Chicago resident Luke Saunders realized it was difficult to find convenient fresh food. That is when he came up with Farmer's Fridge, a vending machine alternative that offers healthy foods such as ready-to-go salads, snacks and breakfast items dispensed in recyclable containers.
In December, the first Farmer's Fridge vending machine opened at the Garvey Food Court, 201 N. Clark St. Six weeks later, its second location opened off the Lake Forest Tollway Oasis, in Lake Forest, Ill.
Saunders said everything is made fresh daily, prepackaged, then distributed to each location. The price for a regular salad is about $8.
"Freshness is our whole value proposition, [and] it's also what makes it an alternative to a fast casual restaurant versus an alternative to a vending machine," Saunders said. "Vending machines for decades have sold 'food,' and it's not the same, so this option is something people will see as a super food."