Provost finalist visits Columbia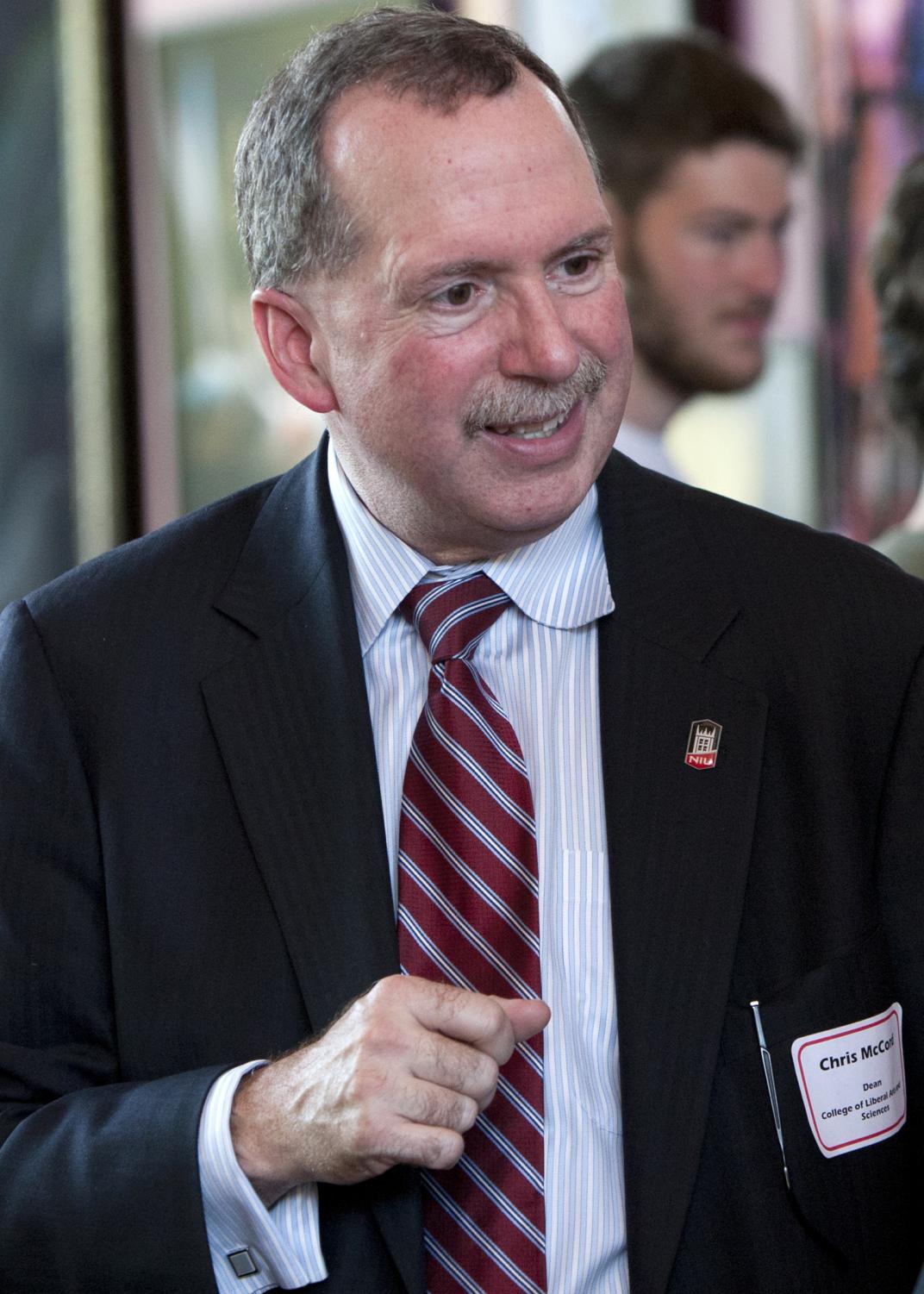 Although reluctant to propose any plans specific to Columbia, provost finalist Chris McCord touched on transparency, technology and diversity during his first forum with the college community.
Approximately 250 faculty, staff and students gathered Feb. 4 at the Conaway Center, 1104 S. Wabash Ave., to listen to McCord's presentation and participate in a Q-and-A session afterward.
McCord, who is currently dean of the College of Liberal Arts & Sciences at Northern Illinois University, is one of two finalists being considered for the provost position at Columbia, a post that has been held on an interim basis for almost three years. 
The other candidate, Stanley Wearden, dean of the College of Communication & Information at Kent State University, will give his  presentation Feb. 11 at 3 p.m. in the Getz Theatre at the 11th Street Campus Building, 72 E. 11th St.
During McCord's 30-minute presentation, he emphasized transparency, the changing culture of higher education and the importance of incorporating technology in curricula. However, McCord was hesitant to modify his proposals to fit Columbia's standards.
"I'm not going to tailor these plans to Columbia," McCord said during the presentation. "That would be presumptuous of me at this point." 
When asked about how he would create a transparent campus environment, McCord responded with an anecdote about his previous public disclosures of NIU's budget.
"More than once I have entered into an environment where budgets were secret," McCord said. "Because budgets were secret, there was often the wildest speculation and the wildest concerns about what the budget really was.… Nobody really knew how it operated and there was an enormous hostility between colleagues about it."
McCord said the first thing he did was publish the budget.
"I published the budget and people said, 'Oh, okay, now I understand. That's what the budget is,'" McCord said. "That's been my experience without fail, that when you make the budget transparent people say, 'Oh, okay, I understand.'"
President Kwang-Wu Kim spoke to The Chronicle after the presentation and said he thought McCord's statement about publishing the college's budget was "a little bold," adding that he too has had positive experiences with transparency in the past.
 McCord's presentation primarily focused on the challenges higher education is facing in the 21st century in response to a prompt provided by Kim.
McCord noted the public image and student demographics in higher education are shifting and colleges need to adapt and respond to those changes while retaining their mission and values. He was mainly concerned with the public image of higher education, what it means to be a college  student while great changes are occurring and what it means for faculty and staff members as well.
McCord, a mathematician, said he felt that student discourse about the value of higher education is based on the financial return they receive on their investment. How quickly students will be able to pay off their loan debt is based on the salaries they earn using their degree.
McCord stressed that college affordability and cost are not the same thing because affordability is a way for a student and their family to meet the cost in ways that make sense, whereas the actual cost is the college's responsibility.
Faculty questioned McCord about his experience with incorporating technology into Columbia's academia and curricula.
"Twenty years ago, entering the mathematics classroom were handheld devices that would do everything that we taught a student to do in calculus," McCord said. "What did we do initially? We just banned them from the classroom. Turns out that that's not an actual teaching strategy…. You can tell your students to turn off their cellphones when you come in the classroom, but you can't make mobile technology go away."
McCord was asked by Fo Wilson, assistant professor of Art + Design, about the level of diversity in his personal relationships and whether his close, personal relationships include LGBTQ people, people of color and people with disabilities.
"I am a middle-class, middle-aged, balding white male," McCord said. "I recognize I am as close to privileged as one could get in the U.S. and I recognize that is not everybody's experience, so my friends and colleagues are of different races, ethnicities, orientations and different disabilities."
Kim said the forum allowed him to see McCord from many different perspectives. Now, Kim will begin preparations for the next candidate's visit.
"I think he is a thinker, I sensed the audience was really listening and they looked engaged," Kim said.
Kim said, after both candidates are presented, he and the 14 other search committee members will review the feedback received and select a provost, although the final decision will be up to him.