Faculty members showcase short film at festivals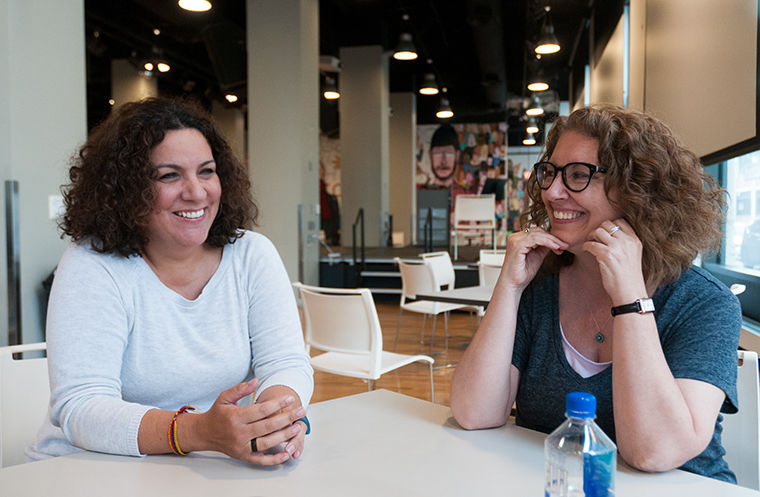 Two professors from the Cinema and Television Arts Department are spending the fall showcasing a short film they created called "The Scary Ham" at festivals nationwide.
Sue Mroz, associate professor of instruction in the Cinema and Television Arts Department, wrote and directed the film, and Carolina Posse, an assistant professor in the same department, produced it.
"The Scary Ham" focuses on two middle-aged sisters who, after the death of their father, have to clean out their childhood home together. During the process, they discover a ham in the basement that's been hanging there for 20 years.
"The arc of the film is about how the family reforms after someone leaves it, and how that energy remains and becomes reincorporated in different ways with them gone," Mroz said.
The film will be showcased at festivals throughout the fall, and applications have been submitted for more festivals in the spring and summer, according to Posse. The film has been accepted at eight film festivals across the country including the Colorado Film Festival and Kentucky's River Edge International Film Festival.
Mroz adapted the film from a memoir of the same name by Ellen Klages. Inspired by the memoir, Mroz said she saw an opportunity to tell her personal story. After experiencing the loss of her father, Mroz said she wanted to put the experience on film, stumbled across Klages' story and knew she wanted to pursue the adaptation.
The film has already been shown at Full Bloom Festival in North Carolina, Knoxville Film Festival in Tennessee and Louisville International Film Festival in Kentucky, all during the weekend of Sept. 15–17.
After watching the premiere at Knoxville Film Festival, Mroz and Posse were thrilled with the audience's positive feedback.
"These two years of working toward that [and] it just comes down to just that screening and that satisfaction," Posse said. "It's priceless really."
Cheryl Graeff, adjunct professor in the Cinema and Television Arts Department, played the role of Ellen, one of the two sisters. She was initially drawn to the role because of the quirky script and the connection she felt to the crew.
"It was a fantastic group of people," Graeff said. "Sue and Carolina were just amazing leaders to have."
Mroz said that she hopes audience members leave the film remembering the importance of family and connecting with loved ones.
"This film was inspired by and is a tribute to our fathers," Mroz said. "I hope to simply make a connection with people and remind them of their own connection with their parents, living or passed."