UC sold in largest student housing purchase in Chicago history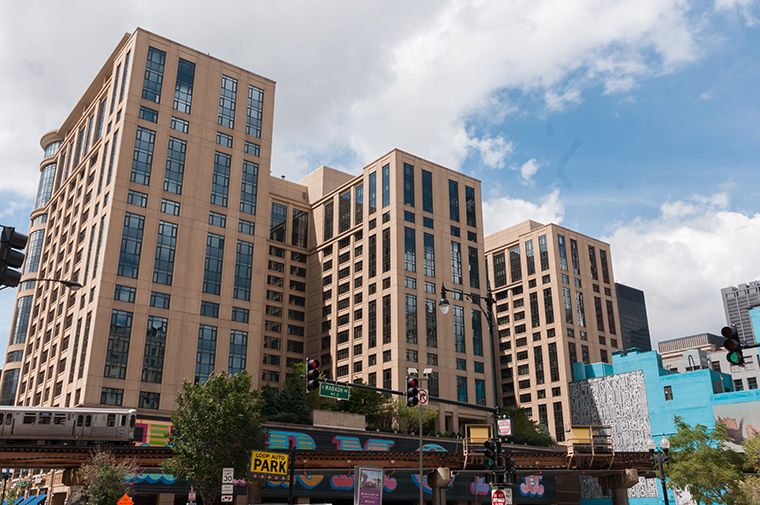 The University Center student housing building was sold July 20 for $201 million in what is considered the largest student housing transaction in Chicago's history.
Matt Jaehrling, controller and associate vice president of Business Affairs, said Columbia's proceeds for the sale of the building, 525 S. State St., will be used to fund the college's new student center's construction, which will cost an estimated $50 million. President and CEO Kwang-Wu Kim previously said the 114,000-square-foot building would be partially funded by proceeds of the UC's sale, as reported May 8 by The Chronicle.
Columbia, along with DePaul University and Roosevelt University, formed a nonprofit company in 2004, called the Educational Advancement Fund, to split the construction costs. When the housing building sold, the EAF had $127 million in bonds borrowed for the building's construction. Proceeds from the sale were used to pay the debt, and the remaining $74 million, before taxes, was divided between the three colleges, according to Jaehrling.
The colleges kept separate shares of the building, and Jaehrling could not disclose exactly how much of the proceeds Columbia took from the sale or if Columbia received the full $50 million needed for the student center's construction.
The building was purchased in a joint venture managed by a Chicago-based real estate investment firm, Blue Vista, which specializes in student housing, and a Paris-based investment company called Axa Investment Managers, according to a July 20 Blue Vista press release. Blue Vista holds 5 percent of the building while Axa Investment Management holds the remaining 95 percent, according to the release.
Axa is an international investment group which holds more than $85 billion in invested assets in a number of markets, offices, retail, logistics, healthcare, forestry and infrastructure, according to the company's website. Student housing, a market that was once dominated by specialty investors, has recently become a more secure investment for other reality groups, partially because of a large surge in national university enrollment, a trend that is expected to continue growing, according to an Aug. 3, Realtor magazine article.
In 1990, 13,819,000 students were enrolled in universities and rose by 6,824,000 students to 20,643,000 in 2012, according to a report by the National Center for Educational Statistics. By 2020, the number of enrolled students is expected to jump another 1,216,000 from 2012, according to the report.
Although Axa owns a majority of the UC, Blue Vista will assume full operational responsibility for the building, according to a July 21, Axa press release.
As part of the sale's conditions, EAF agreed to lease 1,200 of the 1,725 beds in the building for 10 years and will have to pay for the beds whether they are filled or not, Jaehrling said.
"You can turn to your sister institutions, the other two schools, to have them try to fill them on your behalf and work out an arrangement for them, or you have to pay Blue Vista for what you cannot fill," Jaehrling said. "You are still obligated to pay for that 10-year time period."
The lease provides for rent increases tied to the inflation rate for the next 10 years, and although Jaehrling would not disclose the exact rate, he said it is a typical business practice.
"With any kind of lease like that, the landlord would build an inflation factor,"Jaehrling said. "That way you establish the rent for a long period of time—otherwise they could come back to you and say, 'Hey, we're raising the rent 30percent this year,' and you get a big surprise. This way it is locked in and you know what to expect for the next 10 years."
Rachel Woolf, spokeswoman and vice president of Investor Relations and Operations for Blue Vista, said her company has been investing in student housing since 2006, and the UC is the largest student housing purchase in Blue Vista's Chicago history. Woolf said Blue Vista was interested in the UC because of its valuable location in the city.
"It's local to a lot of colleges in the area. It is on the larger side [and] has a good student body population," Woolf said. "It's close to amenities, it's close to transportation, so all of those things make it a really attractive investment for us and for our partner, Axis."
A Blue Vista affiliate and property management company Peak Properties now manages the UC, according to Woolf.
"We hope that if [students] do notice a difference that it is a smooth transition for them and ultimately a positive one, and they see improvements they've hoped for or want to happen," Woolf said.
Woolf said recreational areas and living spaces may be renovated, but no solid plans have been made yet.
During the sale, Blue Vista told EAF it would be making improvements to the University Center including renovations to amenities and and living spaces but did not clarify what other changes would be made, according to Jaehrling.
"Our student experience should be very similar if not the same as what we have experienced in the past." Jaehrling said. "There is a Residence Life function, there will still be the dining center that will be operated by Chartwell [Higher Education Dining Services] like it has in the past. So everything should be status quo."
Paul Sorensen, chief operating officer and portfolio manager for Blue Vista's student housing, said in a July 20, press release that the UC is a unique facility that attracts a large and diverse student demographic.
"We are excited to be able to use our student housing asset and property management capabilities to deliver an exceptional experience for residents, as well as maximize value for our investment partner," Sorenson said in the release.
Jaehrling said he thinks the sale is in Columbia's best interest, particularly because of the college's plans to construct the student center.
"It was great because we're building a student center so [the sale] obviously filled a need rather than borrowing money to build a student center," Jaehrling said. "[It] satisfies the ability to build that without acquiring debt."