Artists explore feminist elements in new gallery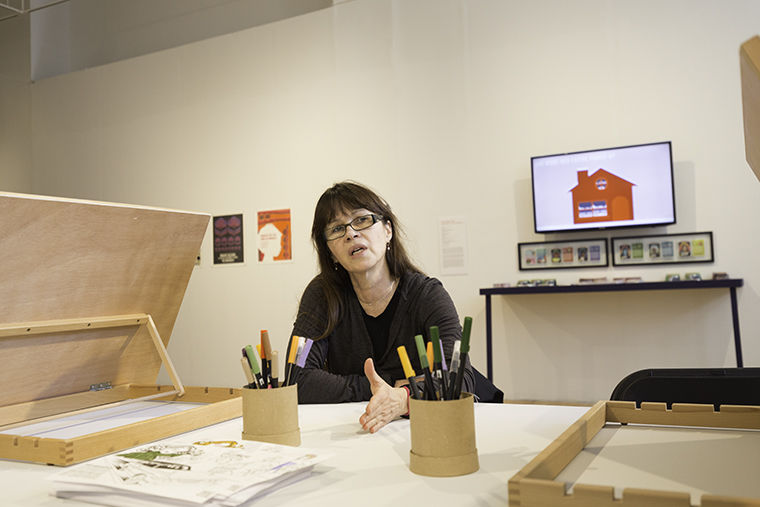 Dedicated to the promotion of feminist ideals and beliefs, the multimedia and performance-oriented "Revolution at Point Zero: Feminist Social Practice" gallery is now open to the public.
The installation, curated by Neysa Page-Leiberman, director of Configuration Spaces, and Melissa Hilliard Potter, associate professor in the Art and Art History Department, will be on display until April 24 in the Glass Curtain Gallery, 1104 S. Wabash Ave.
Potter said she and Page-Leiberman developed the idea for the gallery after recognizing how little attention is paid to feminism in the context of art movements.
"In this show, we are featuring artists that we think exemplify the legacy of the feminist art movement in the contemporary, socially engaged field." Potter said.
The gallery features artists Laura Anderson Barbata, Marisa Jahn and Megan Young, all of whom have contributed their own feminist perspectives to the gallery through their work.
Barbata's contributions to the gallery's theme include magazine, video and graphic segments featuring Julia Pastrana, a 19th century woman born in Mexico, who suffered from health conditions that caused her body to be covered in thick black hair and her jaw to be disproportionately large.
According to Barbata, Pastrana married a man in America who displayed her around the country under monikers like, "Ugliest Woman in the World" and was able to make money from her exploitation. Pastrana and her child later died during childbirth, and yet were embalmed and publicly displayed by her husband. 
"The exploitation of Julia Past- rana did not end with her death, nor his death or even the death of his second wife, who inherited the bodies," Barbata said. "They continued to be bought and sold."
Barbata said she worked with various groups for ten years to have Pastrana's body taken out of a modern collection in Norway and given a proper burial in Mexico. 
Both Potter and Barbata agreed that though Pastrana's situation was very specific, her story can still apply to many women who are being exploited in their own fields.
"Her life and death touches on so many subjects that are still important and that people are still fighting for today," Barbata said.
Jahn contributed her "Careforce" exhibit—which includes public art, film and a mobile studio—explores the often overlooked work of caregivers and domestic workers, who are predominantly female, she said. Jahn's work uses several different media ranging from take-home trading cards portraying real-life caregivers as superheroes to a video project Jahn made to document her work traveling and educating domestic workers throughout the country.
"When we're talking about domestic work, it is also a way of talking about the need for not only nannies, health keepers and caregivers for economic stability, but I'm also interested in pointing out the ways in which it disproportionately affects women," Jahn said.
Because the Glass Curtain Gallery is on campus, Potter said it was important that the installation fosters critical thinking.
"The show has quite a bit of educational material to provide and that was also why we focused on the text," Potter said. "We felt a great educational responsibility to contextualize and to help people understand these things they might have less familiarity with."