Columbia ranked in top 10 most liberal colleges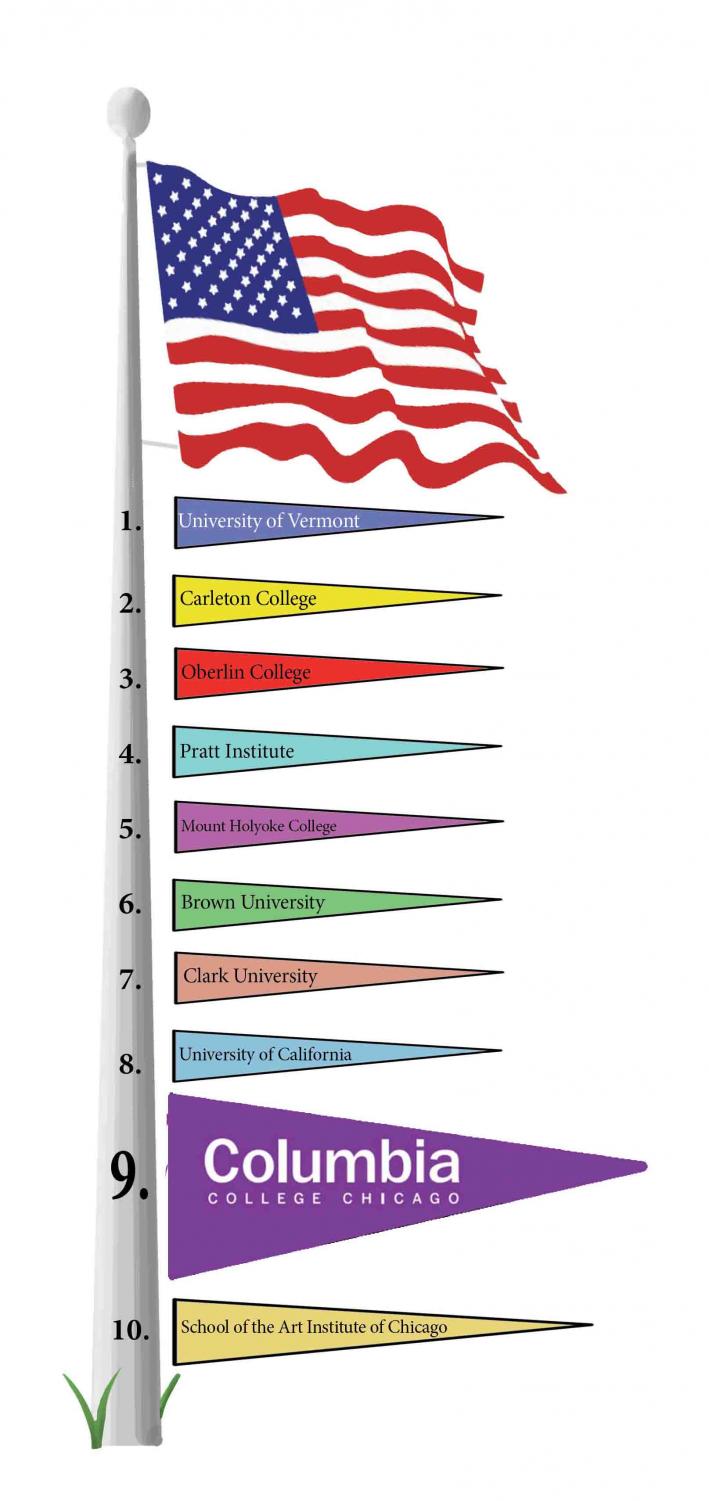 In a new ranking from Niche, an education institution data company, Columbia was ranked one of the most liberal colleges in the country.
The college was ninth in the nation and came in directly above the School of the Art Institute of Chicago. The ranking, which included colleges such as Brown University and the University of California, was based on surveys pulled from 747 4-year colleges in the country, according to Niche.
This kind of recognition is always beneficial for the college, according to a Nov. 15 statement from the college News Office on behalf of Deborah Maue, vice president of Strategic Marketing and Communications.
"Positive, national recognition of Columbia is always encouraging," Maue's statement said. "It helps toward securing our presence on the map of higher education and, in this case, places us among other creditable institutions."
Because of Columbia's urban location and its diverse and creative atmosphere, many students were not surprised to find their college on this list, including Nick Shinners, a sophomore television major and president of Columbia College Democrats.
Shinners said he sees the ranking as clear recognition that the college is a progressive environment.
"All politics aside, being liberal means being forward-thinking, being accepting of all people, being open-minded to change and those are all extremely positive things," Shinners said.
He added that he thinks the college is unique in its treatment students, their learning and their creativity.
"I can't think of many other universities or colleges that embrace people from all different walks of life as much as Columbia does," Shinners said. "And that's what makes Columbia such an accepting place: its liberalism."
Charles Kim, a senior audio arts & acoustics major, said liberalism also means being open to new thoughts and ideas, which means a lot to him, adding that if the college was not liberal on certain issues, it would be a turnoff.
"It means, education-wise, I have the chance of working with people who are not just open politically, but they're open artistically," Kim said. "[It means] they feel more free to speak their mind, which is really big in creative schools."
Although there are many benefits from making it onto this list, Maue said in the emailed statement that this ranking is not all that defines Columbia.
"Columbia has served the world of creatives for more than a century, and in many ways is considered a pioneer in arts and business," the statement said. "We embrace diversity and challenge our students to do more, while transcending political affiliations."
Because the term liberal is associated most with politics, often used to describe those who lean toward the left wing of the Democratic Party, freshman business & entrepreneurship major Max Blaul said this can discourage prospective students from going here.
"A lot of colleges get bad raps for being excessively liberal or excessively conservative," Blaul said. "If there are some students who are possibly more conservative or classically liberal, the neo-liberal or modern-liberal way of doing things here may be [a] deterent, which I'm not sure it should be, but I could see why people wouldn't like it." 
Shinners said it is important to remember that while a lot of people hold a similar mindset at Columbia, there are students who do not.
Blaul said Columbia's liberalism will not affect his work and is glad to see it has not interfered with his personal beliefs. He added that although the college may be diverse when it comes to ethnicity and culture, it is not very diverse idealogically.
Shinners added that despite some students not seeing this ranking in a positive light,  this title is an honest representation of Columbia.
"We live in a bubble here at Columbia where a lot of people—not everyone—are very like-minded and when you really step out of that, it could be surprising and shocking," Shinners said. "When I speak with my friends who go to different universities around the country, I realize just how different and how special Columbia really is."