'Giving Tree' gives back to CPS classrooms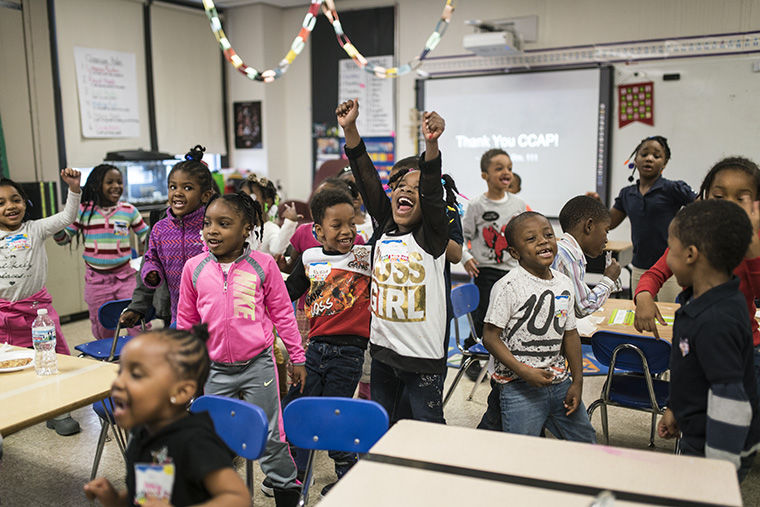 Classrooms at Mahalia Jackson Elementary School will receive new school and art supplies from Columbia's Center for Community Arts Partnership and the Library as part of its annual Giving Tree gift-giving project.
In the past, the Giving Tree—which has taken place for the past six years—has asked for donated toys for Chicago Public School students. However, this year, it is asking for school and art supplies for the classroom of kindergarten teacher Adam Jimenez at Mahalia Jackson, according to Katie Collins, student engagement manager for CCAP.
Paul Teruel, director of community partnership for CCAP and adjunct professor in the Business & Entrepreneurship Department, said this year's gifts will have a larger impact on the students and teachers who receive them.
"We're trying to affect students for a longer period of time," Teruel said. "Rather than buying them individual presents, we're buying them school art supplies and books so they can [last] the students for days, weeks, months beyond the Giving Tree."
Located in Columbia's Library in the 624 S. Michigan Ave. Building, the Giving Tree donation point was decorated with ornaments that students, faculty and staff were able to take and replace with supplies, which were then donated.
Collins added that the donations will help about 30 students.
The Giving Tree was set up in the Library from Nov. 29 to Dec. 8. Joy Thornton, access services assistant for the Library, said this is a great way for the Columbia community to get involved and make a difference.
"People don't always have a chance to give back. They always live inside of their own world, not realizing there's a bigger world moving around them," Thornton said. "There's students who need things that aren't actually toys, but paper towel rolls and Clorox wipes because CPS is taking certain programs out of schools."
After receiving all the donations from the 15–20 participants, CCAP, Library staff and 12 Columbia students dropped off the donations to Mahalia Jackson on Dec. 9.
Teruel said it is great for Columbia students to get involved in the drop-off celebration, which included pizza and snow globe-making because they were able to see firsthand the impact they are creating.
"These gifts aren't just going into the ether. They're going to a definite, specific school, a specific classroom and the participants who are buying the presents will have an opportunity to see where [their donations are] going to," Teruel said.
Jimenez said CCAP's generosity, along with the Columbia community's, makes him overjoyed
"It's beautiful, [the students] love it," Jimenez said. "We really aren't able to do this for them—with budgeting and how CPS works—so being able to bring all these resources in really benefits them. If they're happy, I'm happy."