Student accuses college of disability discrimination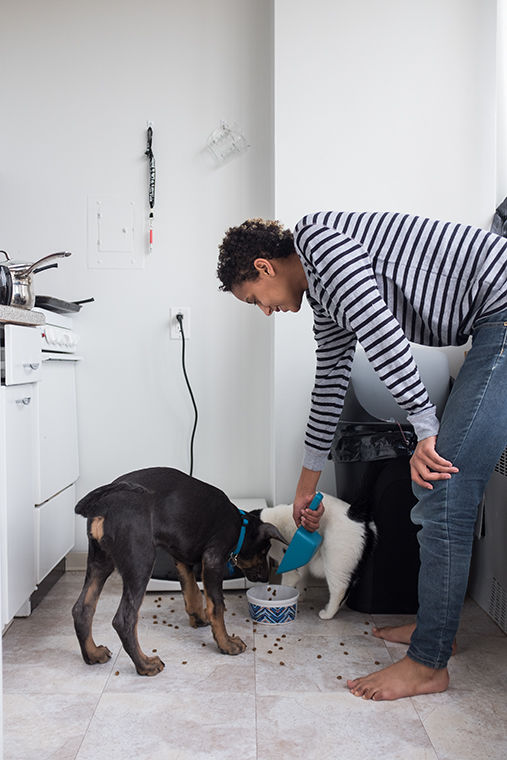 A student alleging discrimination by the college has asked a disability law activism group for help after Columbia denied her request to keep an assistance dog and cat in her dorm room.
Lindsey Barrett requested a second animal in December 2017 after her psychiatrist recommended a dog to help alleviate her severe panic attacks.
Barrett, a sophomore business and entrepreneurship major, said she was diagnosed with depression in 2013, and anxiety was added to her diagnosis shortly after, she said. In 2017, she was diagnosed with adjustment disorder with social anxiety.
The DSM-5, or The Diagnostic and Statistical Manual of Mental Disorders, defines adjustment disorder as "the presence of emotional or behavioral symptoms in response to identifiable stressor(s) occurring within 3 months of the onset of the stressor(s). In addition to exposure to one or more stressors, other DSM-5 criteria for adjustment disorder must be present. One or both of these criteria include distress that is out of proportion with expected reactions to the stressor, as well as symptoms must be clinically significant—they cause marked distress and impairment in functioning."
Adjustment disorder can come with other disorders such as anxiety, which has been Barrett's case, and the severity of the stresses lead to her diagnosis.
Barrett said although she loves having her assistance cat Leo, whom she has had for two years, she and her psychiatrist realized the cat was not enough to help treat her most recent diagnosis and decided to request a dog to live with her in The Arc, 37 W. Van Buren St.
After filling out the required paperwork for the Services for Students with Disabilities Office on Oct. 1, 2017, and including her therapist's recommendation for a second assistance animal, Barrett was then denied the accommodation.
She believes the decision is contrary to housing and disability law.
According to the U.S. Department of Housing and Urban Development, "Persons with disabilities may request a reasonable accommodation for any assistance animal, including an emotional support animal, under both the [Fair Housing Act] and Section 504 [of the Rehabilitation Act of 1973]. In situations where the [Americans with Disabilities Act of 1990] and the FHAct/Section 504 apply simultaneously—a public housing agency, sales or leasing offices, or housing associated with a university or other place of education—housing providers must meet their obligations under both the reasonable accommodation standard of the FHAct/Section 504 and the service animal provisions of the ADA."
Rebecca Wisch, associate editor and staff attorney for the Animal Legal Historical Center at Michigan State University College of Law, explained that emotional support animals are technically a subset of assistance animals.
"A person with an emotional disability can establish that emotional assistance animal provides therapeutic benefit in terms of calming them, lifting their depression, reducing anxiety, all sorts of things," Wisch said.
A person can request an assistance animal if the housing complex does not usually allow pets, including campus housing requests, Wisch noted.
"That housing provider can determine based on that request, whether to grant the reasonable accommodation," Wisch said. "That's always based by looking at the specific assistance animals in question."
In a Jan. 5 email provided to The Chronicle by Barrett, Assistant Director of SSD Jeanne Kelly said the college only grants student housing accommodations for one emotional support animal at a time.
"If you do choose to replace your cat with another animal, you will be required to submit all documentation required under the policy for that animal," Kelly said. "Since the request is less than 60 days from the date of your move to campus, the accommodation for the new animal may not be met if there are any roommate or other logistical issues that cannot be resolved."
Kelly declined to comment in a Feb. 20 email to The Chronicle, citing federal laws that protect student information.
Barrett said after the denial, she scheduled a meeting with Kelly and Associate Dean of Student Health and Support Beverly Anderson.
"[During the meeting, they] essentially told me that my documentation wasn't sufficient enough to warrant having multiple animals," Barrett said.
Wisch said the legality of the situation is unclear because the U.S. Department of Housing and Urban Development's regulations may not necessarily be applicable to Barrett's case.
"I don't know if a court has said—based on this fact pattern—a person can have an emotional support animal for this aspect of their disability, and then the additional emotional support animal for this aspect of the disability," Wisch said. "It's difficult because there's not a lot of precedent out there to establish which way a decision would go."
In a Feb. 19 email to The Chronicle, Anderson also declined to comment, once again citing the Family Educational Rights and Privacy Act that is protectant of student information.
On Feb. 2, Barrett received an email from Dean of Students John Pelrine, which was once again provided to The Chronicle by Barrett.
"Your therapist advised that the dog would assist by providing comfort and physical proximity," Pelrine said in the email. "The medical documentation and other information you provided in writing and in person demonstrate that the animals serve the same function—emotional support alleviating symptoms of your anxiety. We affirm our decision to deny your request for an additional assistance animal."
According to Barrett, her psychiatrist said the animals provide two different forms of care. The cat provides isolation and motivation assistance to get out of bed and begin her day, which ends up aiding her in the completion of everyday tasks. The dog helps with panic attacks and anxiety by offering comfort and physical proximity as well as helping to contain the effects.
In a Feb. 23 email to The Chronicle, college spokeswoman Anjali Julka provided a statement on behalf of Pelrine and the Services for Students with Disabilities Office emphasizing the difference between emotional support and service animals.
"We continuously work to address the needs of our students and help ensure their well-being. A student with a disability may request to keep an "assistance animal" in housing as a reasonable accommodation under the Fair Housing Act, if certain conditions are met. Emotional support animals do not fall within the definition of a "service animal" as defined under the Americans with Disabilities Act, as amended. Columbia's student housing policies and procedures are consistent with federal and state law, including without limitation the FHA pertaining to assistance animals, and the ADA, which governs service animals. We carefully review each situation on a case by case basis. Additionally, we adhere to regulations that govern student privacy under the Family Educational Rights and Privacy Act.
Barrett said after receiving Pelrine's email, she went to meet with him in person.
"I explained to [Pelrine], 'Hey, they're going to be doing different things,' and he claimed that it would be a disruption in the dorms," Barrett said. "He tried to tell me that it would be a crowding issue, that my apartment is not sufficient space to have both of these animals and that it would be disrupting my roommates even though I had each of them send a letter to him saying that they would be OK with it."
Barrett said she views the college's actions as discriminatory and has asked Equip for Equality, a disability law and activism group, to take her case.
Despite Pelrine's alleged claims of crowding issues, her roommates Anna Malek and Molly Bockmeyer sent emails to Pelrine assuring the college they consented to having the animals in their apartment.
Malek, a senior cinema and television arts major, said she sent the email Feb. 5 because she found the school's decision unfair and troubling.
"Throughout this whole process, [it] has been really stressful for all of us because we see how much her emotions are getting haywire and all the stress she's going under," Malek said. "She's not getting the care that she needs."
Morgan Chojnacki, a sophomore dance major, said she has also had similar problems within the Services for Students with Disabilities Office.
Chojancki said she filled out paperwork in spring 2017 requesting that her cat Chester serve as an assistance animal to alleviate her homesickness when she would be returning in fall 2017.
On June 29, 2017, Chojnacki and her therapist filled out the required paperwork explaining her diagnosis of depression and anxiety and how the assistance cat would alleviate those symptoms.
Cuong Chau, coordinator for SSD, told her to send any paperwork over the summer and she would be set to have her cat when returning in the fall, Chojnacki said. After filling out and sending required paperwork on her diagnosis to Chau on July 17, 2017, she said she did not receive a response.
After sending proof of her animal's vaccinations on Aug. 14, she received an automatic email response from Chau explaining that he was out of the office and would return Aug. 17. Chojnacki sent another email on Aug. 21, checking if Chau had received the email about the vaccinations and received no response.
When she returned in September, Chojnacki said Chau no longer remembered who she was or her request.
"I went to the office after returning in the fall of 2017 and asked why [I] hadn't heard back from [him]. He acted as if he had no clue who I was," Chojnacki said. "I also brought the paperwork in case he had no recollection of it and he didn't. He didn't even see the email, he took photo copies of it right then. He didn't even remember that we had met."
On Sept. 21, she sent another email including a picture of her cat and his carrier to Chau and did not hear from him again until mid-November, Chojnacki said.
"I didn't hear back from him until I went to his office the week before Thanksgiving break. I went down there and he's like, 'Oh yeah, you can bring him back whenever now,'" Chojnacki said. "I thought it was the most poorly planned thing ever."
In a Feb. 26 email to The Chronicle, Chau declined to comment, stating that the case is being handled by department heads.
Kelly also declined to comment on the situation in a March 13 email to The Chronicle, again stating that she is unable to discuss specific student matters.
Chojnacki said she hopes awareness is raised about her experience to help other students going forward.
"I hope [the SSD office] thinks about how they're approaching everything that they maybe start becoming more efficient and develop a better system," Chojnacki said.
Barrett said her experience has resulted in more panic attacks, and to help, she bought her assistance dog and moved into a studio apartment in Bronzeville to alleviate her stress.
Overall, Barrett said she would settle for a refund of her housing costs and tuition for the Spring 2018 Semester based on the stress the experience has caused her.
"I am so far behind, I don't even know where I am in half my classes at this point," Barrett said, "because this has been going on for three months and it could have [just] been resolved in a timely manner."