Chronicle again named No. 1 non-daily college newspaper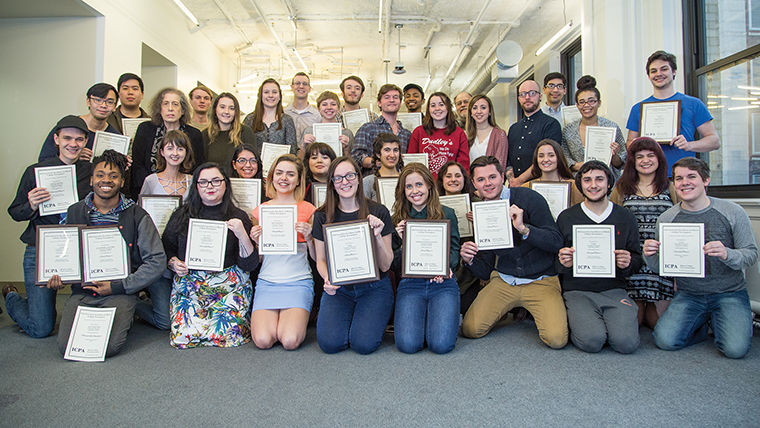 For the second consecutive year, The Chronicle staff received a first place award for General Excellence as well as 31 others at the Illinois College Press Association convention Feb. 18.
In addition to the General Excellence honor, for which the newspaper was competing against 12 non-daily publications from colleges with enrollments of 4,000 students or greater, The Chronicle was awarded eight other first place awards. The staff also collectively received eight second place, seven third place and eight honorable mention awards.
Len Strazewski, an associate professor in the Communication & Media Innovation Department and The Chronicle's faculty adviser, said the awards are an indicator of the quality of Columbia's journalism program.
"The Chronicle fosters a very professional and practical news environment," Strazewski said. "The students that work here know exactly what it's like to be a journalist. Someone who has spent a year or so at The Chronicle is very comfortable moving into a professional newsroom environment. The recognition of the awards indicate that we are exactly on track with fostering professional development."
The Chronicle's editorial board was awarded first place for Opinion Pages—a presidential endorsement from Fall 2016 written on behalf of the staff by Managing Editor Arabella Breck.
Other staffwide, first-place awards included first places for Entertainment Supplement and Front Page Layout categories.
Individual first place awards included former Campus Editor Andrea Salcedo Llaurado for In-Depth Reporting; Feature Page Design by Senior Graphic Designer Zoë Haworth and former Graphic Designer Sarah Impola; Advertising Campaign for Kimberly Owyang; and Non-Sports Column for Editor-in-Chief Megan Bennett. 
Despite Columbia not being known for sports overall and competing against publications with a heavy emphasis on sports, The Chronicle took home several awards in sports-related categories. Art Director Alexander Aghayere received first place in Sports Page Design for a roller derby feature published in the Spring 2016 Semester. The Design staff also received second place in the same category for The Chronicle's coverage and feature on the Cubs World Series victory in the Nov. 7 issue. Former Senior Photo Editor and Webmaster Lou Foglia also received an honorable mention in the Sports Photo category.
The Chronicle's photographers also took home six individual awards, including second place and third place in Feature Photo for Foglia and Senior Photo Editor G-Jun Yam respectively, Senior Photo Editor Wesley Herold's second place for Spot News and Senior Photo Editor Kevin Tiongson's third place in the "Shoot Chicago" competition that took place during the conference.
For the awards, The Chronicle was competing against 12 other non-daily college newspapers. In the open category awards, The Chronicle was among 35 other Illinois colleges competing.
CMI Department Chair Suzanne McBride said she was happy to see the newspaper with a "storied" history of excellence being awarded once again. 
"It's a wonderful message to be able to tell prospective students, to underscore why this is a place you want to do journalism, photography, design and generally become an expert communicator," McBride said.
Strazewski added that he looks forward to helping push the students who work at The Chronicle even further to gain more success and recognition.
"It's very exciting to see The Chronicle continue to evolve," he said. "It has a long tradition of excellence, but every year it seems to get a little bit better."