Theater dedicated in remembrance of Sheldon Patinkin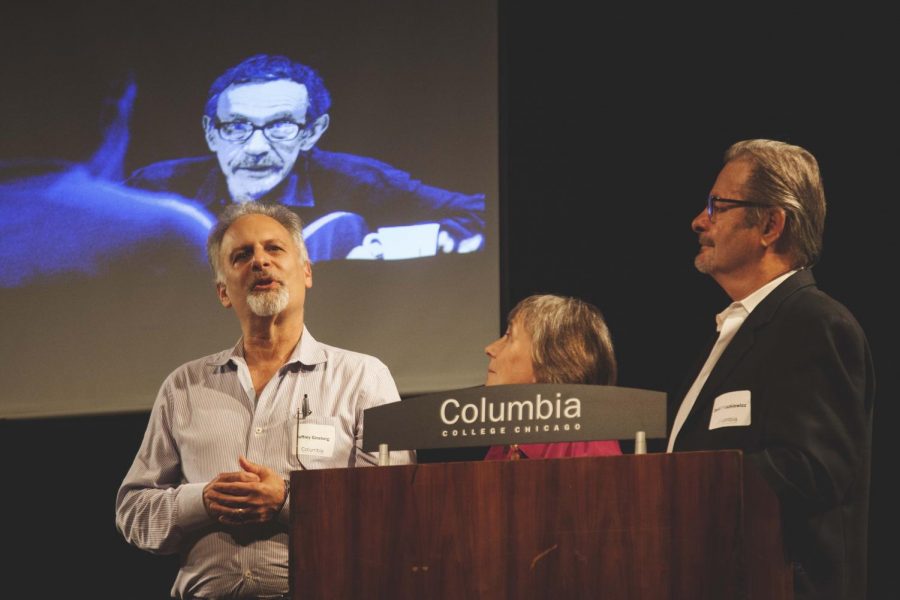 Members of the college community dedicated the "black box" in the lower-level of the Getz Theatre, 62–72 E. 11th St., on Sept. 28 to the late Sheldon Patinkin, a former chair of Columbia's Theatre Department and an influential figure in Chicago's theater community who died at the age of 79 on Sept. 21, 2014.
"I can tell you one thing that is striking to me, is two years of listening to people tell me about Sheldon Patinkin and the extraordinary impact he had on their lives," said President and CEO Kwang-Wu Kim, who added that he never personally met Sheldon Patinkin, who worked at Columbia for 29 years.
"It has given me a real powerful sense of who he was and what he meant to so many people,"
Columbia's Theatre Department was a special space for Sheldon Patinkin, said John Green, chair of the Theatre Department. "He loved this space because it was a place where he, and we, continue to create community," Green said.
Lynn Patinkin, Sheldon Patinkin's oldest niece, said he took her to the movies, theaters and amusement parks as a child. She added he always said "I love you" instead of "goodbye."
Stephanie Shaw, a senior lecturer in the Theatre Department, said he was a teacher, mentor, friend and occasional "mad man." She said the dedication allows students to continue conversations about him for years to come.
Faculty members auctioned off letters spelling out "The Sheldon Patinkin Theatre" to raise money for the Sheldon Patinkin Scholarship. They raised about $1,575 for the scholarship, according to David Puszkiewicz, an adjunct professor in the Theatre Department.
The night ended with a student performance of the song "No One Is Alone" from "Into the Woods," the last production Patinkin was working on at Columbia before he died.