Political reform group to bring presidency discussion to Columbia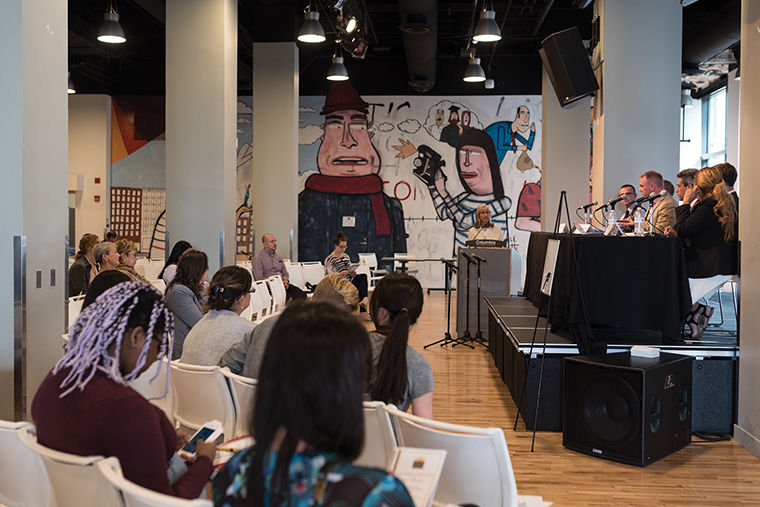 The Illinois Campaign for Political Reform will be holding a forum at Columbia with expert panelists for students and the public to discuss the effects of the Trump administration on the state.
"This is one of the main topics on everyone's mind right now," said Sarah Brune, ICPR's executive director. "Everyone is talking about the Trump administration and how it can affect their daily lives, and that is really what we want to shed some light on."
Scheduled experts to speak at the panel, titled "How Will the Trump Administration Affect Illinois?," include Northwestern University politics professor Jaime Dominguez, Communication & Media Innovation Department Chair Suzanne McBride, Executive Director of the Latino Policy Forum Sylvia Puente, Professor of Political Science at University of Illinois at Chicago Dick  Simpson and Interim Director of Paul Simon Public Policy Institute Jack Tichenor. The forum will be held Feb. 22 in Ferguson Hall at the 600 S. Michigan Ave Building.
Brune said ICPR often holds events at Columbia, including the organization's annual summit, and thought it would be a good setting for this particular forum.
"There is something great about being in an academic space when you are discussing these topics," Brune said.
Simpson, a former 44th Ward alderman, said topics such as immigration and financial cutbacks to social service agencies and local governments would most likely be a part of the audience Q&A after the panel.
"This is going to help the audience visualize what is going to be happening and decide what they want to do about it," Simpson said. "If the public becomes aroused enough, they can block some of the worst of Trump's policies, particularly the budget cuts and some of the immigration laws as well."
McBride, who has worked in political reporting throughout her career, said she is interested in discussing what life will look like for everyday people for the next four years with respect to education, the environment, social services and the military.
"There are a whole lot of things [to discuss], but this is true for any president, whether it is Trump or anyone else," McBride said. "These federal-level changes can have a real impact on people at the state level."
According to Brune, the forum is open to the general public, but ICPR has always had an interest in students attending their events.
"The purpose for making these events free for students is we want them to be able to have better access to the political process and better understand how things work in the state and local governments so they can get involved," Brune said.
McBride added that this forum provides a way for Chicagoans and students to reflect on what is happening in government and to decide whether  they want to  try to  get involved. She said this can be done by speaking, calling or emailing with elected state officials or attending hearings to make sure there voices are being heard.
"Whether we realize it or not, students have a big voice and can really have an impact," McBride said. "I hope events like this serve to educate all of us and encourage students in particular to speak out and be engaged."