Student doc targets diversity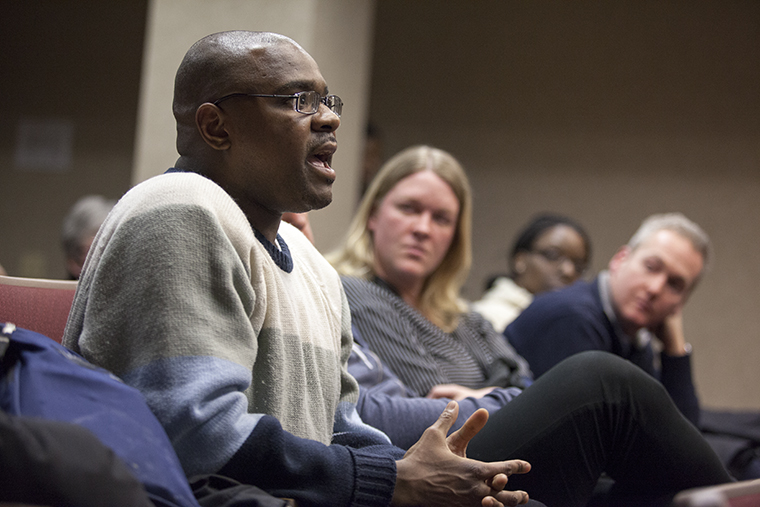 More than 50 people gathered Feb. 26 in the Conaway Center, 1104 S. Wabash Ave., to attend a third and fourth screenings of "Black Sheep," a new documentary detailing the lack of diversity in the curriculum of Columbia's Cinema Art + Science Department.
After hearing complaints from black Cinema Art + Science majors, the Black Film Society, a student organization focusing on films that show the black perspective, created the documentary to expose the department's lack of a diverse curriculum.
According to the Office of Institutional Effectiveness, the college has more than 950 adjunct faculty members and more than 300 full-time faculty. Approximately 9 percent of full-time faculty and 8 percent of part-time faculty identify as black, from the same website. Approximately 34 percent of the college's spring 2014 undergraduate students identify as an ethnic minority and 17 percent are black, according to the spring 2014 statistics.
Dismissing people of color in the curriculum takes away from students' learning, said Raina McKinley, president of the Black Film Society and a freshman Cinema Art + Science major.
"A lot of people had been [telling] stories of how their peers hadn't been treating them fairly or professors not showing film clips that reflected the diversity of the students," McKinley said.
Out of the 100 adjunct and full-time faculty in the department, 10 identify themselves as black, according to Bruce Sheridan, chair of the Cinema Art + Science Department.
The department does not limit curriculum content, and no new proposal for a particular area of focus is automatically rejected, he said in an emailed statement.
The Black Film Society screened the film for the first time Feb. 5 in the Wabash Campus Building, 623 S. Wabash Ave., and invited several administrators, including President Kwang-Wu Kim, Bruce Sheridan, chair of the Cinema Art + Science Department, and Mark Kelly, vice president of Student Affairs.
Sandra Cuprisin, administrative assistant in the Cinema Art + Science Department, and two others from the department attended the first showing, and Kelly came for the Q-and-A session McKinley said. Kelly, Sheridan and Kim attended the Feb. 26 show. Kim said he thought the documentary was interesting, but he wished it included more faculty perspectives.
He said he has heard similar complaints from students about lack of diversity, adding that the college will look into bringing in faculty members with different perspectives. Hiring faculty members of different ethnicities is only one part of creating a diverse faculty, Kim said.
"Part of how you diversify curriculum is bringing people who have different experiences and different expertise," Kim said. "[Diversity] has got to be built into the way we set about creating hiring plans."
Andre Richardson Hogan II, a 2001 liberal arts alumnus, said he thought the film was informative, and without student organizations like the Black Film Society, finding an outlet for minority students' voices are heard.
Hogan said he encountered few black faculty members, and as an artist, he experiences a lack of diversity in the professional world.
"When I took my playwriting courses, it was mostly white students," Hogan said. "I felt like I didn't get as [many] resources as I should … regarding finding an agent [and] script submissions."
Kloe Mallard, freshman music major, said she thought "Black Sheep" was a brilliant documentary, adding that she wished
Columbia had more instructors like Jennifer Peepas, an adjunct in the Cinema Art + Science Department, who was featured in the film.
Mallard said she came to Columbia expecting it to be more diverse, but found that she was one of few black students in her classes. She said she has not had many black professors.
"I enjoyed tonight, and I think [Columbia] needs to have more nights like this," Mallard said. "It's not like I want to be surrounded by black students all the time … but I'd rather have teachers that knew how to accommodate me as a black student."