Sharpless crosses gap from one-man project to stage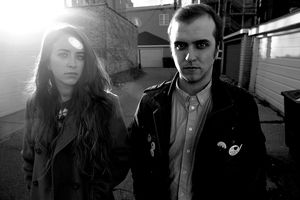 Jack Greenleaf is not afraid to admit his admiration for Taylor Swift.
When Swift released Red in 2012, she left the country genre for the pop sphere. Some saw this as a betrayal of her roots, but Greenleaf, the founder and sole permanent member of Sharpless, a New York City-based band, said her genre-hopping was nothing more than evolution.
Sharpless also straddles the line between genres. An eclectic mix between bubblegum K-pop and '90s rock with healthy doses of synth and auto-tuned vocals, Sharpless is hard to define. However, Greenleaf, a Brooklyn native and 2014 Columbia audio arts & acoustics alumnus, said his main goals are to play with the expectations of the listener, and that works best with raw, honest lyrics and the tune he has in mind to shape the sound of each track.
The band's second LP, The One I Wanted To Be, dropped in May. The effervescent tracks give off an air of carefree superficiality only to be followed by gut-wrenchingly cognitive lyrics, addressing topics of identity and belonging. Originally only available digitally via Bandcamp, Greenleaf re-released the album on cassette in August through Father/Daughter Records.
The Chronicle spoke with Greenleaf about the different music scenes in Chicago and New York City, the transition from recording to playing live and the meaning of raw lyrics.
THE CHRONICLE: What does it mean to define an artist by genre?
JACK GREENLEAF: Everyone I know is very awkward about genres…. I think it's kind of fun when people get to own their own genre. The music I make is pretty hooky and pretty bubblegum, but there's definitely a darkness, and I think it overreaches. That's always what I try to do: overreach and be aggressive. I try to be very raw with it. There's a certain violence sonically, and with the cognitive lyrics that leave a scar, touch the skin a little bit. Hopefully it's when you least expect it. I like to lull people into this relaxed [space] and then be like, "What? Oh no!"
Are there any differences between the Chicago and New York City music scenes?
They're totally dissimilar. There are great scenes in both of them. I love Chicago so much, and it was a great experience [playing and living there], but I think it's easier for me to find things that I'm more keen on in New York. There are certain community spaces in New York that make it so that becoming friends and becoming part of the community is really easy and really fast and really rewarding really quickly.
How do you transition from recording on your own to playing live?
I struggle a lot with trying to be a live band. It's really hard to do. I'm so used to just being in my room doing it all, and live, instead of having 70 tracks I have to have five people [on stage]. You can only do so much, but we definitely try to make it work. It's the reverse process of most bands. They write all the songs and they get into a recording studio and record all the songs, and then they play a show. But for me, I put out the album and everyone has to come over and spend hours learning all of these songs. It's like reverse-engineering a band.
Your live shows are very energetic. Does that help you adjust from recording alone to playing live?
Yeah. Growing up, all the bands I saw were really high-energy bands. It almost doesn't matter how good you are. It really just matters if you're putting yourself out there. Are you trying to actually make connections? Are you inspiring other people to do the same thing or maybe to do something else? That's the goal. Maybe the high energy is just a reflection of it, desperately trying to reach out and say, "Come on! Do you feel this? Maybe not."