Part-time faculty vote to join new parent union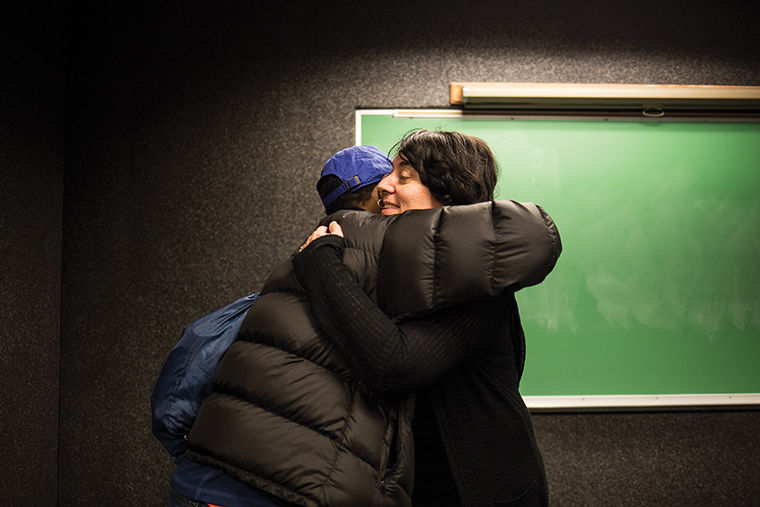 Clapping and laughing could be heard outside of a classroom in the 624 S. Michigan Ave. Building as members of Columbia's part-time faculty union counted affiliation votes to join the Service Employees International Union.
With 213 votes in favor and 8 votes against, union members voted Nov. 29 to affiliate with SEIU, according to Diana Vallera, P-Fac president and adjunct professor in the Photography Department. SEIU is a labor union with 2 million members. Representatives from the parent union did not respond for comment as of press time.
Vallera said she was excited about joining SEIU because it is a "perfect fit" for the union, focused on social justice issues.
"We want to be able to make a living wage, have a voice in the workplace [and] security in our jobs," Vallera said. "That's a lot of what SEIU is doing."
Vallera said she hopes the affiliation will help the union have equal representation with the college at the bargaining table when contract negotiations begin next year.
David Arieti, adjunct professor in the Science & Mathematics Department and the department's union representative, said the decision to affiliate is the right step for the union because it will give P-Fac better labor relations.
"Now we will be able to have our grievances met quicker than [what] we used to have [as well as] resolved in a positive way," Arieti said.
In a Nov. 29 emailed statement sent to The Chronicle by college spokeswoman Anjali Julka on behalf of Terence Smith, the college's special counsel for labor relations, the college will continue working with P-Fac regardless of its affiliation.
"We will continue to work productively and positively with P-Fac, whether it be an independent union or an affiliated local," the email stated.
This is the first time P-Fac voted to join another labor organization after members voted 232-50 to disaffiliate from its former parent union—the Illinois Education Association-National Education Association—in 2015, as reported Jan. 26, 2015, by The Chronicle.
Conflicts between P-Fac and the IEA-NEA arose when the statewide association proposed that members of the US of CC, also NEA-affiliated, should be allowed to teach, a decision  Vallera said would allow staff members to take course assignments from adjuncts.  As the P-Fac contract specified that only its members can teach classes part-time, NEA wanted staff members to be able to join P-Fac, as reported Jan 26, 2015 by The Chronicle.
Additional motives for P-Fac's IEA-NEA disaffiliation included the need to avoid a conflict of interest, increase transparency by having access to databases and reports, and desire to be represented by Dupres, Schwartz and Geoghegan law firms instead of "IEA's financial or other interests," according to "The Many Benefits of Disaffiliating" newsletter published on P-Fac's website.
At the time, Vallera said IEA's years of disservice and failure to honor the contract was "the last straw" that prompted the disaffiliation.
Gail Sonnenfeld, adjunct professor in the Cinema Art + Science Department and the department's union representative, said she thinks P-Fac will have more legal support with SEIU, especially after the union's disaffiliation with IEA-NEA. She added that it will allow the union to get its  points across and get the college administration to listen.
"We should be a little bit more powerful, with a broader base and more people standing behind us," Sonnenfeld said.
Vallera told The Chronicle in a Nov. 29 interview that after a year of being independent and doing research to assess whether P-Fac should join a parent union, she realized SEIU was committed to the same larger issues P-Fac stands for.
"I'm very excited about [what] we can do together and how we can grow P-Fac, most importantly, how all of us can go and build more solidarity and support higher education," Vallera said.