Student forum discusses possible program merger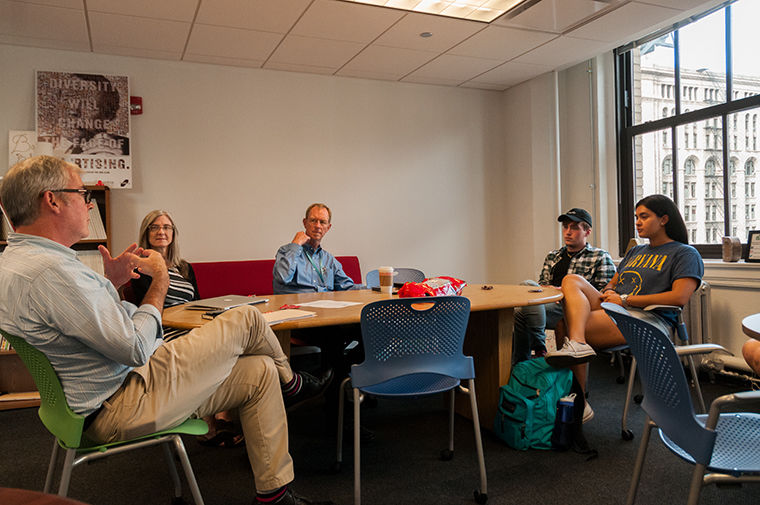 Students and faculty were able to comment on a possible merger between the advertising and advertising art direction majors under the Communication Department during a Sept. 18 open forum held for Columbia students to receive information.
Invitations were sent out via email to students inviting them to attend the forum. No other student forums are scheduled.
Faculty members who hosted the forum include Design Department Chair Tim Cozzens, Design Department Associate Chair Matt Doherty, Communication Department Chair Suzanne McBride, and chairwoman of the Communication Department's Curriculum Committee Peg Murphy who met with two students in the 33 E. Congress Parkway Building.
The students who attended the forum were junior design major Gaby Garcia and junior communication major Lane Hedler.
If the proposal is accepted, advertising art direction will become one of three concentrations within the advertising program, Cozzens said. The other two are copywriting and creative strategy concentrations, he added.
McBride said after speaking with adjunct professors and alumni about real work experiences, the department decided a merger would be beneficial to students because both programs work closely together.
"We really like the idea of bringing students together earlier and more often," McBride said during the forum. "When you guys come together, not only do you learn from each other, but the rest of us in the room get to learn from that really rich collaboration."
The merger has several more approval rounds before it reaches Senior Vice President and Provost Stan Wearden, who Cozzens said should make the final decision in spring 2018.
Several meetings have been held with faculty this semester about the advertising and advertising art direction programs merging, and the overall response has been positive, McBride said.
If approved, the merger will only affect incoming freshman and transfer students, Cozzens said.
"One of the main things we wanted to emphasize is that students who are currently in one of those programs would maintain their program until graduation," Cozzens said.
Garcia said she is in favor of the merger because the two programs are so closely related.
There were no objections from Garcia and Hedler during the student forum.
"I've been on both sides of the fence; it's refreshing to see that everyone's communicating now," Hedler said. "I like [the merger] a lot."
Cozzen added that the proposal is not "etched in stone," so students can reach out if they have concerns.
"This isn't the last chance to get input," Cozzen said. "There's always the ability to modify it as we move forward."
Update Sept. 26, 2017, 5:00 p.m., A previous version of this story incorrectly referred to Peg Murphy as the associate chair of the Communication Department. Murphy is the chairwoman of the Communication Department's Curriculum Committee. The Chronicle regrets this error.