P-Fac plans strike, final votes to be cast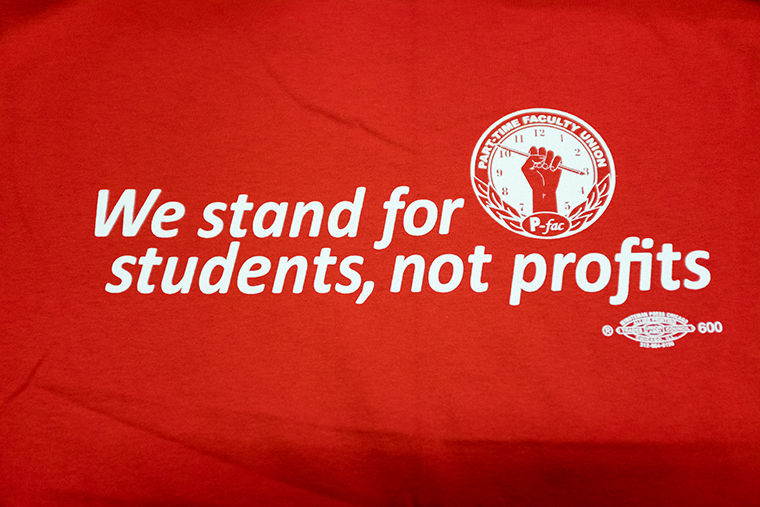 Columbia's part-time faculty union will vote for a two-day strike in response to union claims of bad faith bargaining from the college and economic pressures.
P-Fac members will vote to strike during three different membership meetings this week in different locations throughout the college.
P-Fac members as well as students from the OurColumbia coalition will congregate outside the 600 S. Michigan Ave. Building Nov. 29–30, according to an Nov. 19 email sent from the P-Fac Steering Committee and Bargaining Team to union members.
P-Fac formed the OurColumbia coalition, a partnership between union members and students, to protest the rising cost of tuition, decrease in student resources and the changes to departments during a Nov. 2 P-Fac forum, as reported Nov. 6 by The Chronicle.
The email asks union members to wear red, the union's color, and walk out of their classrooms to join picket lines.
"The College made unilateral changes to working conditions such as qualifications and have created a new group of workers outside our unit to replace us," the email stated. "These are bullying strategies and evidence of bad faith. P-Fac is forced to continuously file charges at the NLRB and in federal court which takes time and resources and in the meantime they continue to dilute the unit and ignore our contract and their bargaining obligations."
The college tried bargaining with P-fac for a new contract fall 2017 but the union was not willing to negotiate until this July, interim Vice President of Strategic Marketing and Communications Mark Rosati said in a Nov. 21 email statement. On Nov. 10, the college offered a set of proposals that included a salary increase and also sought greater flexibility in the seniority-based course assignment system to ensure qualified faculty members are teaching courses, the statement added. The union has yet to respond to these proposals at the bargaining table.
Columbia also partnered with a federal mediator to help with negotiations and the union announced a strike instead of participating in an emergency mediation session, according to the statement.
"We hope the union will not resort to any job action that undermines the delivery of instruction for our students," Rosati said in the email. "We are preparing contingency plans to make sure educational objectives for the semester can be met should the union choose to strike. The continued delivery of a quality educational experience for our students is our top priority, both in our operations and in union negotiations."
Story developments to come.
Update 11/27/2017: A previous version of this article incorrectly stated P-Fac began bargaining its new contract fall 2016 though it was fall 2017. The Chronicle regrets this error.