Faculty Senate considers internship changes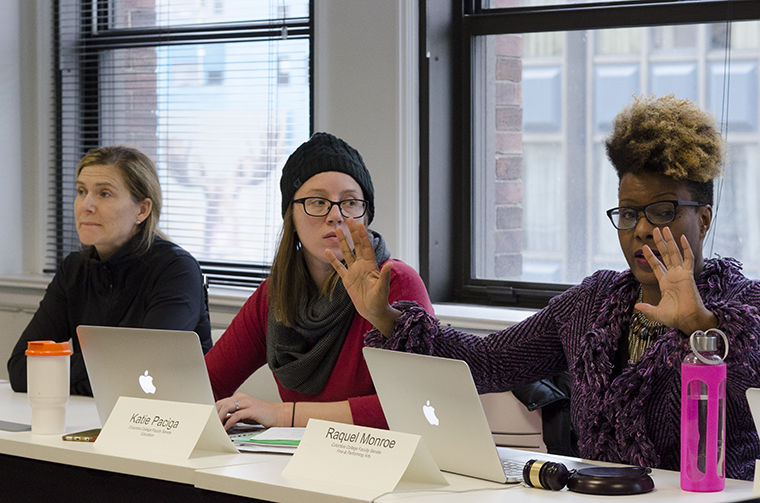 A motion to change the internship accreditation process has been approved by the Faculty Senate's Academic Affairs Committee and will be deliberated further by the full senate during its Dec. 8 meeting.
The motion, presented by Associate Chair of the Audio Arts and Acoustics Department and AAC President Benjamin Sutherland during the committee's Nov. 10 meeting, requires students seeking internships to have a cumulative 2.0 GPA and 30 credit hours completed, as opposed to 60 hours.
Under the new procedure, eligible students will work with the Career Center to receive an internship carrying a single credit, which will be awarded when the internship is finished. Students can then take a three-credit course to evaluate their experience.
This will replace current procedures in the Curriculum Policy Manual, which allow students to take internships worth three credit hours.
It is troubling that departments had been taken out of the internship process by this procedure, said Keith Kostecka, associate professor in the Science and Mathematics Department.
"I thought internships were something that were germane and critical to the function of departments and whatever they might be," Kostecka said. "I cannot see departments having internships taken out of them and given solely to the Career Center."
Kostecka also said during the meeting that he was troubled that the motion worked to substitute academic rigor with affordability.
Faculty Senate President and Associate Professor in the Dance Department Raquel Monroe told the senate the old form of internship accreditation violated federal requirements.
"There were times where faculty were giving credit to students for going to work, and we cannot do that," Monroe said. "Within the Career Center, with [pass/fail credits], this acknowledges that Columbia is putting forth an effort to provide students with internship opportunities; the way it worked before we were not able to document it."
Other items of discussion included the delayed search for an ombudsman, final review of the faculty manual by President and CEO Kwang-Wu Kim,vacancies on the Core Curriculum Committee and plans to meet with human resource staff to discuss parental leave.
Dean of Academic Diversity, Equity and Inclusion Matthew Shenoda outlined his office's ongoing initiatives, such as required DEI workshops for full-time faculty members.
"One of the important points here is that this foundational base for the workshop, its main goal is not simply for the professional development of individuals―which is, of course, an important and necessary thing―but the goal through my office is to push for curricular transformation," Shenoda said.
"Since the full-time faculty are the folks in charge of the curriculum of the institution," he added, "it is necessary that the core group have the training first and foremost."
Shenoda also announced four people will be hired in the Theatre, Interactive Arts and Media, Cinema and Television Arts, and Humanities, History and Social Science departments, all of whom will focus on DEI initiatives.
Associate Professor in the HHSS Department Katie Paciga spoke about the loss of senators following departmental mergers. Six Faculty Senate seats were eliminated last year, bringing the current total down to 16.
"[The Executive Committee] decided back in August that we really do need about 33 or more senators to do the work we are asked to do, otherwise standing committee workload is significantly impacted," Paciga said.
Paciga and Associate Chair in the Science and Mathematics Department Elizabeth Davis-Berg proposed a change that would give departments with 19 or more full-time faculty members two senators instead of one, but no decision was reached.
"[Davis-Berg] and I decided that we first need a solution, and then we can figure out process, with the objective of maintaining as much continuity as possible," Paciga said.