College worth more despite rising cost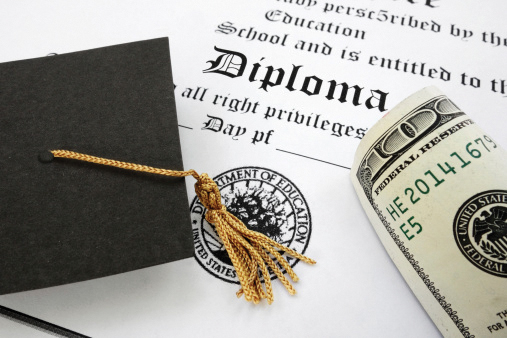 College graduates typically have higher salaries, are more likely to be satisfied with their jobs and are less likely to live in poverty than those who go to two-year colleges or only have high school diplomas, according to new research.
A Feb. 11 study by the Pew Research Center titled "The Rising Cost of Not Going to College" found that college graduates ages 25–32 who are employed full-time are making $17,500 more annually than high school graduates whose pay gap was considerably smaller in previous generations.
The study also found that the college graduate unemployment rate was 8.4 percent less than that of high school graduates.
As the gap grows, high school graduates are making record-low salaries compared to previous generations, such as the baby boomers and Generation X, the study found.
The study also found that millennials with college degrees are more likely to say their education prepared them for their careers and they are not working "just to get by."
Mark Kelly, vice president of Student Affairs, said Columbia and other four-year colleges and universities can afford more resources than community colleges and high schools. He said the college's Portfolio Center, which coordinates industry events each semester to help graduates find jobs, is something high schools might not have. The college has been revamping resources over the years, he said.
"If you were to go to the Portfolio Center's website, there were things that just weren't in existence several years ago," Kelly said. "I am confident these will be the strongest industry events in the near future of these programs."
Kelly said the college has changed core degree programs in recent years to keep up with changing industries.
Chairs from departments such as Interactive Arts and Media have improved technology for the changing industry by adding new sound equipment and practice rooms to keep the program current.
"To make sure the college is preparing students for industries, there are efforts in place throughout the college to make sure there is currency in curriculum," Kelly said.
The study found that 43 percent of social science and liberal art graduates think their majors are useful in their career, while 60 percent of science and engineering graduates find their majors useful.
Despite the Pew Research Center's findings, Deborah Holdstein, dean of the School of Liberal Arts and Sciences, said liberal arts majors do better throughout the course of their careers than people who have a more narrow education than what is available at Columbia.  For example, Holdstein said students holding a dance degree could find career options in addition to or alongside dance because of their LAS education. Holdstein said that is the main example she tells parents who are worried their children will not find jobs after college.
"Despite newspaper articles to the contrary, there is incredible evidence that shows when people have [a] strong educational background from the liberal arts and sciences, [they] actually do better in their careers than people with narrow vocational training," Holdstein said.
The Pew Research could not be reached for comment as of press time.
A Jan. 22 study by the Association of American Colleges and Universities found that while liberal arts majors may have difficulty finding jobs, they close the unemployment gap throughout their career in the long run.
Holdstein said this is good for the college because it will attract more students.
"Things like dance and theater are in the liberal arts, so we can say with great confidence that our students should be poised in their education," Holdstein said. "That's very good news for [the college]. It's good that parents and students know that their investments are absolutely and totally worth it."
Although the cost of attending universities is rising, the Pew study found that nine out of 10 adults with a bachelor's degree or higher say college has already paid off for them or that they expect it will be beneficial them in the future in terms of receiving a higher paid job.
Chloe Farmer, a freshman fashion studies major, said although she thinks her Columbia education is valuable, she does not find extra LAS courses or student engagement, such as the Portfolio Center, helpful.
"If I'm a fashion business major, when will I ever use my Writing and Rhetoric classes in my major and career?" Farmer said.