Faculty Senate responds to C-Fac request, passes motion to reduce transfer student credit requirements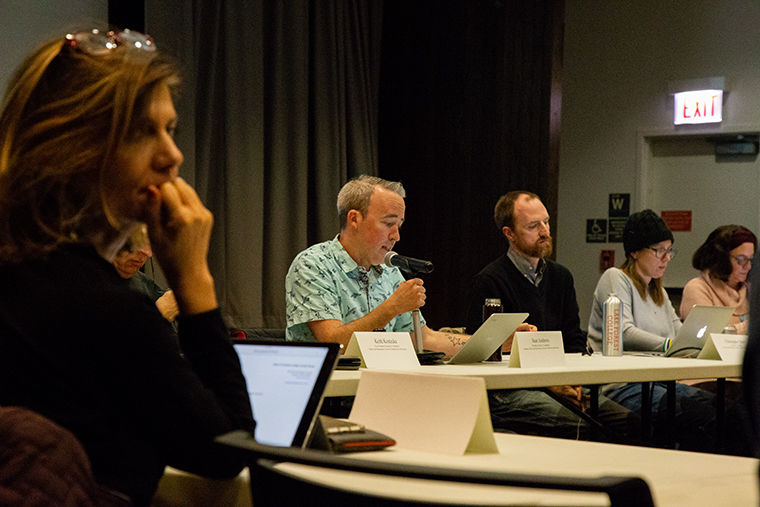 Columbia's part-time faculty union will not be joining the Faculty Senate after a recent email from the college administration said the decision would be up to the senate, according to Faculty Senate President Sean Andrews.
Even though C-Fac requested representation in union bargaining communication with the college administration, the Senate does not plan to grant this, as the union has not contacted the senate directly.
During the Nov. 9 senate meeting at the 618 S. Michigan Ave. building, Andrews responded to C-Fac's request to the administration to seat seven of its members on the senate, and said the current executive committee has not been approached by C-Fac directly or been given a formal request.
"It appears there is a sustained attempt to force the administration to make some fiat change to this governing body at the command of the part-time faculty leadership," Andrews said. "In other words, the part-time faculty is attempting to override shared governance in order to win a seat on our shared governance body."
Faculty Senate member and associate professor in the English and Creative Writing Department Lisa Fishman questioned if C-Fac's request to be present in Faculty Senate has been discussed before, or if the Senate had been approached by C-Fac directly.
Andrews said there were prior discussions during the 2014-2015 academic year regarding members of part-time faculty joining the senate, but as of 2018,  the senate had not been approached directly.
"We would bring [those discussions] to the senate if we had been approached, but we haven't been," Andrews said.
Faculty Senate also voted on the proposal of reducing the required core curriculum for transfer students–regarding 200 or higher level courses–from 15 credits to nine credits. The motion passed with the majority of the senate in favor and two members opposing.
"This change would help transfer students and keep the requirements the same between transfer and new students," Andrews said.
Despite the proposal to include this in the agenda for future discussions, the senate voted to motion the change the same day. This policy change would affect transfer student applications, a point raised by Registrar Keri Walters.
"The urgency behind this, from our perspectives, is that we have some partner institutions that are waiting on revised transfer guides," Walter said. "And we need to communicate with them exactly what is required for incoming transfer students who already are applying for the Fall 2019 academic year."
The proposal must now be referred to the Provost for final approval.