Columbia continues Undoing Racism workshops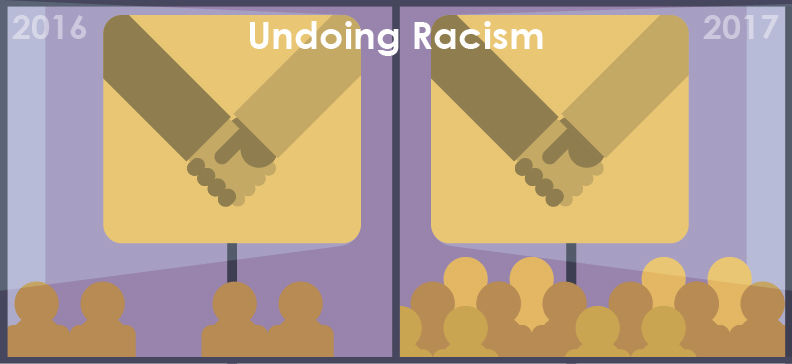 Columbia is expanding its collaboration with The People's Institute for Survival and Beyond to host 15 Undoing Racism workshops for faculty and staff, which started Sept. 22 and are continuing until May 15, 2018.
The Undoing Racism workshops were first held Aug. 25–29, 2016, but only included select faculty and staff members, as reported Sept. 6, 2016, by The Chronicle. This year's workshops will be mandatory for full-time faculty and open to adjunct employees.
Matthew Shenoda, dean of Academic Diversity, Equity and Inclusion and professor in the English and Creative Writing Department, said the workshops coincide with the Strategic Plan's effort to improve diversity, equity and inclusion, so they were expanded to all faculty and staff, with funds set aside by the college.
 "Given the history of this country and the present [political] climate, it seemed most apt to begin by having a conversation around structural racism and the way racism operates in society, so we as a community have a sense of that history and how it operates presently in all systems," Shenoda said.
The People's Institute is an international organization focused on promoting social change and diversity. Shenoda said the Institute first came to Columbia several years ago when Onye Ozuzu, dean of the School of Fine and Performing Arts, requested similar workshops within the Dance Department.
Ozuzu said she has attended the training about eight times, and depending on the setting, there are differences within the workshops. However, their structure regarding undoing racism is always the same, she added.
 "The components of the workshops are always custom-tuned, or fine-tuned, to the situation of the community they are working with," Ozuzu said.
Shenoda said the workshops are a two-day intensive process held for eight hours each day.
Ronald Chisom, executive director and co-founder of the People's Institute, said he began working in predominantly white community services helping people of color after the 1960s civil rights movement but was dissatisfied with the lack of discussion about race, culture or history.
"[Those] principles are the thing that will guide your work and keep your focus," Chisom said. "That's why we started the Institute and the main thrust of the Institute is that we want to make sure people understand racism."
Folayemi Wilson, associate professor in the Art and Art History Department, said she has attended several diversity workshops, and those hosted by the People's Institute are the first to get it right.
 "These workshops educate faculty and staff about the history of structural racism in this country and reveal and try to pull the curtain back on the myths of its democracy," Wilson said. "What the Undoing Racism workshops do is teach people and unpack structural racism in its beginnings and foundations in our democracy."
Wilson said she is hoping all faculty will embrace the ideas of the workshop because there has been resistance by her white colleagues to the truths the workshops reveal.
"I have seen pushback happen from people not quite accepting the truth of our history, so it's not all a positive experience, but it's a good one," Wilson said.
Kimberley Richards, organizer and core trainer at the People's Institute, said people of every race come to the workshops and have difficulty hearing revelations for the first time.
"That doesn't disappoint us," Richards said. "Many times some of the people who have been resistant to hearing it in the beginning, after they sit with it, they can be some of the greatest supporters."
 Shenoda said the workshops are a foundation and that there are many steps to becoming an anti-racist community.
"What we have done is taken a very focused approach beginning with these workshops and trying to get the entire collective of people to think about race and anti-racism as a singular approach," Shenoda said. "That is relatively rare—I don't know of any institution has done the things on that wide of a scale."
Update 10/23/17 at 12:00 p.m.: A previous version of this story incorrectly stated the Undoing Racism workshops were mandatory for full-time faculty and adjunct professors. The workshops are mandatory for full-time faculty and open to adjunct professors, but not required. The Chronicle regrets this error.