Student Ventra U-Pass prices increase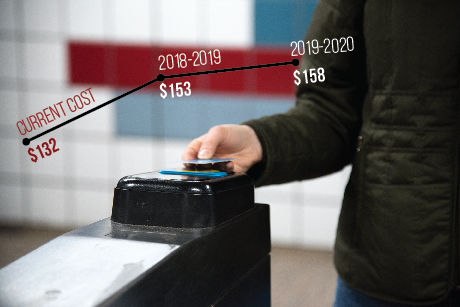 Students will have to pay a 16 percent higher fee for their Ventra U-Pass for the upcoming 2018–2019 school year.
In a March 27 email to students, Student Financial Services announced that the $132 fee will increase to $154 per semester. The estimated cost for the 2019–2020 school year is $158 per semester, a 3 percent increase. The fee is automatically charged to any full-time student's tuition bill at the start of each semester.
Cynthia Grunden, assistant vice president of SFS, said the decision to increase the U-Pass prices was made by the city's transit board.
"The Chicago Transit Authority board voted to increase the cost," Grunden said. "That means that we increase that cost too. We facilitate the program for students, but it's not our charge."
This comes shortly after the CTA announced the fare price increase for the first time in nine years, as reported Dec. 4, 2017, by The Chronicle.
The monthly Ventra pass's fare  for non-students increased from $100 to $105 and then went into effect in January, according to The Chronicle.
Grunden said the CTA told SFS to expect a 3 percent yearly increase following the 2019–2020 school year.
"We did want students to know that there's going to be increases in the future," Grunden said. "I would prefer [CTA] do it this way and gradually build on increases. It's easier for people to understand and handle."
John Greenfield, editor of Streetsblog Chicago and transportation reporter for the Chicago Reader, said it would be in the college's best interest to subsidize the fare increase to protect students from price hikes, which were made because of state transit budget cuts that took place in summer 2017. Greenfield added that despite the increase in price, the U-Pass is a good deal for college students.
"A CTA monthly pass costs $105 per month, or $1,260 for the year," Greenfield said, "so even if the U-Pass is hiked up to $158 for the entire [semester], that would still be a great deal for the unlimited rides."
Junior fashion studies major Dana Lehmann said she was unhappy to hear about the U-Pass  cost increase.
"I thought it was a little ridiculous, to be honest, because it's already pretty pricey, and they've been raising tuition every year," Lehmann said.
Lehmann said she takes the bus and train every day to travel from Bridgeport to Columbia, about a 30-minute commute. The U-Pass price should be lower to ease the burden on students who contribute to the city, she said, suggesting a price between $50–$100.
Despite some of the students dissatisfaction with the price spike for the U-pass, Grunden said she believes the pass is still a great way for students to get around the city.
"From my perspective, the U-Pass is a good service for students," Grunden said. "Even though the cost is going up a few dollars, it's still a tremendous value compared to what you would pay per ride, or a discounted monthly fair."