Front and center: Getz Theatre renovations completed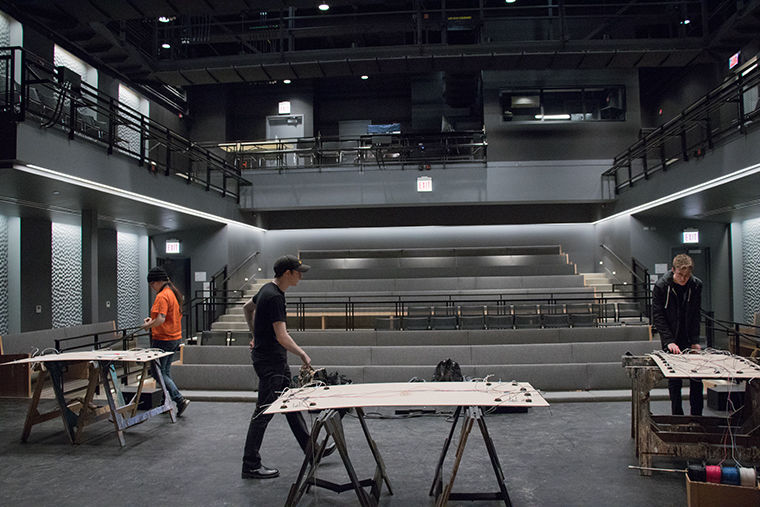 The Getz Theatre commanded the spotlight as the curtains opened on the newly renovated building at the start of the new semester.
After almost a year of renovations overseen by Gensler, an international architectural firm, the Getz Theatre, 72 E. 11th St., now has a modern space available for performances and classes in the Theatre Department.
Renovations for the theater were originally announced during the Fall 2016 Semester as part of a 2-year plan estimated to cost about $9 million, as reported Oct. 10, 2016, by The Chronicle.
Renovations include a costume shop, a backstage area, three dressing rooms and a scene shop that will allow sets to be built in the theater that can be easily moved in and out.
The total cost of renovations was just over $12 million, according to Project Coordinator Abby Abel.
Nathan Cool, an associate architect from Gensler, said the theatre space was designed to optimize every inch to be an efficient production and teaching space for faculty and students.
The newly renovated performance space is a 28 ft. by 42 ft. courtyard-style stage with a total audience capacity of 197 people, Cool added.
Associate Professor of Instruction Albert Williams said the renovations open up a world of possibilities for what the Theatre Department can do artistically and technically.
"We have more space above the stage for better lighting facilities and we have space offstage for the actors as well as better dressing rooms," Williams said. "It's not just the Getz Theatre itself. It's also the other areas in the building that support the Getz. We have a much more up-to-date makeup studio which allows us to do a lot more work with not only makeup but prosthetics and special effects."
Prior to renovations, many of the set pieces, props and costumes for performances were stored in the 1415 S. Wabash Ave. Building, according to senior theatre major Samantha Liska.
Liska said it has been much more convenient to work on costumes now that there are facilities inside the building.
"People kept forgetting where the costume shop even was," Liska said. "Moving for shows has just been so much easier. We don't have to move a cart all the way here from 1415 [S. Wabash Ave. Building]."
Gensler Principal Architect David Broz said it is really powerful to see the college investing in new facilities that are one of a kind in Chicago, especially for a theater program growing as rapidly as Columbia's.
"It's a transformational moment for the school," Broz said. "They're creating facilities that are going to catapult the school into the future."