Cultural Center performance uses art, colors to convey emotions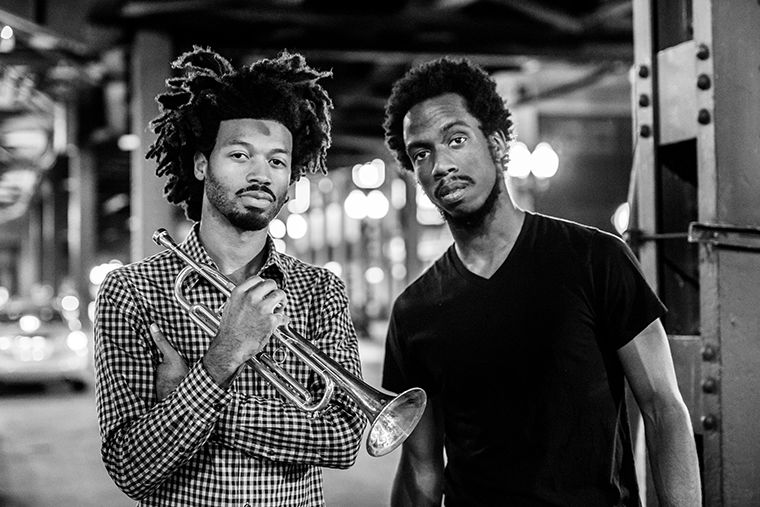 A music alumnus wrote a chord progression inside a Columbia practice room in 2012. Now, the same progression is being used in his original compositions for a production coming to the Chicago Cultural Center Nov. 4–5 entitled "Colors: A Soulful Experience."
"Colors" combines the original musical compositions of Sam Trump, a member of the band Sidewalk Chalk who graduated in 2013 with concentrations in jazz and trumpet performance, and the choreography of Joshua L. Ishmon, a member of Deeply Rooted Dance Theater. The production is in partnership with the Cultural Center, 78 E. Washington St., and Deeply Rooted Dance Theater, 17 N. State St.
As a comic book fan, Ishmon said the idea for "Colors" came from the Green Lantern series "Blackest Night." In the series, a different emotion coincides with each lantern, giving each member of the Green Lantern Corps a particular color and power. Ishmon said he presented Trump with the idea of transferring the concept into a collaboration.
"We talk about all those different emotions, what do they sound like, how they can be personified through dance, and build a production based on that," said Ishmon.
The production features seven different movements, exemplified in a chart that Ishmon and Trump created when they came up with the concept.
"Green is for will power; blue is for hope; red is for rage; yellow is for fear; indigo is for love and compassion; white is for transition; black is for light," said Trump.
Trump's chord progression he wrote as a Columbia student provides the basis for the movement on love and compassion, which he described as "flowy and melodic." This production is the first time that the composition will be revealed.
Trump also described the process he went through in creating music that conveys the emotion of fear.
"For fear, there's a very simple track compared to the others," Trump said. "Because the track is minimalistic, it creates a feeling of isolation…That frightening feeling when you know something's about to happen because it's so quiet."
The collaboration between choreographer and composer allows both the dancers and musicians to take center stage and is part of Ishmon's goal to try and redefine what a traditional musical looks like.
"Musicals tend to tuck the band into a pit so they never get this full recognition," said Ishmon. "Combining a dance concert and an improv music concert…everybody gets their light shining and everyone gets their accomplishment."
Shoshona Currier, Director of Performing Arts at the Chicago Department of Cultural Affairs and Special Events said that this taps into the sense of "curiosity and innovation" that curators often use when choosing productions to showcase.
"That's something that we strive to do is to find points of cross-industry collaboration and spaces where one form isn't preferenced over the other," Currier said.
According to Ishmon, this combination allows for a more powerful experience for audience members, in which viewers can see both an intimate dance concert and music concert simultaneously.
"[This] keeps the fresh organics of a music concert—that downtown homey feel of a band really playing to you and not playing for the dancers, necessarily," Ishmon said.
Currier said that Colors is part of CASE's annual spin-off series, featuring a variety of dance from around the Midwest, including Chicago and Minneapolis.
The series includes mostly contemporary styles of dance, with some performances like Colors taking place in the Cultural Center auditoriums and theaters and others taking place outdoors in parks in the city. She added that Colors is a significant production for the city since it dives into two significant historical and cultural roots of Chicago: street dance and jazz.
Ishmon said that his ultimate hope for the production is to create a sense honesty. Because he strives for openness in his artistic work, he hopes that audience members will recognize how and why they connect to the show.
"For some reason lying is socially acceptable, and more often to yourself than to other people," said Ishmon. "So for me, in this we talk about emotions and seeing how they correlate to ourselves, to Chicago, to your community, etc."