Citizens raise concerns to sparse council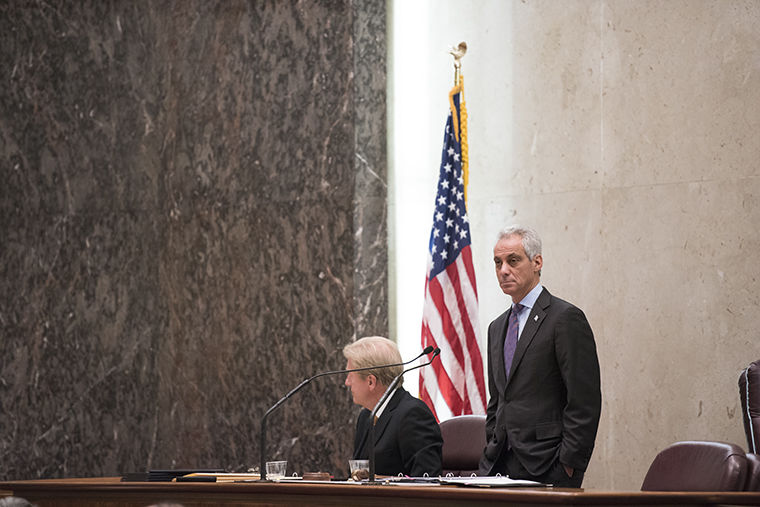 By Metro Reporter
November 7, 2016
Citizens got the chance to discuss the 2017 city budget during a public hearing.
But when the citizens were finally able to speak, the mayor and most aldermen had already left the meeting and never heard the complaints.
The Nov. 1 meeting began at 10 a.m. at City Hall, 121 N. LaSalle St. Although the public hearing portion was scheduled to begin at 11 a.m., it did not start until 11:55 a.m.
Laurence Msall, president of the Civic Federation and sole speaker in support of the budget, spoke for more than an hour—far beyond the three-minute limit.
On Oct. 5, Chicago aldermen moved to amend the Council's Rules of Procedure to enforce a three-minute limit on citizens, according to a same-day Sun-Times article.
Other speakers expressed frustration with the time and attention given to the single speaker in support of the budget, including Mary Williams, vice president of Friends of the Edgewater Library.
Williams said she came to the hearing to express concerns she had over decreased library hours. The library is now open 48 hours a week instead of  64 because of the cuts.  No aldermen responded to her concerns at the hearing.
"It's rather disconcerting to come down here, spend the time and effort to make a public comment, and realize there were 10 aldermen who remained to listen to comments when I spoke," Williams said. "I feel disrespected as a citizen that we were allocated to the bottom and not many aldermen stuck around to listen to us."
Aldermen James Cappleman (46th Ward), Tom Tunney (44th Ward), Joe Moreno (1st Ward), Scott Waguespack (32nd Ward), Brendan Reilly (42nd Ward), Brian Hopkins (2nd Ward), Pat Dowell (3rd Ward), Roderick Sawyer (6th Ward), Michelle Harris (8th Ward), Anthony Beale (9th Ward), Patrick Thompson (11th Ward), Ricardo Munoz (22nd Ward), Carlos Ramirez-Rosa (35th Ward) and Harry Osterman (48th Ward) were not available for comment as of press time. The aldermen listed do not reflect who left or stayed at the hearing.
Andy Thayer, an activist with Uptown Tent City Organizers who also expressed frustrations with the lack of attention speakers were given, attended to support Tent City resident Maria Murray, who discussed the weekly cleanings under the viaducts where the homeless live.
"People who live under the viaducts are going to be impacted by this budget," Murray said to the council. "We experience an underhanded effort by the city to drive people like my family out from under these viaducts."
Cappleman and Reilly both responded to Murray during the hearing and said the council is working hard to help Chicago's homeless population.
Thayer said he was also frustrated by the city refusing to give $100,000 to a 73-bed Uptown homeless shelter. Without this money, the shelter will close before Christmas this year, he added.
"The spending priorities of the city are so a– backward that you can't say the right thing isn't being done due to lack of funds," Thayer said. "There's plenty of funds."
The council giving an ally like the Civic Federation so much time to speak is a violation of proper city meeting protocol, Thayer said.
"I sat through the bitter end of the meeting and many people's names were called, but they had to leave for work," Thayer said. "It's just infuriating."