Spoken word poet spreads ideas with physical space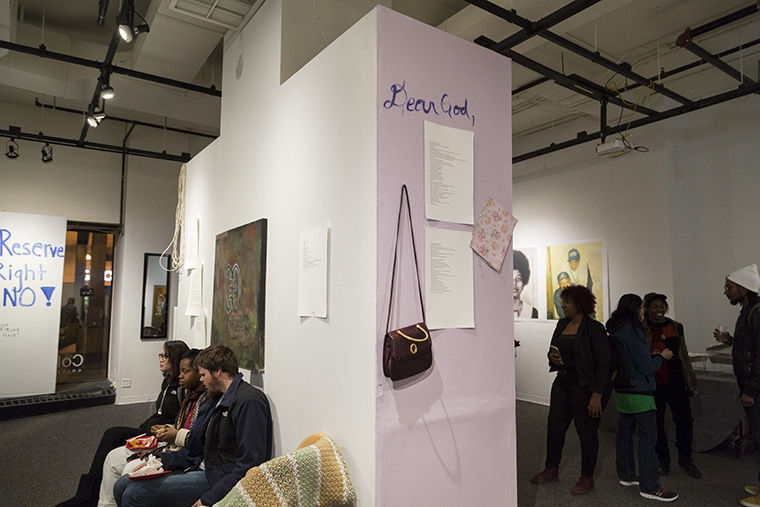 Alexis Franklin, a senior cultural studies major who specializes in spoken word poetry, created a visual exhibition to inform viewers of a black woman's perspective about politics, status and injustice in America.
"Political Warfare: An Invasion of Space On Immigrant  Motherland" will be featured in the C33 Gallery of the 33 E. Congress Parkway Building Nov. 10-24. It showcases a mixture of print, poetry and found objects from Franklin's home and community.
The "Political Warfare" installation differs from the poetic work Franklin typically produces because it offers a greater opportunity and more  time to absorb the message than a brief spoken word piece, she said.
"It's as though you can't deny it; it's in here," Franklin said. "The words will be out. Whether you choose to come in is completely up to you, but who I am and what I represent will be here."
Franklin plans to use the space for performances and dance gatherings as well as featuring her art. Young DJs, vocalists and rappers will be performing in the gallery Nov. 16 and Nov. 22.
The Department of Exhibitions, Performance & Student Spaces was excited Franklin proposed to use the space to showcase  performances that would not typically be seen in a gallery, according to DEPS Project Coordinator Haydee Souffrant.
"Alexis presented us with a really interesting way for folks that aren't necessarily seen as visual art majors to utilize the C33 Gallery," Souffrant said. "She also incorporated different programming that was all self-generated and self-curated,  alongside having an outline that was really structured in terms of incorporating social engagement and social practice with art making."
Students crowded the Nov. 10 opening reception to view the installation and express their creativity by drawing on a wall with provided markers.
Hadiatu Jalloh, a junior public relations major, said the work was thought-provoking and the content Franklin included was uncensored. She added that the emotional impact of the exhibit was especially significant, considering the presidential election results.
"A lot of people don't feel represented [in the election], so something like this definitely fits into the messages we are trying to send: to support one another and hear everyone's voices," Jalloh said. "This is one voice out of many that we're listening to, that we're reading about here today, and I think it's important that we continue this in whatever way we can."
Jalloh said she was curious to see how the exhibit would turn out because of Franklin's status as a spoken word artist. After seeing it, she said she thinks the physical objects conveyed Franklin's message as effectively as her spoken word poetry.
"If anything, I would just like people to come and have an open mind," Franklin said. "I'm interested in the critique of it, and I'm interested in seeing how people will view it. Being a spoken word artist, I've never done something so grand that stands still and is visual."