New interim dean helps Columbia leap into modern dance scene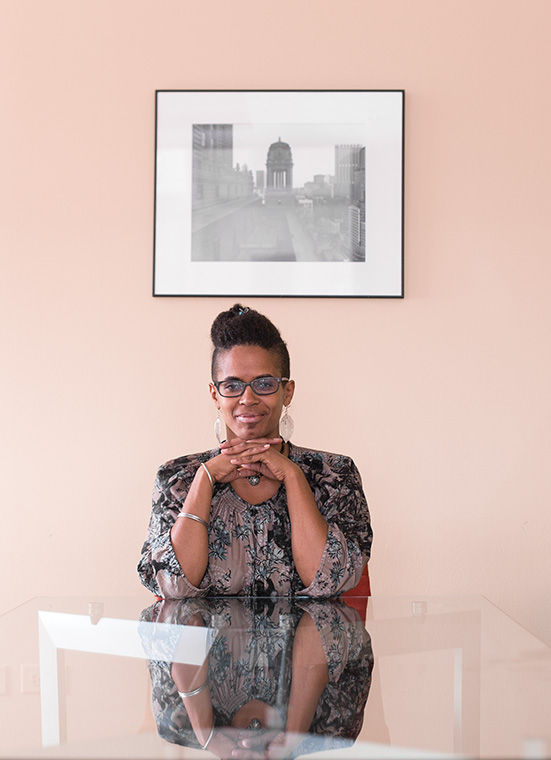 Onye Ozuzu, former chair of the Dance Department for four years, stepped into the role of interim dean of the School of Fine & Performing Arts on July 1. A leader of the Chicago dance community, Ozuzu said her new responsibilities will change the character of her participation in the Chicago Dancemakers Forum, which supports the work of local choreographers through grant-funding, mentorship and peer exchange.
Prior to Columbia, she was associate chair and director of dance in the Department of Theatre and Dance at the University of Colorado, Boulder. The Chronicle sat down with Ozuzu to discuss her new role as interim dean, her dance career and her involvement in the Chicago dance scene.
THE CHRONICLE: What is your dance background?
Onye Ozuzu: I am a contemporary dancer. I, like many Columbia students, started my study of dance within an educational setting—in college. I was a literature and economics major at the time, so the development of my orientation toward critical and analytical thinking and intense writing coincided with the development of my physical skills. I started really understanding history, politics and culture at the same time that I started understanding how to move my body. I started understanding the politics of the body and feminism at the same time. I was maturing as a woman and learning West African dance, jazz dances and contemporary modern dance ballet. I participated in martial arts study. I was a club dancer from Florida up and down the East Coast through the '80s and to Colorado—club dancer meaning going back and forth between house dance clubs and salsa dance clubs and Afro-pop dance clubs. You'll still find me on the salsa floor once in a while on a Sunday night.
How does your dance background apply to academics?
Choreography is very similar to administration. Sometimes I wonder, "how did I get here?" but it kind of makes sense because what I do as an administrator is similar to what I do as a choreographer: bringing multiple bodies into a whole, bringing lots of different types of interactions into relationship with one another, facilitating those dancers, people, or artists or educators to think about their relationships to one another and to optimize how that connection rises to become something bigger than the sum of its parts.
What are your goals as interim dean of the School of Fine & Performing Arts?
My goals are particularly oriented to my expected time frame. As an interim dean, I think my purpose is to be very specific and do what I can right now to set the college up for a positive future. It's convenient and actually perfect that my interim year would coincide with year one of the college's Strategic Plan as higher education is changing. In many ways, working on the Strategic Plan allows my year one to be a part of a five-year trajectory the college has written up for itself—one that is really forward-thinking, and I believe is setting the college up in a number of areas for solid, sustainable 21st century participation in higher education. It has potential to interrelate the departments. I feel my time as interim [dean] is going to be really focused on launching the school in a comprehensive and concerted [way]—like an ensemble that is in harmony with one another and has many different parts, sounds, instruments and characters, but they are playing music that is composed and fits together and has a sound that makes sense.
What are some recent things you have done?
I was a member of the [Dancemakers] consortium for a couple of years. Now that I'm in the role of dean, I've decided to take a step back from active participation in it. I'm still a member and a supporter, and I'm certainly looking forward to continuing to interact with the artists. I've been a part of meeting and selecting the work of emerging choreographers. Constellation, which is an experimental music place connected to an experimental jazz place, commissioned me to create a piece based on Charles Mingus's "The Black Saint and the Sinner Lady" with composer Greg Ward this fall. In that work, I was able to bring together established dance artists, leaders, organizers, performers and choreographers in their own right from various areas in Chicago.
How have you made dance connections Throughout Chicago?
Columbia has been my entry point into Chicago. It has been an exciting place to explore juxtaposition. The Dance Center was already a hub of contemporary dance in the city and the nation before I got here, and it was an opportunity to meet and connect with amazing circles of people. Combined with my own background in salsa, it led me to connections with the salsa community. My background in West African dance led me to connections right off the bat with the African dance community. I'm glad to be in Chicago, but I'm also particularly glad to have entered the city through Columbia. I'm curious,  and I'm looking forward to what's going to evolve.